Weird California - By Joe Parzanese
Giant Binoculars

Binoculars
340 Main Street, Venice, California 90291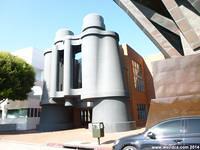 Born January 28th, 1929 in Sweeden Claes Oldenburg is an American trained sculptor. He is known for giant sized replicas of common everyday objects. His sculptures were often created with his wife, Coosje van Bruggen. Sadly, after 32 years of marriage, she passed away in 2009.
Their sculptures are found all over the world. As it turns out there are six of their sculptures in California.
In 1986, near Los Angeles, in Venice, Frank Gehry was working on the Chiat / Day building complex on Main Street and wanted to add one more building to tie the entire complex together. He took a model of Oldenburg and van Bruggen's that had been for an art commission in Venice, Italy but had never seen fruition and stuck it in the scale model of his building complex. The model was for a giant pair of binoculars. And the idea took. From 1989 to 1991, Claes Oldenburg and Coosje van Bruggen built the giant binocular building that stands on Main Street in Venice. Originally meant for Venice, Italy, it is somewhat fitting that the sculpture found a place in Venice, California. The binoculars are forty five feet tall and function as both pedestrian and car entrances, as the entrance to the parking garage is between the lenses. Google now resides in the complex. The building brings back memories of Los Angeles Programmatic Architecture from decades ago.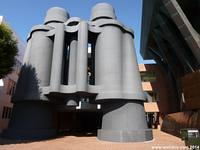 See more on Claes Oldenburg and Coosje van Bruggen.
Closest Weird
Outside Links:
Outside References:
First Created: 2013-11-02
Last Edited: 2014-09-01