Weird California - By Joe Parzanese
Emperor Norton

Grave Site
1000 El Camino Real, Colma, California 94014


Plaque Commemorating His Bay Bridge Idea
San Francisco, California

Tommy's Joynt
1101 Geary Boulevard, San Francisco, California 94109
((Painting of Norton))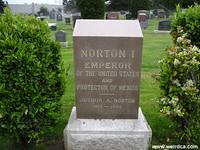 This entry is unfinished, incomplete, or planned for future research. Weird California makes no promise that it will ever be finished and gives no time table for a completion date. Additionally the information below may be inaccurate, incomplete, or just plain gibberish of notes. If you have any information on this entry, please feel free to Contact Us or leave a comment below. Thank you.
Norton I, Emperor of the United States and Protector of Mexico. Emperor Norton lived in San Francisco. More info coming soon.
Was a Plaque in the Transbay Terminal. No clue where it is now that the Terminal has been destroyed.
Wells Fargo History Museum has one of his proclamations: http://www.wellsfargohistory.com/
420 Montgomery St, San Francisco, CA 94104
Two Paintings of Norton: - Tommy's Joynt, a local family-owned hof-brau on Van Ness and Geary
- Maxfield's Pied Piper Bar at the Palace Hotel on Market Street
Also a wax version of the Emperor:
San Francisco Welcome Center & History Museum
Address: 449 Powell Street, San Francisco, CA
Emperor Norton's Boozeland: 510 Larkin (between Eddy St & Turk St) San Francisco, CA 94102
Emperor Norton's Italian Restaurant and Pizza: 7058 Santa Teresa Blvd San Jose, CA 95139
Emperor Norton's Stationary Marching Band: http://www.ensmb.com/
Some Norton bonds can be seen at: California Historical Society: 678 Mission St San Francisco, CA
Outside References:
Last Edited: 0000-00-00