Weird California - By Joe Parzanese
Crab Pot Christmas Tree

Morro Bay T Pier
1185 Embarcadero, Morro Bay, California 93442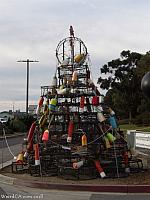 Morro Bay, that small town on the coast with the giant rock rising up out of the ocean next to it, celebrates its heritage during Christmas with a Christmas Tree built out of crab pots! In 2016, the first Crab Pot Christmas Tree appeared in Morro Bay. Mostly known for the aforementioned gigantic rock, Morro Bay also has a big fishing industry, and historically was known as a working fishing village.
The first Crab Pot Christmas Tree appeared in Tidelands Park and, similar to today, consisted of crab pots stacked in a roughly pyramid / tree shape, adorned with fishing gear and various buoys as the ornaments, arrayed with some Christmas lights. In 2018, the Crab Pot Christmas Tree, twelve crab pot layers tall, sat outside the Morro Bay Maritime Museum near the three smokestacks. And in 2020 it was on the T Pier, to the left of the Great American Fish Company. Morro Rock can be seen behind it from the pier, as well, and the smokestacks can be seen to its right. It is again built out of crab traps (or pots), buoys and various fishing gear.
I'm told there are suppose to be additional trees around town, but I'm not sure what this actually entails, as, and I didn't look too hard, I didn't locate any more trees like this one. I did find some that looked like they were made out of plastic nets, and these were spread all around town.
The tree lights up at night. Unfortunately, I was not present after dark. The tree is part of Morro Bay's Winterfest, Twelve Days of Holiday Fun that includes boat parades, snow, Santa themed pub crawls, and the jolly fat elf, himself, Santa Claus! 2018 was the second year they've held their Winterfest. Unfortunately much of Winterfest was canceled in 2020 including the boat parades.
Morro Bay also has a giant chess set and the World's Second Largest Skateboard!
Closest Weird
First Created: 2018-12-09
Last Edited: 2020-12-14