Weird California - By Joe Parzanese
Robolights

1077 East Granvia Valmonte, Palm Springs, California 92262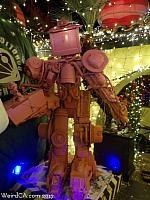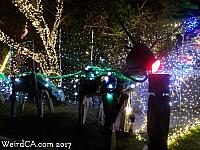 Nothing says the holidays like giant robots. Welcome to Robolights, a massive holiday display featuring holiday decorations, Christmas lights, giant robots, dolls, skulls, aliens, carousels, and even a few dinosaurs for good measure.
Yes, that's right Robolights blends together Santa with skull-headed robots. There's Ronald McDonald wielding a machete, a carousel of Chucky Cheese Mice, a giant inflatable Santa in a tank, robot reindeer, skulls, more skulls, and robots, lots and lots of robots, of all shapes and colors.
Robolights is the brain child of Kenny Irwin, the grandson of late Los Angeles Rams owner, Carroll Rosenbloom. Irwin began with his first holiday light display in 1986 at the age of 12. Now, as of 2017, he is 43 and has been putting on this light display for 31 years. He usually works on Robolights 350 days out of the year, 10 to 12 hours a day. He makes his artwork out of junk mostly, some of it given to him from neighbors and friends, some of it bought online. And all this work is necessary to create the amazing Christmas spectacle that is Robolights.
And what a light display it is! Covering four acres, with more than eight million light bulbs, it is the largest private residential Christmas light display in the country! Multiple paths wander through Irwin's property covered in hoards of Christmas lights, bordered by giant robots and other fantastical and weird sculptures, built literally out of cast off junk ranging from TVs to toilets.
Large skeletal spiders can be found in dog carriers. Giant candy canes and giant gingerbread men line the pathways. The Easter Bunny gets in on the act with his moving sled pulled by tiny rabbits. There's a few clowns, mostly creepy, some not, for those who enjoy that sort of thing. Some skeleton dinosaurs can be found eating Mickey Mouse. Santa Claus hat wearing aliens appear hear and there, and even Spiderman can be found in the light display.
There's even a Mega Microwaved Store containing several items, mostly of the electronic variety, that have been microwaved. The main attraction in this area is the "World's One of Only Two Microwaved Microwaves".
Lots of colorful benches and seating areas throughout the attraction, allow for people to rest or just take pictures of themselves in the middle of the event. There are even a few giant single colored chairs with interesting stuff built into and all around the chair for more impressive photos. Several giant inflatables round out the display with a ginormous Frosty and Santa up on the rooftop, along with other inflatables spread out throughout the attraction. A cage filled with live pigeons is near the exit, which can be difficult to locate in the maze of robot lined passageways.
Open roughly from around Thanksgiving until early January, Robolights has no admission fee, but Irwin gladly accepts donations. The suggested donation is $5, deposited down a sink drain. In 2016, more than 40,000 people visited the attraction!
In December 2016, with tens of thousands of visitors trying to see the lights, the neighbors, not surprisingly, complained about the parking. The city tried suing Irwin, to have the event shut down, but the judge ruled to allow it to stay open, and pushed the case out. The lawsuit was finally finalized in 2017, just in time for the light show to open in late November, with new parking protocols and security restrictions.
Many of the streets around Robolights are now closed to parking, unless you have a permit. The easiest and probably best spot to park is at the parking lot inside Ruth Hardy Park. From there, it's approximately a short two minute walk to Robolights. You might want to bring a flashlight for the walk, as there are no lights on streets, unfortunately.
When not open, parts of the display are still somewhat viewable from the street, but sadly not accessible to the public. They also do not regularly get lit up during the off season.
But from Thanksgiving until after New Years, head out to Palm Springs and enjoy the brilliance of Kenny Irwin's Robolights.
Closest Weird
First Created: 2017-12-25
Last Edited: 2017-12-25