Weird California - By Joe Parzanese
Shopping Cart Christmas Tree

2437 Main Street, Santa Monica, California 90405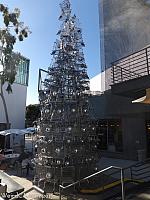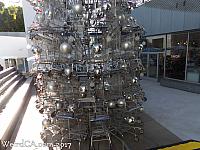 Since 1995, the Edgemar Center in Santa Monica has had an unusual Christmas Tree standing in it every holiday season. This large tree is not your normal evergreen, but instead, it is made entirely out of shopping carts!
The artist responsible for the tree is Anthony Schmitt and he uses shopping carts to build the tree because they are both a symbol of abundance and a reminder of those less fortunate. Others might consider the tree a statement on the shopping frenzy that occurs during the Christmas season.
Decorations vary from year to year, depending on the type of tree Schmitt is building. In 2017, the tree was the tallest ever, clocking in at thirty-five feet tall. It consisted of 92 shopping carts and used probably over 4,000 zip ties to hold it together.
There are occasionally a few copy cat trees that have popped up from time to time. For awhile copy cat trees existed in both the Bay Area and elsewhere in Los Angeles County. A second smaller, partial tree stands out in front of the Edgemar Center. It is usually built out of over twenty shopping carts, and is meant to help drive traffic into the Center and show off the much larger treet.
The Edgemar Center is a Frank Gehry designed building. It is said that he likes the tree.
Closest Weird
First Created: 2017-12-23
Last Edited: 2018-12-23