Weird California - By Joe Parzanese
Fanette Island

Emerald Bay, South Lake Tahoe, California 96150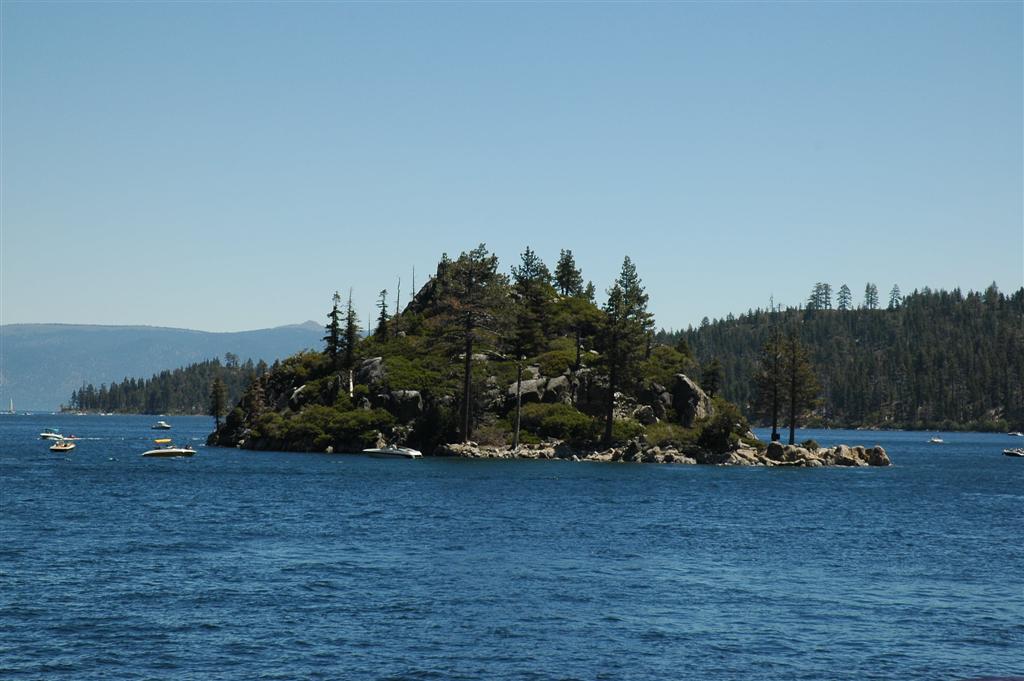 Besides the lake monster, Tessie, the ghost of a hermit haunts Fannette Island.
Only one island can be found in Lake Tahoe and that is Fannette Island, located in Emerald Bay near the west shore of the lake. The island has gone through several names ranging from Coquette, Baranoffi, Dead Man's, Hermit's and Emerald Isle, but Fannette is the name it currently is called. The island rises up 150 feet from the water. The name Coquette was thought to have come from a group of vacationers in 1866. The name Fannette is thought to be a mixup from the original Coquette name, a mistake by an early mapmaker. According to the legend, in the late 1800s, an old, corked champagne bottle was discovered in a crevice on the island. Inside the bottle was a note dated 1866 which read "This island is like a lady in the center of a brilliant circle of admirers who, attracted by her beauty, must still remember that she has a stony heart. I thereby christen the island 'Coquette'."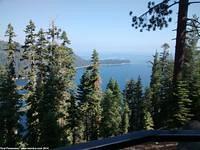 In 1862, Ben Holladay Jr. had constructed a two story, five room resort on Emerald Bay and in 1863 he hired a man called Captain Richard Barter to be the caretaker of the resort and stay there during the winter months. For ten years Richard Barter or Captain Dick took care of the resort, living the life of a hermit as the local caretaker and enduring the long, cold, lonely winters. Often during those winters, Captain Dick would take his small boat and row out sixteen miles to Tahoe City in order to go to a saloon and have a drink, specifically whiskey. After a night of drinking and conversation, he would row back the sixteen miles to Emerald Bay. Richard Barter's presence in the area would lead to Fannette Island being referred to as Hermit Island.
One night in January of 1870, his boat was upset in a storm, and although he was able to get back into the boat, it took him all night to get home. It is said that he lashed himself to the side of the boat and that as he rowed he shouted "Richard Barter never surrenders!". He came into Emerald Bay in the morning, but by then two of his toes had frozen through. When they turned gangrenous, he had to amputate them himself. For some reason, he kept both toes pickled in a jar or box and would show them off to visitors. This is why he is sometimes called Captain Dick "Them's My Toes" Barter.
If you believe the stories, Captain Dick's injuries after the incident kept him at home for eleven weeks as he recovered. During this time, he crafted a seven foot miniature ship, a model of a man o' war steam frigate, complete with 225 crew members.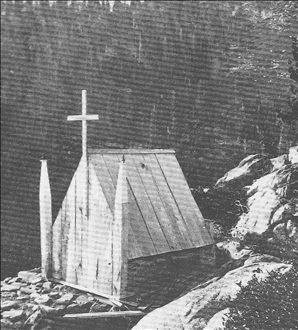 After the incident, knowing that one day he wouldn't be so lucky, Captain Dick prepared for his death by carving a crypt out of the granite on Fannette Island. He installed a coffin inside, and then put p a small wooden chapel over the spot with a cross extending up off the front. At all the saloons he drank at, he gave explicit orders that should he die, his body be laid to rest inside his self-made mausoleum.
But sadly he would never make it to his tomb. In October of 1873, while coming back across the lake from South Lake Tahoe, his boat was hit by a sudden storm. His boat was seen to disappear off Rubicon Rocks. After the storm subsided, his boat was found in pieces amongst the rocks with one oar remaining. The other oar was found some three months later in the same place. It is believed that Captain Dick took with him the second oar, deep down to the bottoms of Lake Tahoe. But at some point, it pried itself lose from his death grip.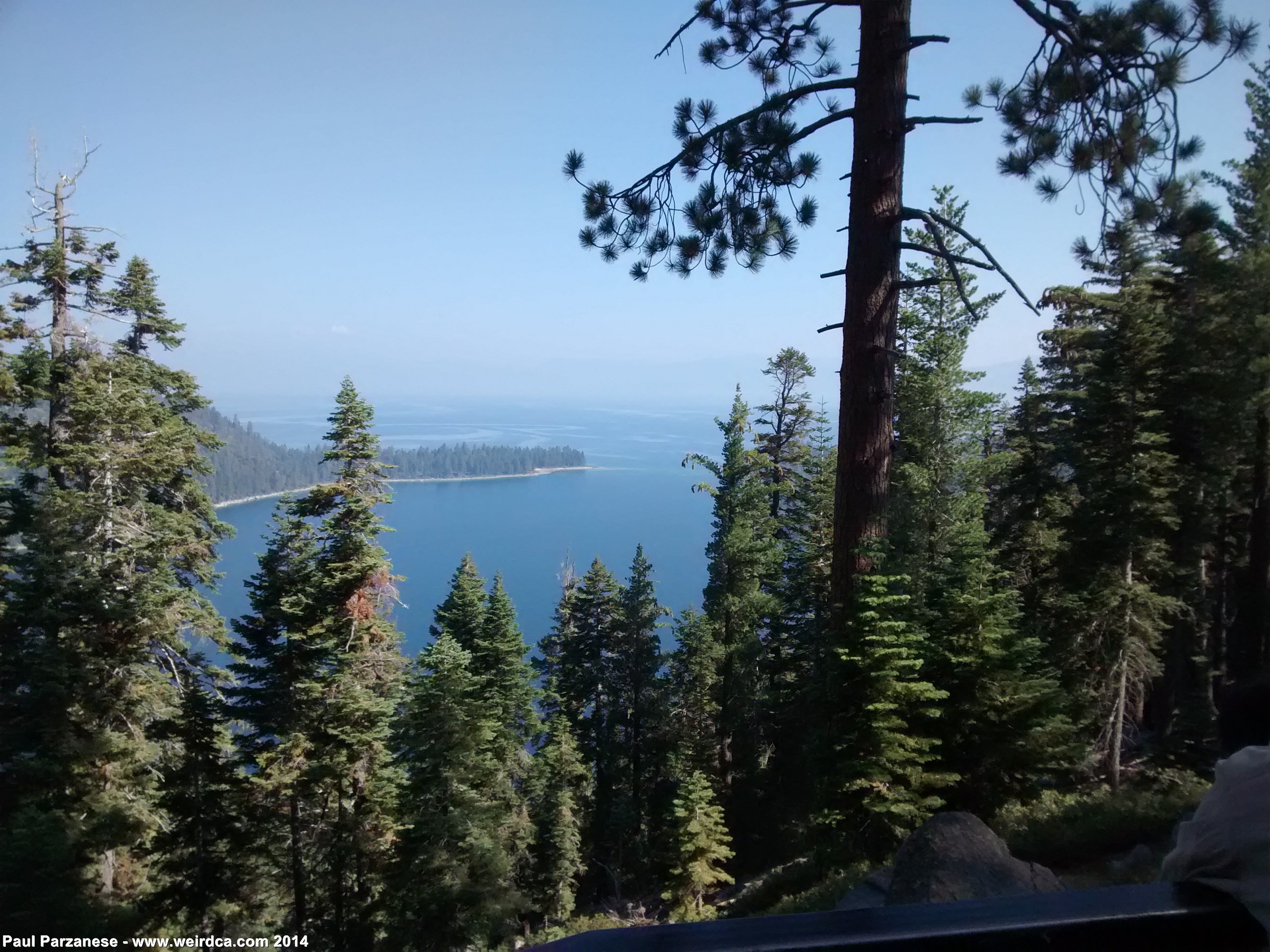 Now, even to this day, on cold nights, amongst the mist of Emerald Bay, it is said that you can see his ghost, wandering Fannette Island looking for his long gone crypt, finally having made it back to the island which was to be his resting place. His body is over a thousand feet below the surface of Lake Tahoe, but his spirit now haunts the island that was to be his resting place.
Near South lake Tahoe is an area called Desolation Wilderness. At 9,974 feet, Dick's Peak stands over the cliffs of the area as a monument to Captain Richard Barter. A historical marker has been erected for Captain Dick. It is located along Emerald Bay Road (Highway 89) at the Inspiration Point Rest Area.
Later in 1928 - 1929, the impressive 38 room castle, Vikingsholm, was built on the shores of Emerald Bay by Mrs. Lora Josephine Knight. She is also known for, along with her husband, being the primary backers of Charles Lindbergh's nonstop solo flight across the Atlantic Ocean in 1927. While she was having the Vikingsholm built, she had a Tea House built on Fannette Island. Vikingsholm and the teahouse were mostly used as Mrs. Knight's summer home. At the Tea House on Fannette Island she would bring her guests to enjoy high tea.
Fannette Island is only accessible by boat, kayak, or canoe. The Tea House is sadly in poor shape due to weather and vandalism. Both Holladay's resort and Captain Dick's mausoleum are long gone. The Island is not open part of the year (February through part of June) in order to protect the habitat of migrating geese.
Closest Weird
Comments:
Russ of So. Lake Tahoe , Ca on 2019-01-06 said:

I grew up in Tahoe Valley... This is the most absurd concoction story I've ever heard about Fannette Island or Emerald Bay.
Outside Links:
Outside References:
First Created: 2013-06-11
Last Edited: 2013-06-11