Weird California - By Joe Parzanese
World Famous Crochet Museum

61855 CA-62, Joshua Tree, California 92252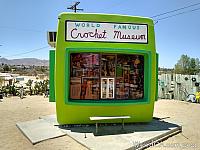 Joshua Tree certainly has a lot of weird attractions and this one is definitely one of a kind! Located down a path off the main street in Joshua Tree is a little green former one hour fotomat booth. And inside this itty bitty building is the World Famous Crochet Museum! The Crochet Museum is stuffed with, you guessed it, crocheted animals, and lots of them!
The museum was created and is owned by a woman named Shari Elf (no, I'm not sure if that's her real name or not). Shari, however, doesn't actually know how to crochet and didn't make all the crocheted animals on display in the museum. She has taken a lesson, though. She is a big fan of crochet and, thus, collects it for the museum, having collected crocheted items since the early 1990s, which was many years before she purchased the unused photo booth the museum now resides within. Once she purchased the former booth, which was originally in Yucca Valley, she relocated it to Joshua Tree and painted it lime green, moving her crochet collection out of storage and into the booth, thus establishing the World Famous Crochet Museum in 2006!
There's a little of everything inside the museum as the crocheted pieces range from donkeys to elephants to alligators and bunnies. I also saw Batman, crocheted candy canes, fruit, and other items. Pieces in the collection were both purchased by Shari Elf or donated by other crochet fans from all over. There's a lot of poodles, as Shari started her collection with those. There's also a crochet miniature version of the Crochet Museum, itself!
The museum also appeared in an HSBC Bank campaign advertisement, appearing in large photos on display in ads located inside airports all around the world. The World Famous Crochet Museum is free to visit. There are stickers and pins available to purchase for a $1 donation. Shari Elf also owns the Art Queen, and a variety of art can be found nearby the museum.
Closest Weird
First Created: 2021-07-28
Last Edited: 2021-07-28