Weird California - By Joe Parzanese
Museum of Pez

214 California Drive, Burlingame, California 94010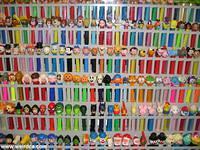 In Burlingame fairly close to the San Francisco airport lies the Museum of Pez, a two room shop / museum, that is extremely worth the visit and price. Upon entering the Museum of Pez, you will first find yourself in the gift shop allowing one to purchase a myriad of Pez dispensers, Pez memorabilia, and other toys. Most likely sitting behind the counter will be Gary Doss, the curator of the museum. If he's sitting down when you arrive, you may be misled by his height initially, but don't let Gary's height bother you, he's gotta be way over 6'6". Not only is he a very jovial and outstanding museum curator, but he was able to answer every pez related question I asked of him. He is extremely knowledgeable about the museum's subject matter and will give a rather entertaining presentation about the museum.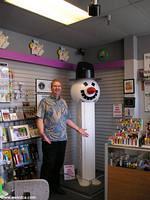 In the back right corner of the gift shop is what use to be the World's Biggest Pez Dispenser, clocking in at 7 foot 10 inches tall. It weighs 85 lbs, is over twenty times the size of a normal Pez dispenser, and stands taller than Gary, although not much. Acknowledged by the Guinness World Record as the World's Largest Candy Dispenser it was completed in September of 2006 and actually can spit out a clear plastic capsule from its flip top head. The clear plastic capsule can hold either 6,480 pez candies or a single standard size pez dispenser.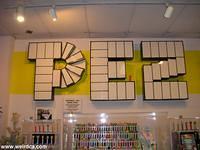 For a mere $3 (and there are coupons available online for $1 off) admission, you can see the second room which is the museum. From the moment you step foot into the second room and see the giant Pez letters hanging on the wall, Gary will be giving his presentation on the history of Pez as well as a run down on the major items held within the museum. You will learn how Pez was invented in 1927 when the original candy was peppermint; Pez being an abbreviation for the German word for peppermint (PfeffErminZ). The candy, came in little tins at first and was marketed towards individuals trying to quit smoking. In 1950 the very first Pez dispenser was created, and by 1952 the dispensers had cartoon heads while the candy became fruit flavored.
It houses every form of Pez dispenser ever made with over 500 Pez dispensers on display within. There is even the ultra rare Pez Super Spiel, which was similar to a Mr. Potato Head Pez dispenser in that you could change the face, eyes, etc. Because it was determined to be a choking hazard it was pulled from the stores very quickly.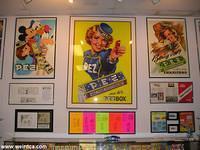 Along the walls, there are several Pez posters, many from decades ago. There are also several special poster displays, several signed by actors or other famous individuals. Amongst these is a Carrier Fisher display, a Charlie Brown pez dispenser, and many others.
In 2004, the museum added several classic toys to its displays including Lincoln Logs, Mr. Potato Head, and Erector Sets. It plans on adding additional classic toys in the future.
Sadly the Burlingame giant snowman Pez dispenser is no longer the World's Largest. The new largest Pez dispenser resides in Orange, Connecticut. At the very end of 2011, the Pez Visitor's Center opened up with a twelve foot tall Pez dispenser and almost 6,000 square feet of Pez related attractions.
Outside Links:
Outside References:
Last Edited: 2013-09-17