Weird California - By Joe Parzanese
Bad Dog

850 San Clemente Drive, Newport Beach, California 92660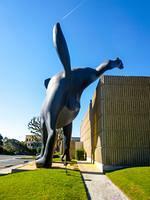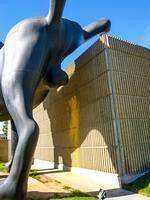 Newport Beach has a dog problem, a problem in the form of a giant puppy peeing on the side of their Art Museum. Yes, the Orange County Museum of Art has a 28 foot tall art sculpture of a puppy urinating on the side of their building. The sculpture stands near one side of the building, one leg lifted into the air, and originally even occasionally sprayed yellow paint onto the wall of the museum.
Labeled "Bad Dog", it is the creation of artist Richard Jackson. It is made of fiberglass and was originally 52 pieces that were put together on site, with the installation complete on February 13th, 2013. The dog symbolizes "effusive companionship" and points to the "sometimes rigid institutional constraints that can frustrate artists and audiences". It was originally only suppose to be temporary, but as of the writing of this article is still there misbehavin'. Although the dog no longer sprays the wall with yellow paint, there are still stains from its past "urination".
Closest Weird
Comments:
Claire carson of CA on 2019-02-08 said:

In person, Big Dog is truly a sight to behold. So much for Orange County's stuffy reputation.
First Created: 2015-02-25
Last Edited: 2015-02-25