Weird California - By Joe Parzanese
Bunny Museum

2605 Lake Avenue, Altadena, California 91001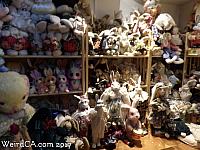 Do you love bunnies? Adore rabbits? Love seeing hares of all types? Then you need to hop on over to Altadena.
Altadena is home to the "Hoppiest Place in the World", by which we mean the Bunny Museum! This building, over flowing with bunny artifacts, currently houses more than thirty-five thousand (yes thousand!) bunny related items! Originally opened in March 1998 in Pasadena, then with only about eight thousand bunny items, the museum is run by Candace Frazee and Steve Lubanski. The happy couple have been exchanging bunny related gifts with each other since Valentine's Day 1993, professing their love to each other, along with their love for all things rabbit (and they certainly do love bunnies, a lot!).
In 1999, the museum was certified by the Guinness World Records as owning the most bunny items in the world. At the time there was only 8,473 bunny themed items. Since then, the collection has more than quadrupled, been seen by over 28,000 visitors, and even been relocated to a larger space in March 2017 from Pasadena to Altadena. The museum was re-certified by Guinness in 2011, then with 28,423 bunny objects.
The outside area of the museum has a "bunny trail" or a line of spray painted rabbits on the walk leading up to the front door. Above the door is a giant bunny head. A bunny bench is near the door and other bunnies are also on display outside. Inside, bunny artifacts are literally everywhere. The museum is set up salon style with floor to ceiling displays. The items on display are museum artifacts and are not to be touched or played with.
Originally, the museum was housed in the owners' house and Frazee and Lubanski originally lived onsite in the museum, but that is no longer the case at the current location. Several live bunnies, however, do live at the museum, and, as long as you are gentle, you can pet and play with them. There are also a few former bunny residents still on display, preserved and behind glass.
The Bunny Museum is open every day! Parking is street only. Steve Lubanski runs the attached bike shop as well. And the actor, Elijah Wood, did a series of television ads for the museum. These ads are all featured on the Bunny Museum's website, and they are, in my opinion, must sees!
Closest Weird
Outside Links:
Outside References:
First Created: 2018-04-01
Last Edited: 2018-04-01