Weird California - By Joe Parzanese
Giant VW Spider Bug

6545 Garnet Avenue, Palm Springs, California 92262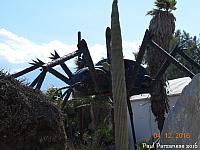 Suffer from arachnophobia? Don't go down Indian Canyon Drive in the Palm Springs area! Located at Hole in the Wall Welding in the Palm Springs area is this gigantic Volkswagen VW Bug Spider! The Volkswagen Beetle makes up the body of the arachnid and it is welded to several large tubes for legs. The Spider Bug also has mandibles and even hair on its legs. It is gigantic and guards the entrance to the lot. It towers over the drive up the building, and cars can easily drive under it.
Rumored to have once been a Volkswagen repair shop, then Hole in the Wall Welding, the Spider Bug has been there for decades. Landscaping around it consists of a bunch of cactus and other welded sculptures. The Spider Bug is lit up by Christmas lights during the season. I believe Hole in the Wall Welding is now closed and the location is a private residence, so please respect those who live there.
Shockingly, this isn't the only Spider Bug in existence! There are a few other spider bugs in Nevada, maybe as many as four, specifically in the Carson City and Sparks areas. They were all made starting in 1979 by artist David Fambrough. Originally they were found outside Reno on Highway 395, but over the years some have been relocated. And if having that many Spider Bugs wasn't enough, there are also a few other Spider Bugs that can be discovered around the country and also in Canada.
All photos courtesy of Paul Parzanese.
Closest Weird
First Created: 2016-04-22
Last Edited: 2016-04-22