Weird California - By Joe Parzanese
Adelaida Cemetery

9899 Chimney Rock Rd, Paso Robles, California 93446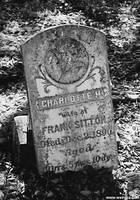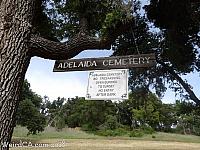 Watch out for your car keys," Tina told us as we unloaded from her husband's car outside the Adelaida cemetery. According to Tina, our guide for our first trip out to Adelaida, the residents of the cemetery like to steal your car keys thus stranding you out in the middle of nowhere. We all dumped our keys inside the car, while Bill and Tina each made sure they had a set of keys to their car. They figured that if things went bad, hopefully, at least one of them would still have their keys at the end.
The legends state that the ghost of Charlotte Sitton wanders the cemetery every Friday night between 10 PM and midnight. She was supposedly the young wife of a minister who committed suicide at the age of 19 in December of 1890. Her child (some stories say children) supposedly died during a diphtheria epidemic and now she leaves flowers on her child's grave late Friday nights. Dressed in a long white nightgown she is said to appear near either her grave or her child's grave. Occasionally she can be seen carrying flowers and laying them on the grave.
Other versions of the story differ slightly placing Charlotte in a long flowing pink dress and colorfully referring to her as The Pink Lady. Yet another story doesn't reference Charlotte by name, and instead simply references a ghostly lady in white who goes around placing flowers on the graves of many different children from multiple families who died of diphtheria apparently around World War I time frame.
The drive out to Adelaida from San Luis Obispo had taken about forty-five minutes. Driving west from Highway 101 through Paso Robles, the roads became winding and slow going. Located west of Paso Robles, Adelaida is now over-ridden with wineries, but still rich in history and the strange. Originally, a mixture of mercury mines, farms, and ranches, Adelaida was first settled in 1859 by James Lynch, a sheep rancher. The population eventually reached a size of seven hundred scattered throughout the area amongst the hills and valleys. The old trail to Mission San Miguel was opened in 1797 and used predominantly in the 1860s and beyond for the shipping of mercury. It is said that the mercury from the mines still runs off into the water supply, causing the wild animals that drink from the pools and lakes to behave oddly, driven crazy or insane from the high mercury content in their drinking supply. Rumors of odd behavior or suicidal actions on the part of the local wildlife are common. This is similar to the "Mad as a Hatter" stories of hatters who would place mercury in their hat bands, which eventually led to insanity. Only the cemetery and the school house around the corner remain of Adelaida. If the history is true, the name for the area came from the first settlers, three families of which each had a daughter named Adelaida - yes I know that seems a bit far fetched.
Passing through Paso Robles, Tina entertained us with tales of the local area, including some of the buildings and houses there. After turning left off the highway, she pointed out a house on the corner that according to her is the most haunted house in Paso Robles. The residents of the area, many many years ago use to drive suspected witches out of town to the location where the house now sits. There they would stone and kill the obviously wrongfully accused woman. Now, according to local legend, all of the women's ghosts haunt the house. It was for rent at the time we drove by if you're interested.
Later as we drove through wine country, Tina pointed out an old stone wall. The wall was about two to three feet tall and bordered on both sides of the road. Built completely out of rocks, it was overgrown and crumbling. Long ago, one of the residents of the area hired several people to build the wall, but upon its completion he refused to pay them and instead shot every last one of them.
Eventually, we arrived at the cemetery. The cemetery was started by Wesley Burnett in the late 1800s and is rather large consisting of two separate levels, a lower level and an upper level. The first person buried in the cemetery was Mary K Burnett in January of 1878. She was the wife of Wesley Burnett and her grave can be found in the upper level. The cemetery was incorporated in 1905 around the time of Wesley's death. He is buried next to his wife and the cemetery recognizes him on the back of a wooden sign that hangs from a tall tree near the front gate. Ironically, his grave didn't even have a marker on it until the fall of 2001 when his great granddaughter had one placed on the spot where records showed his grave to be.
The records of who is buried where are extremely incomplete as over time nature and people have destroyed a lot of the old markings showing the locations of the graves. To make matters worse, the original plat map of the cemetery is rather illegible and even occasionally has discrepancies from the actual site. Little metal flags along with flagstone rocks use to show the graves, but many have disappeared or been stolen or moved. Although it looks like an attempt was made to put the graves in a somewhat orderly row like fashion, grave sites are spread all over the hill side, sometimes randomly in locations off the beaten trail. Such was the uncertainty of where the graves were, that Tina told us to excuse ourselves as we entered the cemetery and to apologize for walking over grave sites she was sure we would be accidentally stepping on.
A rickety sign swinging from chains on a tree greets you with "Adelaida Cemetery". On the back of the sign is a tribute to the donor, Wesley Burnett. We initially took the hill up on the right. As I walked up the curving hillside, I took in the countryside. Little purple flowers covered the area, which I thought was a bit strange since I couldn't recall seeing any of the flowers on the drive up from Paso. The trees loomed above us dripping moss and lichen like cobwebs from their limbs. It if hadn't been daylight I think the walk to the top would have been extremely creepy.
To the right of the gate, a small abandoned caretaker's shed sits. On one visit, the word "Kill" was painted on the front. The shed isn't in a great state. Some visitors have reported running across what may be a caretaker ghost or hearing heavy footsteps pursuing them near the shed. Shadowy figures have also been seen lurking around the shed. If these stories are true, it seems the cemetery is haunted by more than just Charlotte, and she might be joined by at least one other ghost, one who patrols the cemetery possibly still taking care of its grounds.
Adelaida Cemetery is rumored to have a lot of spiritual activity including a bleeding tree. The cemetery itself gives off an odd feeling even during the day and attracts a lot of unusual people to it (I myself during one daytime visit ran across a strange couple hanging out outside the gate in a pick up truck. They did everything that the stereotypical creepy guy at the beginning of a horror movie does except literally scream "You're all gonna die". They were gone before some friends of mine arrived a few minutes later). Signs of grave tampering were also evident one of the times I visited. Vandalism is also sadly a problem with the site. Although pictures here show Charlotte's gravestone, albeit broken, the last time I visited, it was completely missing and gone, only the bottom part sadly remained. It is a shame that visitors have both broken her tombstone and now stolen it. Additionally, I've seen a noose hanging from a tree in the upper area of the cemetery, apparently someone's idea of a sick joke.
Further down the road is the haunted Lincoln Adelaida School and beyond that the old mercury mine. It should be noted that both the school and cemetery are on private property. The school is only open for special events. The cemetery is only open during daylight hours. Being in the cemetery after dark is trespassing and occasionally the county sheriff does patrol the area. This website does not encourage trespassing, nor does it condone vandalism. Please be respectful of the property and those interned within when visiting.
Closest Weird
Comments:
Heather Robinson of CA on 2021-11-09 said:

To Missy of Los Angeles, Ca on 2021-04-27, the animal sounds like it was an elk. To be respected but not feared.

Missy of Los angeles, Ca on 2021-04-27 said:

Has anyone been attacked by anything there? About 16 yrs back my parents moved out to Paso Robles. To make a very long story short me and one of my friends decided to go out on a drive to check out the rolling hills and Spanish moss draped oaks when we happened upon the cemetery. I do a lot of abandoned cemetery photography so I wasn't about to pass up an impromptu opportunity. We stepped out, walked around the cemetery, picked up some trash and then began up the hill. All was fine and well until we reached the back side of the hill where it overlooks a field or maybe a clearing. My friend asked me "what's that animal over there." She knows I spend the vast majority of my time out doors and in the deep woods photographing this or that. I looked over into the above mentioned clearing to see a very large animal or something along those lines. I know cattle are in the area so I assumed it was a rogue cow or a horse or something. I dismissed it as such until it ventured close enough for me to decide to take a second look. It was not a cow, not a horse, to big to be a mountain lion or bobcat, sure as heck wasn't a deer, and it was to thin and to small to be a bear not to mention the wrong color and fur length. All I know is that it did follow us down the hill to a point I was forced to turn my canister of bear mace on "it." Whatever it was had zero reaction to the mace, not even sneezing, didn't even slow down. I ended up hollering at my friend to get back to the car, she took off running to the car and I more slowly began to back away from whatever that thing was. The best way I can explain it would be like an animal sizing in between a grown cow and a calf, long reddish brown fur, scraggly and matted to a point I couldn't make out facial details or if it had a tail, or hooves. Beyond that I know whatever it was, was extremely fast. I made it back to the car without taking my eyes away from this thing. In the split second I lost visual as my friend hung a u turn, the thing was gone. I have flat refused to step foot back in that cemetery since then. I won't even drive by it anymore. I've been in some pretty creepy places over the years, and had some blood chilling incidents happen but that one still to this day has me shaken up. I've researched lesser know about animals in the area trying to make logical sense of that thing. Adding in that at the time we had no idea the cemetery was allegedly haunted. On a side it question, does anyone in this county know of any legends or hauntings in regards to the back roads out to soda lake? My best friend since kindergarten had an incident that she can't explain and after watching her dash cam, I can't explain it either.

Anonymous of California on 2017-10-28 said:

I live not to far from the Adelaida Cemetery had heard some stories about it but had not gone to see it for my self until last year. A friend and i spent a good bit of time there just looking around and taking pictures. Very calm and peaceful place, saw nothing creepy of the supernatural type, though there some of the creepy living type, hanging around the parking lot when we first got there. They left thank goodness, and we picked up theirs and others beer cans. This is a very nice place and is still and active cemetery, so please please be respectful. I hope to get back out there soon. Some of the photos I have taken there have won me awards, so I think it's time to go back, thank the residents and pay my respects. :)

james of las vegas, nv on 2016-05-02 said:

While I never visited this cemetary, I had an experience in watsonville. I worked in all those little surrounding cities as a traveling cable salesman. Id say it was around 2006 when it happened. I was attacked by a demonic force in a hotel room in watsonville. I woke up in the middle of the night and saw what I would describe as a skeleton in a black cloud. It was blacker than black. It came onto the bed and started to overtake me. I was convinced I was going to die. I remember saying to myself, so this is how I'm going to die? I closed my eyes and started praying. There was a light and then it was gone. I've had other paranormal experienced but this was the scariest.

(I looked up the name of the hotel. It was the economy inn in watsonville ca. There was even a review from a year ago saying it might be haunted.)

Anonymous on 2015-11-03 said:

I went here and saw some black heels in the caretakers room thing. It was so scary though considering me and my family where the only ones there.

Richard of Visalia, Ca on 2015-08-09 said:

My friend kym and I came across the cemetery on a beautiful Saturday afternoon drive , I wanted to stop and check it out , she did too. The cemetery was empty no other cars or people and suddenly we could hear a child singing the most beautiful song I ever heard and then it just stopped. We continued to explore the cemetery because it wasn't a scary experience , but kym and I heard the same thing.

Chad Land of Templeton , Ca on 2014-11-04 said:

I have spent the night there. Also filmed a music video there from 11pm till sunrise. I have had my car keys disappear there before and never heard about that until now. I remember Frantically looking for them and it was about midnight,I was dead sober and really wanted to just leave. I had to retrace my steps over and over with my girlfriend. We finally found them on the trail going back down from the top of the hill for the third time. I stepped on them! When we first arrived I zipped them up in my inside pocket of my leather jacket and have no idea how it was even possible for them to be missing. Freaked me out at the time, but now I'm even more freaked out.

Crazy.... here is a link to the video called "Rolling Tomb" I filmed a few years later up there. Dedicated to the lady I have seen wondering in a white dress late at night, Charlotte Sitton

https://www.youtube.com/watch?v=Zdb-GBvtZrg

Brad of Atascadero, Cali on 2014-10-09 said:

Oct 8, 2014 My 14 yr old daughter fancies herself a Wiccan in training. For the last few days she had been talking about this evening being a blood moon and that she wanted to visit the cemetery specifically to fill a small glass vile w/ dirt from the graveyard at midnight. We got there a little before 12:00, we walked around a bit, at midnight she knelt down to collect the dirt, capped the vile & placed it the front pocket of her denims. It was a gorgeous and warm evening, the moon light illuminating the cemetery and fields around it. We attempted a few EVPs, took a few pictures & headed back toward Paso. On the ride my daughter was lamenting the fact that we had no paranormal experiences, no EVPs, nothing outstanding w/ the photos, no spooky vibes, no rustling of the trees only the hoot from a distant owl. She then reached into her pocket to pull out the vile of dirt...but it wasn't there. She was very adamant that she had put it into her pocket, which I saw her do. She was completely dumbfounded as to where it was & how it got out of her pocket, my comment to her was that "they" didn't want her to have their dirt...

Mary Firpo of Atascadero, California on 2014-09-13 said:

I went out there last night to see if we could get some pictures and there were multiple orbs that showed up in many different pictures. Also there appears to be an old man's face that appears in the trees along with a pair of eyes in one of the trees. The first time I went there was a very clear image of the old man's face in one of the trees that creeped me out. There are definitely spirits that exist there but not all of them seem to be amiable.

Dave of Paso Robles, California on 2013-11-26 said:

Me and my wife were on a motorcycle ride west of Paso Robles when we saw this cemetary and stopped to check it out .At the front gate I got the smell of strong women perfume , I asked my wife later and she said she wore none.We were respectful and tried not to walk on any of the graves but up the hill it got hard to tell in some places , I took pictures of the very old graves and I suddenly got a very sad feeling out of nowhere but it pasted and we enjoyed the peace and tranquility of the place. In the old shed we noticed an old looking pair of black high heel woman's shoes we didn't touch them .At home I looked at my photos and saw a green orb I could not explain in one of the pictures.

barry young of los angeles, CA on 2013-10-06 said:

i've been here countless times taking photos. often by myself. i've stayed here overnight. by myself. i come to pay tribute and contemplate. adelaida is just a very peaceful, beautiful & historical site. all of the ghost sightings mentioned here are wishful thinking and/or psychosomatic. believe me-i visit the most 'haunted' places all over the world; i have never seen- nor do i expect to ever see- evidence of ghosts. IF i ever do experience something paranormal, i promise to let you know.

marshall harrow of visalia, California on 2013-10-03 said:

"Joe Bob of Paso Robles, CA on 2011-04-21 said: I told my story about this place a few years back in a previous post, just scroll down and read it! It's weird that some of the more recent stories all fall pretty much in line with mine. Rocks being thrown, the man that lurks near the gate and the figure that walks around the lower level. Although I didn't see any of these things myself, perhaps those spirits are the ones that harrassed my group. Whether these stories are merely figmints of our imaginations or factual events, I think we all can agree that SOMETHING is going on out there, but what? Does the fact that it's an old, crumbling 1800's cemetary out in the middle of nowhere cause or minds to play tricks on us, or is there truly a "Charlotte" or "Sarah" walking around placing flowers on her childrens' graves and forever looking after them? If he indeed exists, who (or WHAT) is the black figure that stands by the gates and stalks people on the lower level? I'd be inclined to say that whatever "it" is, it gives off a very uncomfortable vibe and seems to be evil. Who knows. I haven't been back there, but reading these stories makes me want to go try an EVP session" ..... That isn't a good idea Joe Bob...something followed me back from there.....if you think I am BS'ing you....email me...sultanharrow@gmail.com...CALL me...559-303-7142....I'm posting real contact info...I do that because I have seen some scary stuff...and it all started after visiting the cemetery at Adelaide....this is not a joke...I find your use of "IT" especially disturbing.....That was the name I used to describe the thing that followed me.....before I ever read this...."IT" terrorized me for a year or more until I moved.....don't mess with "It"....I think it is a demon....I have 2 other reliable people that saw it too..."IT" is real......

Anna Hernandez of Paso Robles, CA on 2013-05-05 said:

We took a short road trip and stumbled apon the cemetery. Before getting out of the car my brother metioned I hope we don't loose our keys and before leaving he said what if we were to loose our keys. I found it interesting that the story starts of with. Watch out for your car keys. But other than that I found it very peaceful in there I wanted to walk up to the top but didn't know if I could or not. I love cemeteries the history. I would go back again

Joyce Davantzis of Morro Bay, CA on 2012-11-08 said:

Great job documenting all of the scary stories. Charlotte Sitton became the Pink Lady by way of an internet photo that showed a greenish glow around her tombstone. We found it to be phosphorescent moss. Charlotte did die at 19. She only had one child, he is buried next to her as Jehu Barnes, age 2, and his tombstone has fallen on hard times. The Pink Lady legend stems from a short story in a book about Central Coast Ghosts, written in the late 70's. The original Pink Lady is actually Emily O Weiss, who lost all four of her children to Diptheria. There are no death certificates to indicate suicide, but in those days they had to cover those up, or risk not being allowed burial in the church cemetery, so we can never be sure. The Pink Lady is said to place flowers on her children's graves every Friday afternoon, but I have never once seen her (after many Fridays of searching). The mercury info is basically accurate, and we have been chased by aggressive deer more than once. The giggling children are (I am almost sure of it) wild turkeys. It's quite terrifying if you don't see the turkeys, but when I did I realized they must be the culprits. I have also seen signs of grave tampering, and even black candle wax, so thank you for discouraging nighttime visits to that site. It is really not safe, because of the real people who might meet you there. It's also still in use, and people go there to grieve (some think it is a ghost town cemetery, abandoned, but that is not true) And it's just as "haunted" during the daytime, in my opinion. If you go, take a laser thermometer with you. We caught a 20 degree drop on a sunny day, no earthly explanation for the "cold spot" but it was in the large area of unmarked graves (a wooden cross is all that stands in that area) I do not know about the stone wall, (will research it) but I have heard terrifying stories about the "witches house" in Paso for years, and am not shocked to read that it was for rent LOL

Ryan of Templeton , California on 2012-10-27 said:

I've only been there once, it was on the friday night before Halloween, about 11pm. With me were my two brothers and my sister. As we arrived and were about to walk in, a group of about six or seven teenagers, being extremely loud and obnoxious and possibly drunk, came walking out. We proceeded ahead and walked around the lower level, then headed up the hill and walked around the upper level. As we came upon Charlotte Sitton's grave, we noticed her headstone had been knocked over, and there was several empty beer cans laying around. As we were already trying our best to be respectful of those at rest, we decided we should repair the vandalism. So as my little brother and I righted the headstone, ensuring it was stable, my other brother and sister picked up the trash. We then found a nearby spot with no obvious graves and sat down. We were there about an hour total. Im not sure if it was because of the teenagers before us or because of what we did, but it was very quiet and peaceful. Not one of us saw or heard anything, and were actually kind of disappointed we didn't. All of us agreed we felt nothing but peace and tranquility as we said goodbye to the resting and started down the hill. About that time county sheriff pulled up, thats when we got scared, haha. But my brother and sister talked to them and they told us we had better leave, so we did. Haven't been back, but my siblings and I believe that what you say, feel and do during your visit dictates what the resting will reciprocate. We were respectful and were rewarded with peace. So please do the same, be respectful of those at rest, and don't vandalize graves or leave your trash laying around, they appreciate it.

Gabe Perez of Atasccadero, Ca on 2012-09-06 said:

I've been out here twice. The second time I went out here was the Friday before the Halloween of 2011. We were caught and asked to leave. Though the First time I made my way out here was September of 2010. There was a group of nine of us. Two people in the group were being loud so we couldn't sense anything. The two left around 12:30 and that's when the cemetery started to come alive. We heard foot steps walking on leaves. Some of you might think the leaves were being rustled by the wind but we could hear the the leaves crunch beneath foot steps. Or you might think it was animals. We followed the footsteps just to be sure and no animals ran off. We decided to sit down. We were probably spread out over 10-15 ft. We all felt a cold gust creep over us but the left sides of our bodies were hot. At that time I looked at my brother and said let's get out of here I don't want to bring anything with us. He agreed along with the rest of our group except my sister but she reluctantly left as well. When we got down the hill we separated into the two vehicles we came there in. My brother had a air freshener hanging in his truck. The air was still there wasn't a single gust of wind blowing but that air freshener was swinging and twirling back and forth like someone or something had hit. We all freaked out and jammed out of there. Even with the experience I had out there I'm still gonna go back out there. I know not everyone that goes out there will have the same experience . You have to have and open mind. My father's side of the family has always had "gift" for seeing and sensing the supernatural. Needless to say I'm a believer. If you do make your way out here please respect the dead.

Linda of California on 2012-07-30 said:

My family and I went to the Cemetery a couple of times. We found it kind of creepy but also peaceful. We took pictures on our second visit there. When we printed the pictures there was a white cloudy figure in the shape of a woman above one of the graves. My son later used the picture for a school project about ghosts. It is a very neat to go.

Melissa of Monrovia, California on 2012-06-18 said:

Me and my husband always check out the local cemeteries on our vacations. We read how haunted this place was, so we decided to stop by on the way home. We checked out the shed. Saw and heard nothing. Walked to the top of the hill, saw and heard nothing. Took numerous pictures and video, still saw nothing. Looks like most of the stories are from the locals perhaps trying to protect the land from vandals.

Anonymous on 2011-10-26 said:

Just got back from Adelaida cemetery, & it was very peaceful& quiet there. I have lived here all my life & been out there several times, nothing strange or unusual has ever happened. It's a beautiful spot....

karrie johnson of paso robles, ca on 2011-09-24 said:

My great grandparents on my mothers's side are burried there, along with my grandfather (also on my mothers's side) I have a great aunt and great uncle and my cousins' ashes are burried with the both of them..and several other relatives as well..the school house that is mentioned is NOT the original school house..the original school house was actually located at the fork in the road at Clau Mine (on the right hand side)..if you look closely you may still be able to find the foundation the one-room school house stood on..my grandfather was the Head of the School Board (William T. Botts), he was responsible for the hiring and firing of the teachers..He owned the ranch to the left of the fork in the road-above the mine..on the hill..if you make the left turn at the fork in the road at Clau Mine..I do not ever recall seeing any ghosts at the cemetery..nor do I ever recall STRANGE OR FUNNY feelings..I know lots of folks enjoy haunted tales..and seeing out the same..I just hope that IF ANY potential HUNTERS do venture forth..PLEASE be respectful of the gravesites, do not vandalize the cemetery, and please IF YOU SMOKE..be very careful..it is extremely dry this year..my family isnt't the only ones out there..I think you would all feel the same if it were your family or loved ones laid to rest..Thank you for your consideration

Anonymous on 2011-06-01 said:

Please respect the dead buried here. This is where my familys sites are.

Joe Bob of Paso Robles, CA on 2011-04-21 said:

I told my story about this place a few years back in a previous post, just scroll down and read it! It's weird that some of the more recent stories all fall pretty much in line with mine. Rocks being thrown, the man that lurks near the gate and the figure that walks around the lower level. Although I didn't see any of these things myself, perhaps those spirits are the ones that harrassed my group. Whether these stories are merely figmints of our imaginations or factual events, I think we all can agree that SOMETHING is going on out there, but what? Does the fact that it's an old, crumbling 1800's cemetary out in the middle of nowhere cause or minds to play tricks on us, or is there truly a "Charlotte" or "Sarah" walking around placing flowers on her childrens' graves and forever looking after them? If he indeed exists, who (or WHAT) is the black figure that stands by the gates and stalks people on the lower level? I'd be inclined to say that whatever "it" is, it gives off a very uncomfortable vibe and seems to be evil. Who knows. I haven't been back there, but reading these stories makes me want to go try an EVP session...

yvonne williford of bakersfieldon 2011-03-21 said:

I took my daughter with me on my cemeteries trip. It was during the day and there was a man working within one of the sections that was blocked off by big stone slabs. We didn't bother him. We just took pictures with her camera. It was a little creapy,but at the same time we felt a peaceful calm around us. We developed the pictures when we got home and looked through them. In a lot of them we found either full bodied figures with clothes and faces that either looked right at us or some other figures within the picture. In other pictures there were just faces. In almost half of the pictures I have taken at the 10 or more cemeteries I have been to I have visited have lost spirits in them. I think they come out and let me photograph them because they are curious to see that some one does care enough just to visit them, and not be freaked out over the dead.

Natalie of Paso Robles , CA on 2011-03-05 said:

me my sister and her friend all went to the cemetary last night at around 8. my mom was in the car behind us and her and my little sister waited in the car because they were too scared to get out. me and my sister and our friend walked up to the cemetery gate and right before we stepped inside the cemetery, we heard two booms that sounded far away but up close at the same time, and right as we heard the booms, we saw a black figure by the shed twich. we all freaked out and ran to the car and as we drove away my mom called us and said that her and my little sister saw lights following us as we drove away.

andrea of san luis obispo, ca on 2011-01-14 said:

my daughter and i went to the cemetary on january 11, 2011. she has a high tech professional camera that detects head movement and blinks. she took some pictures of some berry bushes and thicket behind the gravestones on the hill. well when she took the picture the camera detected head movement and a blink. so we though that was a little weird but we didn't feel uncomfortable. Then we were taking pictures near charlottes grave and the batteries in the camera died. it is a little creepy on the hill where the brush grows over. We are going back tonight since it is Friday, to see if we encounter any activity. i'm not getting out of the car though, not after reading other postings!!

Poe of PR, CA on 2010-11-27 said:

Walked around the cemetery at night, it was after X-mas. Later found coagulated blood in the mud we tracked in.

Todd Taylor of Morro Bay, California on 2010-09-24 said:

I have been to the Adelaida Cemetary a few times for I was intrigued by the notion of it being haunted. I've seen numerous ghosts in my lifetime and thought it would be worth checking it out. I went there on a Friday night with my fiance and her brother and brothers older kids. It was very interesting being there and you do feel presences there. At one moment I thought to myself, "Hey, I have a picture phone!" I took it out and aimed it out in the darkness to see if any orbs or other images would come out. I said out loud, "If anyone wants to make their presence known, please stand in front of this device on the count of three. One... two.... three. ('SNAP') I looked at the picture I took and HOLY COW!!! There is a bright red flying orb 8 feet in full view and under the bright part of the orb is an evil image of what looks like a demon man. You can see 2 dark eyes, big bulbous nose, every took in its evil smile (like its saying "EERRRGH" at me!) and can even see its collar bones and chest a little. Very creepy! My fiances family lives off of Adelaida and I visit there repeatedly now with more equiptment. Will post anything else I find. I am willing to share my photo at my email. Check out Adelaida Cemetary! Very cool creepy place!

Elissa of Cambria, California on 2010-08-23 said:

I've been to the cemetery on several occasions in the day and night. After having some experiences and being a history buff I did some research. While it is said that Charlotte is the haunting the actual haunting is that of a Sarah Rye, whose three children died within days of each other during the diphtheria epidemic. Two of her children were buried on the top of the hill next to each other but for some unknown reason the other was buried across the path in a different row. The child's grave was later reported to be moved next to its siblings which seems to have stirred the haunting. Their graves are marked but for some reason Sarah's only has a large boulder on it. I did find records of their deaths and burial sites.

TL of Paso Robles, CA on 2010-08-12 said:

My husband went here as a joke with some friends a couple of years ago and they were all chased out of the cemetery by something throwing rocks at them...

Isaac Mojica of Bakersfield, California on 2010-06-22 said:

Myself and my family have been to this cemetery 4 times and wish to go back again soon. Each time we have gone we have experienced something. This last time was the most active. We went February 16th 2010 at about 1AM. As soon as we pulled up alongside the gate, I saw a man in my peripheral vision standing at my driver side window. When I turned my head to look directly at him, he disappeared. My friend John and I took a voice recorder and night vision camera in with us as we attempted to walk around. My wife stayed in the car to serve as look out with the locals or possible police. She said she saw a shadow figure of a man following us around the lower level of the cemetery. We did not see this, but were hearing footsteps behind us the entire time. We attempted to go straight up the hill to the center, but stopped when the large bushes began to shake violently as if something large were coming through them. There was no wind or sign of animal. We decided to turn around and head back to the car. As we were coming down the hill, my friend and I were talking. His face was turned looking at me, and as he turned his head to look at the ground in front of him, he suddenly jumped back into me, yelling. He says he saw a man's face in his as he turned. We made it to the car without further incidence, but my wife witnessed several strange anomalies from her seat in the car. She saw the red orb going through the trees as we were heading up that way, and as we were putting things away to leave, we all saw a white mist in the shape of a human figure walking across the upper level. When we arrived back at our hotel room, we reviewed our voice recorder to see if we had caught any EVP's. We caught a very clear scream from what sounds like a woman in an old horror movie, followed by a low gutteral growl. We hope to go back with better equipment and local permission and do a proper investigation of these sightings in the near future.

Alton Samuelson of Paso Robles, CA on 2009-12-02 said:

I love that old cemetery! The lower portion doesn't look like much, but when you get up on top of the hill, the views are beautiful. Come on up and have a look for yourself, you might just decide to stay!

theresa of nipomo, ca on 2009-11-15 said:

thats funny because when i was there during the day with my friend we were up top walking around and all of a sudden our car horn just started beeping but we could see noone in the car!!!

Michele B of Orange County, CA on 2009-11-10 said:

My friend and I stopped by the Cemetery during the day in October. Since my friend completely wussed out and wouldn't get out of the car, I ventured into the cemetery myself. At first glance, the cemetery doesn't look like much, but at closer inspection, all of the "creepy" graves are towards the back of the cemetery up the hill. After trekking up the hill, I found some headstones. Considering I was the only person there, I wasn't too freaked out by it (but it was during the day). Didn't even get to stay as long as I wanted (had to go back to the car). Stopped by the caretaker's shack and noticed the inside walls looked like they had blood splatters all over them. Can't wait to get back in November with my husband (who isn't a wuss) and really check it out. It's definitely worth the drive. Wouldn't mind going out at night, I can only imagine how creepy it is in the dark! Will post more comments after my November trip!

Joe Bob of Paso Robles, CA on 2009-10-27 said:

I've been there several times. The first couple of times I went out there, it was just me and one or two friends. We didn't experience much but that heavy feeling and the feeling of not being wanted there. The last time I was there, we went with a group of six. We split up in groups of three. Myself and two other people walked towards the shed while the three others walked straight up the hill. We got no less than 20 wards into the cemetary when one of the girls in the other group made a bee-line for the cars. I ran out after her to see what the problem was. She said someone placed a hand on her shoulder and breathed or whispered something in her ear. There was no one standing behind her at the time. After a few minutes, everyone else came out. As we sat in the car trying to calm this person down, a few of us heard footsteps coming down the hill towards us. We shined a flashlight into the cemetary and saw no one, but still heard the footsteps. Then we began to hear other footsteps coming from different directions inside the gate. A few of us saw shadows moving around. Myself and two other people went back in to investigate the sounds. We found no tracks and no sign of animals. That weird vibe the place gives off came back full force though! We felt like we were being watched. The girls were still in the car and flashed the headlights at us like "Let's get out of here." As we walked towards the gate, all three of us felt as if we were being "chased" out. We never ran away, just took our time. Whatever was in there didn't like that! I got into the driver's seat of my truck and the two other guys got in the back seat. A rock actually was thrown at us over the gate and cracked the windsheild of my truck! I turned on my headlights and again saw no one. Wierd! We didn't have cameras or recorders, but we sure had a few experiences!

kitty of paso, calif. on 2009-10-10 said:

The first few times i went to the graveyard with my family i loved it. then it began getting creepier and creepier. finally we noticed the graves moving locations. dogs barked from no where when we got close to certain graves. we found a dead cat in the forest by the gravesite. i finally stopped going and havent been there in 7 months. its creepy

Eric Sherwood of RUTLAND TOWN, Vermont on 2009-05-29 said:

I attended Atascadero High School,pretty sure it was my junior year. Some friends and I went to see if the stories were true. Most of the same things happened that all the other comments say but when we entered and were walking toward the tool shed it seemed as though shadows were waliking up and over the hill,if it was anything we would have heard crunching od leaves. Our strangest thing was we all looked in the shed at the same time and in the back of the building we saw a pair of red eyes and it was at that point we decided to leave. We were there in the very early morning and I only posted a comment cause of one of the other posts that referenced the red eyes. My brother had gone after and am pretty sure he experienced stuff,would for sure like to go back someday

Anonymous of San Luis Obispoon 2009-05-22 said:

Results from the night time visit from the posting on 3-28-2009. We arrived to High school kids hanging out in the cars in the parking area in the front, who left after a few minutes. When walking in the cemetary, there was still the odd heavy feeling, but it was only upon passing through the gates. We took pictures the whole entire time we were there with different cameras. We didn't really bother much with the lower part of the cemetery and went to the upper level. We did not experience much of anything while we were in the cemetery. A few of us were very scared and wanted to leave. So we had a recorder and asked some questions to see if we would get any responses(didnt geta anything). We finished going down the trail and passed the shack and left through the gates. There was the heavy feeling, but that was it. When we later looked at the pictures, we found many things, some explainable and some not. There was lots of dust on the trail in certain areas which created "orbs," which were obviously due to the dust. We found a very large red-ish orb, that was nothing like the others. It hovered above Charlotte's grave no matter how the angle of the picture was(meaning if the grave was centered in the picture or if it was in the corner of the picture and from any angle). In this area, there was no dust orbs created at all, just this one larger red orb. It was there in ever picture that included her grave. When we would go around to other graves and come back, the same orb was above Charlotte's grave. We also found these odd red blurs in a few pictures. These red blurs were also seen in the pictures that were taken during that day's daytime trip. They were on the trail ground. We found one on the way down near no marked graves, and another right near the gate of the cemetery. Maybe the one near the gate was from the lady that people have claimed to have seen near there. This place is really not as bad as it seems, but if you believe in the supernatural, I wouldn't mess with evil things which this place is claimed to have. I was lucky to not experience anything negative, but that stuff isn't something to be played with.

Anonymous of San Luis Obispo, CA on 2009-03-28 said:

Today I visited the cemetery during the day because I thought I would be to scared to go at night because of all of the stories that I have read. Sadly, I did not experience much during the day. Upon arriving, it looked like a small pleasant old cemetery. But when i waled up to the gate, I had a very heavy presence, like it came out of nowhere. But the strange thing was is the heavy feeling was only near the gate, upon arrival and leaving. We walked all through the cemetery, upper and lower and obviously respecting the grave areas, and did not see anything. When i went to take pictures of Charlotte's grave my camera, out of nowhere started to not operate correctly. my camera started to make funny noises and was not able to focus correctly. My camera was on the whole time i was there, the battery was charged, and my camera has never had a problem and it was less than 6 months old. I found it very very odd. On our way out we looked in the shed. Nothing special. On the way out, I felt the heaviness when I left the gate again. When we got home we looked through our pictures. There were none on mine that had anything significant but on my finace's camera, all of the pictures taken of Charlotte's grave had a red glow near it. One of them even had the red glow trail off towards the grave. And that was my experience. We have decided to go at night to see if we see anything. I am still very hesitant about doing this at night, but I am going with a few people, so hopefully everything will be good. I will post tonights story when I return home.

Amber Baxter of Los osos, Ca on 2009-03-21 said:

My friend and i went to the Adelaida cemetery at night last night...after going during the day... The whole drive there i was scared...And usually i am not a wus...But when we got in front of the cemetery i could feel someone watching me! not someone but...LOT'S of someones...It was a very unwelcomed feeling and my friend who was not scared no longer was wanting to enter the gates.Instead we took several pictures...and when looking at them at home, we saw there were bright round lights hovering ALL around and a bigger one in the tree closest to the entrance...Really really bad feelings...and hopeless feelings there. I am glad i didn't enter.

LITTLE LUNA of selma, ca on 2009-01-31 said:

i have been there about 3 years ago,and share a photo, which i was standing against the tree which is holding the ADELAIDE CEMETERY. Looking closely we all see an image of a evil face...

Jay of Pasadena, CA on 2009-01-06 said:

I visited the cemetery about two years ago. I didn't see any ghosts, or hear anything strange, but I always had the feeling that I was being watched...like right over my shoulder. Imagine being alone in a crowd, kinda like that. Some very bad things happened to me the day after my trip there. Coincidence? I'll never know for sure...

michael palmer of phoenix, arizona on 2008-07-25 said:

im not from paso robles;but i have been there with my girlfriend a few times. only once to adalaida and the hair on my arms was standing the whole drive there. we got there and pulled in front of the main gate. it was daylight outside and i would not get out of the car. it was defenitely scary. but i will tell you one thing. i will be back to test my bravery. and to see if the stories are true.

Tom Welch of Marble Falls, Arkansas on 2008-07-17 said:

I grew up in Atascadero which is fairly close to Adelaida. While in high school in the 1970s some friends and I went up there at night. Near the section where Charlotte's children (or child) is buried, I remember being overcome with a peaceful feeling, but there was another area that's overgrown with young trees with a bigger tree in the middle and going near there would make your hair stand on end! I got a wierd sense that there was a totally angry or evil presence there. I heard that a ghost hunter actually got attacked by something that followed him from that spot and even appeared to him miles away in a motel room in the middle of the night. He said it was black with red eyes, and it actually placed his hand on the guy's heart, then disappeared. Adelaida is definitely worth the look, but not for the faint at heart!

Shandi Sanders of Atascadero , California on 2008-07-08 said:

I have been to the cemetary and it is very scary. There is also the old school that is very haunted many of my friends that have stopped there and went to leave and their cars would not start.

jenny merino on 2008-06-30 said:

i lived in paso robles for eight years of my life. and i have always been told that the cemetary was haunted.when i was in high school we used to go there every weekend to scare ourselves and to see if all the tales were true. just the drive to the cemetary gave me chills sometimes i wouldnt even want to get out of the car. the last time i went there i will never forget we waited till 11 o clock and then heard a lady or something scream i remember crying because it scared me so bad. after that i decided to never go back.

kat of new york, ny on 2008-06-25 said:

Well I grew up in paso robles and have been to the cemetery many times.. both day and night... i swear everytime i'v gone there something strange has happend.one time i went during the day with one friend and i was on the other side of the little building and was yelling for her and she never heard me..I was told that a virgin was sacraficed in the building.. also at night me and some friends were leaving there one night and got stuck in a ditch and a car almost hit us..

Bart of Santa Rosa, CA on 2008-05-13 said:

Decided to go this place with a buddy but chickened out when night fell. The place gives off a creepy vibe. Not only that, when night fell we heard human whistling..definitely not birds. I wish I would have stayed but the rumors of cultists creeped me out.
Outside References:
First Created: 2006-11-28
Last Edited: 2020-04-18