Weird California - By Joe Parzanese
Hollywood Forever Cemetery

6000 Santa Monica Blvd, Hollywood, California 90038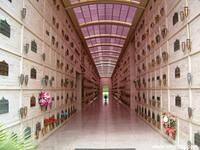 If you want to see several stars all in one place, then the place to go is the Hollywood Forever Cemetery. Of course, the stars that you'll see there are all mostly long dead and gone; I say mostly. Founded in 1899 and located on Santa Monica Boulevard in Hollywood, the Hollywood Forever Cemetery not only is it the resting place for hundreds of Hollywood's stars and other famous persons, but it remains a fully operating cemetery to this day still performing new burials and cremations every week. Today its owner was once an adviser on the television series, Six Feet Under.
Some of the famous stars buried here include Douglas Fairbanks, Tyrone Power, Peter Lorre, Marion Davies, Carl "Alfalfa" Switzer, and Charlie Chaplin Jr. Recent additions, in the past few years, include Fay Wray of King Kong and guitarist Johnny Ramone.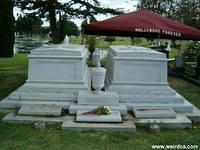 Other colorful characters of note include the director of "Ten Commandments", Cecil B. DeMille. During the making of that film, he buried his enormous Egyptian sets in the dunes west of Guadalupe along the California Coast. His large tomb, containing two matching stone sarcophagi, is fairly easy to find on the road going to the left from the main gate. The grave site is located on the right side of the road.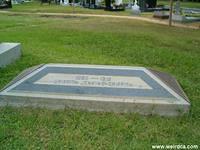 Another person buried in the cemetery is Griffith J. Griffith, the eccentric and wealthy businessman responsible for donating Griffith Park to Los Angeles. Granted, he thought the land was cursed and that a ghost stalked it, but still, his donation of the land followed by the willing of even more money after his death helped build the second largest park in California and contributed to the construction of the Griffith Observatory. History can ignore the fact that he tried to kill his wife because he believed that she was conspiring against him with the aid of the Catholic Pope.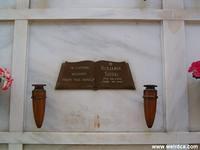 Next up, on our listing of colorful characters is Benjamin Siegel also known as the Mobster Bugsy. Benjamin Siegel was assassinated at his girlfriend, Virginia Hill's mansion in Beverly Hills. Although he is buried in the giant mausoleum in the back right hand corner of the cemetery near Paramount Studios, his ghost is said to still haunt Virginia Hill's house as well as the grand hotel, the Flamingo in Las Vegas.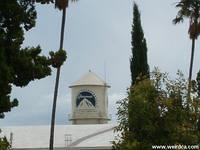 So after all the dead and resting residents of the cemetery, we finally get to all the dead and non resting residents of the cemetery. If rumors are to be believed there are at least three separate ghostly entities lurking within the grounds of Hollywood Forever Cemetery and perhaps even countless more wandering around the edges and spooking the other nearby properties. Originally located on 100 acres, forty acres of the cemetery were sold to Paramount Studios and RKO pictures along the south facing part of the property long ago in the twenties. Paramount Studios is still there, although RKO pictures, maker of King Kong, is no longer around. With its close proximity to the cemetery, Paramount Studios has been described as one of the most haunted of all the movie studios in town. If the stories are true, many of the ghostly dead will walk straight through the walls from the cemetery and into the movie studio. The stages of Paramount Studios that are located the closest to the cemetery report seeing spirits clothed in thirties and forties garb. Additionally they report hearing mysterious footsteps wander through the studios and equipment turning on and off.
Located a few feet from the cemetery on the Lemon Grove side, is one of many entrances into Paramount Studios. However, this one is often used by the studio's ghostly visitors. Apparently some of the ghosts will simply stroll in walking straight through the gate, where as others will actually poke their heads (and occasionally walk) through the wall separating the cemetery from the studio. Needless to say, the guards on the night shift at the gate are not exactly pleased by the uninvited visitors wandering in and popping in through the walls. Guards have even reported the specter of Rudolph Valentino strolling into the studio through the Lemon Grove gate.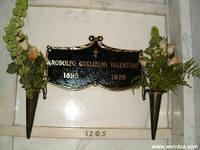 One of the many ghosts that possibly resides within the cemetery though isn't Rudolph Valentino but instead a ghostly woman in black who visits him bringing flowers. Valentino at age 31 died on August 23, 1926 following surgery for a gastric ulcer. It is suspected that 100,000 fans gathered outside the funeral home in New York City. It is even rumored that a wax replica was utilized at the service in order to protect the real body of Rudolph Valentino safe from his "adoring" fans. As his body was brought back to California, fans gathered in railroad stations across the United States to simply catch a glimpse of the train carrying him. And in Hollywood, over 80,000 mourners visited the Hollywood Forever Cemetery when Valentino arrived there to be interred. Even a plane flew overhead raining thousands of rose petals down on the proceedings. Valentino was placed in a temporary spot in the Cathedral Mausoleum. Rudolph Valentino was entombed in the second hallway on the left side of the Cathedral Mausoleum. He can be found in the far left corner of the third alcove. The spot was only supposed to be temporary. A grand and large memorial was suppose to be designed including several life sized statues of Valentino. The temporary crypt came from Rudolph's friend June Mathis who owned two spots next to each other within the cemetery. Sadly she suffered a heart attack less than a year after Valentino's death and in now laid to rest in the crypt next to him. Valentino's family purchased from Mathis's widower the crypt that Rudolph resided in later when all plans for Valentino's memorial had fallen through, thus making the "temporary" home his permanent home until this day.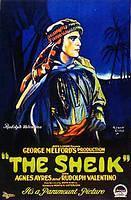 After Valentino had finally been laid to rest; however, the real mystery began. On the anniversary of his death, the crypt was visited by a mysterious woman in black. Clad from head to toe, including a black veil, she left roses at Valentino's resting place. Every year, she returned. One suspected rumor was that the woman was Pola Negri, who claimed to have been engaged to Valentino at the time of his death. Friends and family seem conflicted on the veracity of her claim. Others thought it was a fan mimicking one of Valentino's works where a woman dressed completely in black visits Valentino's grave year after year. In the forties, a woman named Marian Watson came forward and proclaimed that she was the Lady in Black, that Valentino had proposed marriage to her before he died, and that he had fathered at least one of her children. Other women also came forward with outlandish claims of their past lives with Valentino. Finally a woman named Ditra Flame came forward. Supposedly when Ditra was very young, she became seriously ill and was in the hospital. Valentino was friends with Ditra's mother and came to visit the sick girl, bringing her a single red rose. He told her "You're not going to die at all. You are going to outlive me by many years. But one thing for sure - if I die before you do, you please come and stay by me because I don't want to be alone, either. You come and talk to me." Ditra recovered shortly after Valentino's visit, and after he passed away, remembered what he said, visiting him yearly, but never publicizing her story. She finally came out when too many pretenders began appearing. By 1954, she sadly became one of many Ladies in Black visiting his grave, causing an annual memorial service. Frustrated at the large production that was being made out of her annual trip; she stopped visiting for many years before resuming, wearing street clothing in 1977. In 1984 she passed away, and was buried in San Jacinto, CA, her tombstone identifying her as the Lady in Black.
Other recognized Ladies in Black are Estrellita del Regil who visited Valentino's crypt from the 1970s through 1993 before illness prevented her from continuing her annual visits. Now a yearly memorial service occurs with hoards of Ladies in Black all competing with grief over the dead actor. Some are even cross dressers, one is even an African American woman named Diane Whitmore, dressed all in white trying to start yet another tradition. Despite all these new Ladies in Black, many visitors still believe that the original Lady in Black, whoever she may have been, still spiritually visits the grave, placing flowers at it, her ghostly presence still paying her respects to the deceased and honored actor once known as "The Sheik".
Also haunting the cemetery is supposedly the ghost of Clifton Webb who died in 1966. Webb, the original "Mr. Belvedere" in three different movies released between 1948 and 1951, haunts the Abbey of the Psalms mausoleum. Strange lights, drafts of cold air, smells of cologne, and whispered voices have also been reported coming from or in the mausoleum. Clifton Webb's ghost is also rumored to haunt his old house at 1005 Rexford Drive in Beverly Hills. Even while alive, Webb believed that his house was haunted by a ghost, and after his mother died, he believed that her spirit moved in as well. So if you add in Webb's own spirit there could be as many as three different ghosts residing within the Beverly Hills house. Webb also has been reputably haunting an old throne like chair that he gave to his long time friend and psychic Dr. Kenny Kingston. The chair occupies a place of honor in Kingston's home, surrounded by velvet ropes. Kingston reports that the chair has moved multiple times during his séances. It also apparently loathes having women sit in it, forcefully ejecting them from it if possible.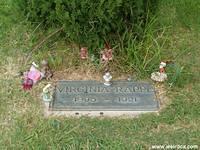 The last spirit said to reside with Hollywood Forever's walls is the ghost of Virginia Rappe. Virginia Rappe attended a party on Labor Day in 1921 in San Francisco at the Saint Francis Hotel. The party was in celebration of a recent contract that Roscoe "Fatty" Arbuckle, a famous comedian and actor at the time, had recently acquired. During the party, Rappe became ill; an ambulance was required to come get her, and a few days later she died at the age of 26. A scandal immediately ensued with claims that Arbuckle had raped the young Virginia. After three amazing trials (the first two ended up with hung juries), Arbuckle was eventually found not guilty, but his career never recovered. Now, in Hollywood Forever Cemetery an icy coldness seems to surround the site of her grave. Additionally the sound of sobbing has been heard in the area as well. Is Virginia still suffering from her traumatic ordeal?
Today the Hollywood Forever Cemetery is a beautifully kept cemetery with several visitors every day. The cemetery continues to build providing new burial locations for future inhabitants. A map is available for five dollars in the flower shop to the right of the entrance. It shows were many of the famous stars are located throughout the cemetery.
Closest Weird
Comments:
Bill of Toronto, Ontario Canada on 2021-02-12 said:

Hollywood Forever Cemetery is my favourite "attraction" in LA. One time I entered the Cathedral Mausoleum and the whole place gave off a very strong and distinctive vibe centred on the 12 apostles' statues. The hairs on my neck were standing up - particularly odd since I do not actually even believe in ghosts and hauntings. That being said, on three other occasions (over 60;years) I have encountered a similar vibe and in two of the three cases my feeling were independently corroborated - but that is another story and not enough to sway my science-and-logic based disbelief.

Scott Spencer of Huntsville, Alabama on 2020-02-28 said:

While I was in Los Angeles in October of 2003, beginning my celebrity grave hunting adventures at the famous Hollywood Forever Cemetery, I had a rather strange experience. As I was walking toward the Abbey Of The Psalms Mausoleum, a feeling of dread came over me. I could think of no idea why I should feel so affraid, but as I got closer to it, the feeling grew. It got to the point where I was forcing myself to go forward. I don't know how far away from it I was when I finally stopped, but one thing was for sure, I could not continue and would not approach any further. I also actually felt a sudden need to go to the bathroom (which I found in the Office, thanks to Annette Lloyd). In all the other parts of the cemetery, I felt nothing but peace among the stillness of the graves and tombs, but for some strange reason, the AotP was different. At first, I couldn't figure out why, but then I felt that there was definitely something wrong about the place. I felt the need to try and get closer and as I did, I felt the presence of something there, the presence of something that shouldn't have been there at all. A mausoleum is supposed to be part of sacred ground, but I felt nothing sacred about this place. My theory is that somehow, a Gate or Door exists there, a Gate or Door to a place dark, cold and foreboding. A place of evil. And I think that it is through this Gateway or Door that something enters our world, something that has no business being here.

Elisa of (formerly) Los Angeles, CA on 2015-10-20 said:

I went to Hollywood Forever once and never went back because...something followed me home. For weeks, some force or energy would hide things around my apartment after I returned home from the cemetery and I had this eerie foreboding feeling (especially in the niches in the floor above the tiny church). Give me the shudders just thinking about it. Lots of energy - not all good - is definitely there.

Cheshire Havens of northridge, CA on 2010-08-15 said:

ive been to hollywood forever a few times to see both bands play and movies shown there at least to me and some of my pagan friends there always seems to be alot of energy flowing in and out of that area it may be that not only are there alot of haunts there but maybe some sort of influx pf energy stirring things up there

Sara Henderson of Van Nuys, CA on 2008-10-29 said:

www.cemeterytour.com Guided tours of Hollywood Forever are available!! Awesome guide, Karie Bible takes you on a walking tour of the cemetery. She has a degree in film...so she knows all the tales and scandals of the famous people interred there. So worth the $12 bucks!

Anonymous on 2007-10-10 said:

The rumors of it having been his fiancee are interesting. Wasn't he married at the time of his death? His wife was a screenwriter and had just finished a script that he was to star in, if I'm not mistaken. Perhaps his marriage wasn't widely publicized for obvious reasons?
Outside Links:
Outside References:
First Created: 2007-01-10
Last Edited: 2007-01-10