Weird California - By Joe Parzanese
Lincoln Adelaida School

9001 Chimney Rock Rd, Paso Robles, California 93446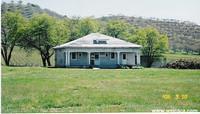 Adelaida School - located around the corner from the Adelaida Cemetery, the school is also supposedly haunted. Back when it was still operational, a teacher committed suicide inside, hanging herself from the rafters after her fiance had died in the nearby Mercury Mines. Her body was not found until the children arrived for school in the morning. Her spirit has been spotted sitting in a chair inside the classroom or occasionally hanging from the rafters.
Also, a fire later on in the school's history also happened and several children are suppose to have died inside. Urban legend states that the ghost or ghosts of the schoolhouse will also cause car engines to stall, especially when frightened teenagers attempt to flee the site.
In addition to the schoolhouse, the local area has Adelaida Cemetery, a very old and spooky cemetery as well as dozens of wineries nearby. It should be noted that both the school and cemetery are on private property. The school is only open for special events. The cemetery is only open during daylight hours. Being in the cemetery after dark is trespassing and occasionally the county sheriff does patrol the area. This website does not encourage trespassing.
Closest Weird
Comments:
allen crow of clovis, ca on 2018-03-12 said:

we moved from clovis when i was in 2nd grade. i only went to adelaida school for the spring semester, 1960. looking for classmates. i remember a kid named tony

Tiffany Cecil of Paso Robles , California on 2013-02-20 said:

My sisters and a group of friends and I visited the cemetery one Friday night a few years back. One of the most terrifying nights of my life. We heard footsteps and unexplained laughing and giggling and it was not coming from us. Also saw what appeared to be Charlotte (Lady in Pink) Amazing! Also stopped by the school house and heard unexplained laughing sounded like Children. I was not a believer of paranormal activity until I went out there! It made me a believer!

mike s of san luis county, ca on 2012-03-06 said:

A few years ago when i was about 18 or 19 some friends and i went to the old school to check it out, when we jumped the fence and went inside we didnt see much but we did find a whole in the wall that appeared to be from a bullet, and during the time we where inside we heard noises in the walls and out back, after being in there for an hour we started to leave when some guy and his family including his son no younger than us at the time pulled up and started flipping out saying to get out of here he was saying he was going to call the cops, i told him to chill we were leaving but the family insisted on yelling at us making a big deal so i got pissed yelled back and the son started crying, like i was going to attack them but was simply defending myself, VERBALLY. Anyways back to topic we went back later that night and saw some flickering lights inside as we approched the building we heard laughing inside, sounded like a small group of children were playing so we took off unsure, and didnt want to stick around to get cought again. We decided to go to the cemetary to look around it was 11:45pm when we saw a small white glow up the hill, one friend and i wanted to be curiouse and check it out while the others were affraid, as we ran up the hill the glow slowing started to disappear, since that time i have been fascinated with that place, even took a Ouija board (weegie board) there nothing happened that time, but we did a bunch of cool pics with a ton of orbs around! I told my wife this and she wants to go there now, i figure when we have time from the kids i will take her there to get a little thrill just during the day so we dont get introuble for tresspassing!

A.J. of Paso Robles, CA on 2010-09-24 said:

Jenn of Atascadero, the footsteps you heard are deer and boar that live in the woods all around Adalaida Cemetery. I have seen them. Thought they were human til the boar chased myself and a friend down the hill one night.

nicki of Paso Robles, CA on 2010-03-09 said:

My friends and I use to visit the school house and the cemetery often. Once we were filming at the school house, and although we got a creepy feeling, we did not see anything. It wasn't until years later that we watched the video from the school house saw footage of a young girl grabbing the camera and peering into the lense. No joke.

Matt Hollander of Templeton, California on 2008-10-04 said:

My friend and I went to both the schoolhouse and the cemetary tonight, 10/03/2008, We went into the schoolhouse, but didn't really see anything inside besides what my sister thought was maybe someone sitting in the teacher's chair. There were motion lights outside so if you see lights while walking up that is why. I'm guessing the city has put them there to catch trespassers. Anyways, very creepy and eary place, btw, the piano still plays, kinda cool...on the way out there is a chair on the left where my friend and i believe we saw a figure of some sort. The Cemetary- Very creepy at night, i was told on friday night there is suppose to be a lady in a white gown that comes around 10-12pm, to put flowers on her childrens graves. I do believe I saw her walking into the cemetary, brown hair, very weird, nasty teeth and she opened her mouth like she was screaming but I did not hear her though, once she had gotten inside, I was in the car at the front gate, she was about 20 feet away saw her looking around then all of a sudden she apeared at the gate leaning over and just starring VERY creepy! so go check it out good place to get your heart rate going :)

Shandi Sanders of Atascadero, California on 2008-07-08 said:

Sorry to tell you but the story you have is wrong. What really happened at the school house was there was a black man who wanted to have his son enrolled and the school was only for white kids at the time. Since the school refused to take his son because of his race the man went to the school and shot all of the kids and the teacher inside. Then lit the building on fire and shot himself. My friends go down to the school all the time before it was fenced off we went inside and the black man was seen writing on the chalk board warning us to leave. Also on many occasions he will make it so that you vehical will not start. Me and my friends were there a few times and we got in the car to leave and it would not start for about 20 min and then after that it started fine. Also if you go to the school you can sometimes see the man standing in the window if the school staring.

Jenn of Atascadero, CA on 2008-04-12 said:

Me and a friend of mine went there tonight (4/11/08) We briefly stopped at the school (much past 11pm) Creepy looking place! But we stayed at the cemetery for a few hours and saw many shadows, had cold spots, heard footsteps....I'm just hoping to catch something on camera or digital recorder!

ashley cook of paso robles, california on 2008-02-02 said:

Wow that story of the pink lady and the fire and the hanging in the school house is insane. My friend and I went out there the other night and saw flashing lights but didn't know if it meant anything. I think it did because of the stories I've heard, but at the same time I'm not absolutely sure. It was too dark to go up to the top level by ourselves so we're going to go in the day time so we know where we're supposed to go. We were standing a little farther up from the gate and just saw that flashing light.
Outside References:
First Created: 2008-02-02
Last Edited: 2011-08-18