Weird California - By Joe Parzanese
Trigger

16020 Apple Valley Road, Apple Valley, California 92307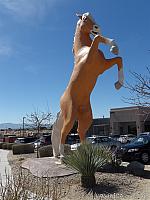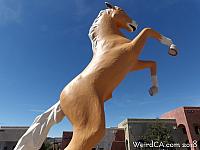 Born July 4th, 1934, in San Diego, Golden Cloud was a palomino horse eventually owned and made famous by Roy Rogers. Golden Cloud was chosen by Roy Rogers from five movie horses, during one of Rogers's first starring roles. Eventually, Rogers bought him in 1943, renamed him Trigger, and had him star in hoards of movies and television episodes with him. During his career, Trigger appeared in 84 movies, and 101 television episodes. Trigger supposedly knew at least 150 different tricks, could walk 50 feet on his hind legs, and was apparently even housebroken. Trigger was ridden by Rogers in many of his movies, and is probably one of the most famous horse actors ever. His hoofprints are next to Roy Rogers in the sidewalk in front of Grauman's Chinese Theatre in Hollywood.
Trigger sadly passed away on July 3rd, 1965 in Apple Valley. He was mounted over a foam likeness by Bischoff's Taxidermy and Studio Prop Rental in Burbank. Eventually, in 1967 the horse was put on display at the Roy Rogers and Dale Evans Museum in Apple Valley when it first opened its doors. Dale Evans's horse, Buttermilk, and Rodgers's German Shepherd, Bullet, were also mounted and put on display, as well.
Around the same time, a 24 foot tall, thirteen hundred pound fiberglass statue of Trigger was also created and put on display outside the museum. When the statue was made, the Denver Broncos were allowed to make a second statue, called "Bucky the Bronco", which stands above the south scoreboard of Empower Field at Mile High in Denver. The mold was broken after the second statue was made.
The museum was moved to Victorville in 1976, and then finally to Branson, Missouri in 2003. The statues and mounted animals all went with it. Althought the museum had more than 200,000 guests a year back in Victorville, the museum sadly didn't do anywhere near as well in Branson, and went out of business in early 2010. Whereas the giant fiberglass statue of Trigger was purchased in April of 2010 and brought back to Apple Valley, the three mounted animals were acquired during auction by a cable TV company, RFD-TV, apparently just across the street from where the museum had been in Missouri. They still reside in the lobby.
The giant fiberglass statue of Trigger first was placed in 2010 in Apple Valley over by Roy and Dale's graves at Sunset Hills Memorial Park and Mortuary. Finally, in 2018 it was moved in front of some businesses, also in Apple Valley, where it currently resides. When it was moved in front of the businesses, it was given a fresh coat of paint and some slight refurbishment. One of the biggest complaints, some critics have of the statue, is the presence of testicles clearly visible on Trigger.
Closest Weird
First Created: 2021-04-25
Last Edited: 2021-04-25