Weird California - By Joe Parzanese
Maze Stone

3519 California Avenue, Hemet, California 92545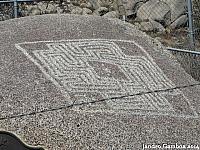 The Hemet Maze Stone stands as one of those truly strange California mysteries. Who made it and why? No one knows and there are a few theories.
Discovered in 1914, the Maze Stone stands as part of a 5.75 acre park in Hemet. The park and stone were donated to Riverside County by Mr. and Mrs. Rodger E. Miller on April 16th, 1956. It is now California Historical Landmark Number 557.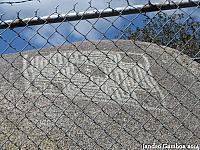 The Maze Stone itself is a three foot square petroglyph of a maze formed out of interlocking swastikas surrounded by a box. The swastika that appears in the lower left corner of the maze is not part of the original work, added sometime after the 1930s as evidenced by a photo taken then that did not include the lower swastika.
Although accurate dating of petroglyphs is difficult, it is said that the Maze Stone is 2000 years old.
One possible source of the Maze Stone is with Native Americans. However, this sort of design is almost unheard of amongst Native American petroglyphs. Some archaeologists claim that it is part of a "Maze Culture" that supposedly some Native Americans had in the area. Additionally, there are other maze like drawings found only in Southern California, all within 150 miles of each other. Mazes have been found in Orange, Imperial, Riverside, and San Diego Counties.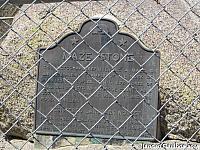 Other rumored sources of the Maze Stone include the Cascadians who are possible ancestors of the Mayans, although this would make the Maze Stone thousands upon thousands of years old. Another more popular theory is that the petroglyph was left by Chinese Buddhist monks around 500 A.D. The swastika of which the Maze Stone depicts is a very sacred symbol in Buddhism. In ancient Tibet, it was a representation of eternity.
A theory gaining popularity is that the Chinese discovered California long before Christopher Columbus ever set sail. In addition to the evidence of the Maze Stone, possible ancient Chinese anchors have been discovered in the Pacific Ocean off the coast of Rancho Palos Verdes. These anchors along with other evidence including the Maze Stone have led some scholars to believe that China discovered North America centuries before the Europeans did.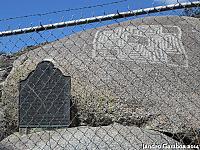 As to other Maze Stones in the area, it's been hard to track down information on them, other than they are suppose to have been found in Riverside, Orange, Imperial, and San Diego counties. Another maze stone was discovered by Hikers in 1977 and is called the Ramona Maze Stone. It is either on display at the Ramona Bowl Museum also in Hemet, or in the possession of the tribal leaders of the nearby Soboda Indians. Another maze stone is supposedly some ten miles north of Hemet, although it has been damaged by repeated shotgun blasts.
What are these mysterious Maze Stones, and who made them? Was it a culture more ancient than the Mayans or was it ancient Chinese? Or could it just be Native Americans, and this is just another form of the many petroglyphs found throughout California?
All pictures courtesy of Jandro Gamboa. Check out his Instagram account Forgotten California to see more pictures of abandoned and forgotten sites throughout California!
Closest Weird
Comments:
Al of QVon 2016-12-18 said:

There is a maze petroglyph close to Lake Perris; I have been there a couple times. It is about the same size as the maze stone and unfortunately has been vandalized. Another maze petroglyph, as seen in a book by Ken Stone? About Menifee, is located somewhere south of perris lake, maybe within ten miles. Supposedly a maze stone was found in the wash near soboba hot springs reservation and I have heard it is in their possession (might be same as mentioned in story). And the last maze stone I have heard rumor of was found near or in old town murrieta and is remains with the finder in old town.. as well as other Native American artifacts found (metate's, pestles, and rumor of concoidal disc).

Mr. Nobody on 2015-08-01 said:

You know, I wouldn't say it's so much a "maze" diagram as a macro chip scanning, and you can tell em Nobody told you so.
Outside References:
First Created: 2014-11-14
Last Edited: 2014-11-14