Weird California - By Joe Parzanese
Bunny Henge

100 Civic Center Drive, Newport Beach, California 92660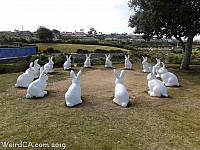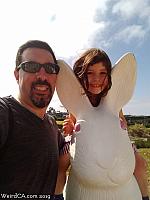 Newport Beach redid their Civic Center a few years ago, and sometime in 2013 the Civic Center Park opened up. The park is sixteen acres and includes a dog park plus 1.23 miles of walking trails. It is the city's fifth largest park. In addition to the multiple paths, there are even bridges and viewing platforms overlooking part of the park. Additionally, the park currently has at least twenty interesting sculptures spread around the park, and these rotate in groups of about ten, usually located in the park for about ten years. So unfortunately, many of the non bunny sculptures shown in this article may either be already gone or gone soon.
But, perhaps the most controversial and strange part of the park is actually not considered art, but instead considered something for kids. Sixteen large concrete bunnies are located within the park. Fourteen of the bunnies are part of what is colorfully called Bunnyhenge! These are in the three to four foot range and are situated in a circle facing inward towards each other, like a henge. They are designed to encourage children to climb and sit upon them.
There are also two eight foot bunnies located in other parts of the park. One can be found east of the library and the other north of the Civic Center entry road at the intersection of some of the trails.
The sixteen bunnies are deliberately over sized and according to the Civic Center made whimsical in order to encourage imagination. But, some don't appreciate or like the bunnies. The bunnies have taken a lot of heat due to their original cost. Combined, they came in at $221,000, or roughly $13,800 per bunny. Seen as an exorbitant amount by some in Newport Beach, the bunnies have become ammunition for some of the more fiscally conservative politicians in the area, claiming that the bunnies were a complete waste of money. A few of the politicians even unfortunately want to evict the bunnies from the park, which seems unlikely as they've now been there quite awhile, but you never know.
At the time we were last there, other art sculptures included a giant shark fin rising up from the dirt, several stacked orange slices, and other interesting sculptures along the paths. Although some sculptures do stay longer, most show up for two years in batches of ten, with at least two batches on display in the park. Batches are staggered, as well, so the collection is often continuously changing.
The bunnies are also sometimes dressed in seasonal attire, for example, receiving heart necklaces for Valentine's Day, green hats for St. Patrick's Day, and even red scarves for the winter.
Please note that there is little to no shade throughout much of the park, so please take appropriate precautions.
Closest Weird
Comments:
Silviana Del Rio~Hernandez of Camarillo , CA on 2015-04-10 said:

This is on my list for things to do in CA. My boys are 21 and 16 years of age and are excited to visit The Park also. I do have to ask? Does the park have a rest room and a snack bar hmmm the City should get this idea going beacause I'm more than sure it's a MONEY MAKER!!! Silviana out in Camarillo, CA
First Created: 2015-04-06
Last Edited: 2021-04-08