Weird California - By Joe Parzanese
Paramount Ranch

2903 Cornell Road, Agoura Hills, California 91301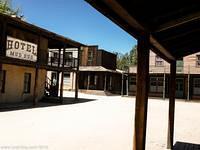 Just North of Los Angeles, there lies an entire western town. Yes, an entire town meant to have cowboys shooting it out and horses walking its streets. But why is this town still there to this day?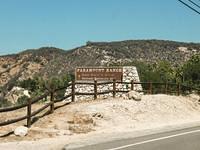 Paramount Pictures purchased 2,700 acres in the area back in 1927 and turned the the large plot of land into a location for filming their multitude of movies. The land was used to represent an entire host of far away locations ranging from China to Massachusetts to the South Seas to even San Francisco as well as a variety of westerns.
In 1953, Paramount sold the property and William Hertz acquired the southwestern portion. As a huge fan of westerns, he built a permanent western town on the location and began letting Hollywood produce films and television shows there. He eventually sold the property in 1957, and from then until 1980 it passed through a variety of owners until finally being acquired by the National Park Service.
The Park Service once again let Hollywood use the western town for filming. The town has been a substitute for Tombstone and Dodge City. It's been Missouri, Colorado, and New Mexico. The television series, Dr. Quinn, Medicine Woman, is one of the more notable items filmed there, from 1992 until 1997. Of course, Dr. Quinn's cabin, along with the church and some other structures have been torn down since then, but many of the structures from the television series remain, although perhaps modified slightly depending on what was most recently filmed in the Western Town.
The Western Town isn't just a building or two, but multiple buildings making up an entire street of western style structures. Old west buildings include a US Marshals, the Mud Bug Hotel, a Mining Equipment provider, a Barber Shop, a General Store, a Farmer's Exchange, a Sheriff's office, and a saloon amongst other structures.
Several television series have filmed at Paramount Ranch including Firefly, X-Files, Weeds, and Carnivale. Carnivale even heavily modified the town to look more like a 1930s depression era town. It was later restored to its Western glory after the series was canceled. Older shows include series such as Gunsmoke, The Cisco Kid, the A-Team, and Charlie's Angels.
All said and done, over 250 different things have been filmed at Paramount Ranch over its many years. Additionally several of the trails and other areas of the park are named after past movie or television productions. For example there is a Medicine Woman Trail in honor of Dr. Quinn.
Visiting Paramount Ranch really makes you want to dress up like a cowboy and pretend you live in the wild wild west! The location is still available for filming, as well as special events and weddings! Another western town exists in Newhall near Magic Mountain. It is called Melody Ranch, and unlike Paramount Ranch, which is open free to the public every day, you have to arrange a private tour of Melody Ranch for a fee. Melody Ranch has several backdrops though as well as a museum and stages. It appears to be a far more extensive property than the current Paramount Ranch. Deadwood, Django Unchained, and The Last Stand are just some of the more recent items filmed there.
Closest Weird
Comments:
Craig Baker of Los Angeles , CA on 2019-08-12 said:

Paramount Ranch was destroyed by the 2018 Woolsey Fire.

Bob Plass of Los Banos, California on 2015-02-15 said:

In the 1950's Paramount Ranch was home to California Sports Car Club road races.
Outside Links:
First Created: 2014-11-16
Last Edited: 2014-11-16