Weird California - By Joe Parzanese
Bronson Caves

Canyon Drive, Los Angeles, California 90068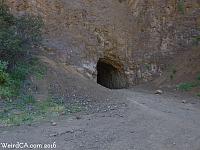 Na na na na na na na na Batman!
Welcome to Bronson Caves, located in the southern portion of Griffith Park. Due to the easily accessible nature of these caves, plus their close proximity to Hollywood, yet remote enough looking appearance, these caves were used in several movies and TV shows, especially those with low budgets or looking to save on costs. First appearing in the 1919 movie, Lightning Bryce, Bronson Caves later was a set drop for such movies as 1956's Invasion of the Body Snatchers, The Scorpion King, Army of Darkness, and Star Trek VI. It also appeared in several TV shows. Also using the caves as a filming location, were such TV series as the A-Team, Gunsmoke, Adventures of Brisco County Jr., Mighty Morphing Power Rangers, and practically every Star Trek series ever made.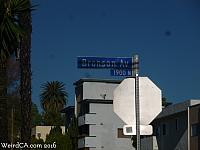 But it is most recognized as the entrance and exit to the Batcave from the 1960s Adam West Batman TV series and later movie, usually shown with the Batmobile rocketing out of the cave. Can't picture it? Here's a YouTube Video to refresh your memory.
In 1903 the Union Rock Company mined the area making the area a rock quarry. The crushed rock was actually used in the making of streets in Los Angeles. The quarry closed in the 1920s. Bronson Caves and the area around it, Bronson Canyon, were then named after the nearby street, Bronson Avenue. Coincidentally, Charles Bronson also took his stage name after the same street.
The cave is actually fairly short, with one main entrance, and three exits, one exit being very small. Due to how short the cave is, it is often filmed at an angle to hide its length, as if you stand at the mouth of the cave you can see straight through it. The multiple exits and relative shortness of the cave actually often assist in being able to film out there.
To get to the caves, from Hollywood Boulevard, take either Canyon Drive or Bronson Avenue (Bronson merges eventually into Canyon). Then proceed through the gates for Griffith Park. There will be parking first on your right and then a little later down the road on your left. Park in either; although the one on the left is a bit closer, it usually fills up fast. The trail is on the right near the end of the road. It is not a long hike up the hill to the cave and it does afford some very nice views. The trail is also large enough for a car to get down and fairly smooth. You could possibly be able to get a stroller to the entrance of the cave if you have a small child. If you hike up the hill to the left of the cave you can make out the Hollywood Sign. More trails continue on past the cave.
Closest Weird
First Created: 2016-05-13
Last Edited: 2016-05-13