Weird California - By Joe Parzanese
Hollywood Sign

Mt Lee Drive, Hollywood, California 90068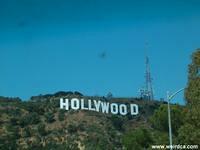 Hollywood has had a lot of people try and make it there. Sadly, more fail than succeed. One such failed actress who discovered fame in death was Peg Entwistle. Born in Wales in 1908, Lillian Millicent "Peg" Entwistle came to the United States in 1922. She pursued a career in acting and landed several roles in stage productions both in theater and on Broadway in New York City. Sadly the Great Depression eventually came to the United States and with her last seven productions flopping (due mostly to the public being unable to afford the expensive tickets), Peg headed out to Hollywood to try and resurrect her acting career. She ended up staying with her uncle at 2428 Beachwood Canyon Drive in Hollywood in 1932. Although she was signed to a role in the movie "Thirteen Women", the movie was bashed by critics and ultimately much of her part was cut out of the final release. Over the next five months she battled depression from the complete lack of work she had. Her self esteem bottomed out, she took to drinking, and even posed topless to get a bit of cash. Then one fateful night, September 16th, 1932, she went for a walk around her Uncle's neighborhood and arrived at the base of the Hollywood Sign.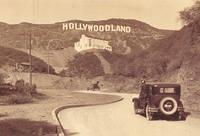 Quite possibly one of the most iconic and famous attractions in the Los Angeles area, the Hollywood sign has stood in the hills above Hollywood since 1923. Originally made out of fifty foot tall letters at a total cost of $21,000, the sign first spelled out "Hollywoodland" and was built by Los Angeles Times publisher Harry Chandler in order to advertise a new housing development in the area. Fixed with 4,000 large low wattage light bulbs (back then the lights flashed at night, first "Holly", then "Wood", then "Land") the sign was only suppose to last a year or two, but as everyone knows, is still in existence today on the southern side of Mount Lee in Griffith Park. The "land" letters were removed in 1949 when the Hollywood Chamber of Commerce took responsibility for the sign and began repairing it. At that time, damages to some of the letters were also fixed. The entire sign was rebuilt in 1978 by accepting donations of $27,700 a piece from nine separate donors. Donors included Gene Autry, Alice Cooper, Hugh Hefner and Warner Brothers Studios. The new letters were 45 feet high and made out of much heartier materials than the original letters. Additionally over the years, sometimes due to vandals, sometimes due to promotional campaigns, the letters have been altered multiple times to spell out various things, the more famous being things like "Hollyweed" or "Go UCLA".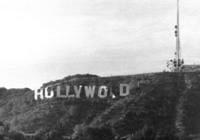 After consuming some alcohol on the night of September 16th, 1932, Peg walked up Mount Lee to the Hollywood sign. She took off her coat, folded it neatly leaving it with her purse and then climbed the maintenance ladder for the "H". From there she took her life, jumping from the top of the letter and was forever immortalized in Hollywood history as the "Hollywood Sign Girl". Her purse contained a suicide note that said, "I am afraid, I am a coward. I am sorry for everything. If I had done this a long time ago, it would have saved a lot of pain. P.E.". It took two days for the authorities to find her body on the hillside below. In one of those strange twists of fate, her uncle received a letter a few days after her suicide, postmarked the day before she jumped. It was an offer for the lead role in a play at the Beverly Hills Playhouse in which ironically, the lead character commits suicide in the final act.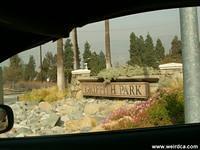 Now the trails of Griffith Park near the Hollywood sign and the surrounding neighborhood of what use to be the Hollywoodland housing development are haunted. On numerous occasions hikers and park rangers have reported seeing a woman dressed in 1930s clothing. The woman, a beautiful blonde who appears full of sadness, vanishes before spectators' eyes. The smell of gardenias, Peg's trademark perfume, always accompanies the apparition. One couple reportedly ran across her while walking along a Beachwood Canyon trail near the sign. Park rangers have told tales of how her ghost appears often at night, especially foggy ones. They have also reported several strange areas where you can smell gardenias, even in winter months when flowers aren't blooming in the cold weather. In recent years, motion detectors, alarm systems, and automatic lights have been installed around the sign to prevent both vandals and other suicides. The motion detectors have given off numerous false readings since they were installed. Often reporting that someone is present, but when park rangers go to investigate, they find no one there, just the smell of gardenias.
Is Peg still wandering around the area of the Hollywood sign? Dubbed the "Hollywood Sign Girl" by newspapers, Peg was eventually cremated at the Hollywood Forever Cemetery and then shipped back to Ohio to be buried with her father. She was yet another victim of the bright Hollywood lights.
The Hollywood sign is not accessible to the public, but can be viewed from multiple locations throughout Hollywood. Another ghost haunts an apartment building in the 1200 block of Beachwood Drive. This ghost is that of a very old man who can be heard walking up and down the main stairway both day and night. The disturbance seems to be centered mostly around apartment number four.
Closest Weird
Comments:
SK of IL on 2013-05-29 said:

I thought the same thing. Why doesn't someone go and help this poor ghost move on? I just watched the Paranormal Witness episode on 4 people encountering her - but she was frightening.

Rebecca Katie Jack on 2012-12-27 said:

I'm British, but my brother-in-law Danny is from the U.S. and his family's "ghost story" is from friends of theirs who live back on the East coast now, but they lived for a while near the Hollywood sign in the early 1990s.

They apparently encountered the Hollywood sign girl when walking near the sign one afternoon. They saw a young woman who looked quite real but a bit unusual. They said she had the body language of someone sad & they were concerned & felt sorry for her. As they approached,she suddenly vanished with no sound of anyone scurrying away. They looked all around but could see no trace of her anywhere-only then did they feel uneasy. They also said there was a strong smell of perfume in that spot but no flowers-rather strange.

They related what they had seen to others in their area, and that was the first time they heard the story about the Hollywood sign ghost. They said that they were glad they hadn't heard about this before since they would have been more spooked out at the encounter!

I was interested in this story because now I work in film productions for pre-schoolers, but one of the first productions I worked on was a programme about haunted homes for British TV. At first I thought it was probably one big set-up for entertainment only, but there was a "medium" working alongside the presenters. She was a nice and very normal lady, who explained that many so-called "ghosts" are just trapped spirits who were people who often died in upsetting circumstances. Apparently many of them can be helped to "move on" by mediums or even certain priests who specialise in this kind of thing (I certainly can't pretend I understand how this works,but the medium we worked with certainly seemed to stop many of the hauntings we visited-the "ghosts" disappeared altogether).

Sounds a bit crazy I know, but after seeing that medium at work, I'm less skeptical about hauntings, and when I hear about "sad ghosts" like this one seems to be, I remember what the medium said-that it is possible to help these spirits "move on" to be with their relatives who have fully "passed on".

Maybe there might be a way of locals in the area of the Hollywood sign ,or even the local police (some police departments do work with psychic-mediums) sourcing a medium or priest who specialises in helping spirits to "move on" & taking them to the spot where the lady jumped? Like I said it does sound a bit crazy, but there have been so many sightings of this sad, upset spirit,and if she could be helped, then why not? Wondering round the same spot near the Hollywood sign, feeling blue, since the 1930s...well I can imagine this isn't a ton of fun?!

I saw another piece on TV last night about this ghost, so I was moved to write this today, but I don't live in the States and hard to know exactly who to write to about this without sounding like a bit of a nut job? But I believe if we understood the "paranormal" better, maybe this wouldn't seem so crazy or spooky?

Thanks for your attention,

All the best, Rebecca Katie Jack.
Outside Links:
Outside References:
First Created: 2006-10-17
Last Edited: 2006-10-17