Weird California - By Joe Parzanese
Alice in Wonderland Fry's

6100 Canoga Avenue, Woodland Hills, California 91367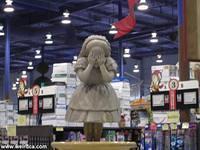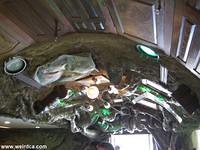 So there you are going to the electronics store to get something for your computer and as you walk through the front doors, you then pass through what looks like a tunnel, with all sorts of weird junk on the walls and ceilings. As you emerge into the main store, sitting on a pedestal is what appears to be a little girl crying. It's all surreal and weird. You have just fallen down the rabbit hole and have entered Wonderland!
Yes, the Fry's Electronics in Woodland Hills is Alice in Wonderland themed. Many, but not all, Fry's Electronics are themed. The Burbank location is probably the most famous with is fifties alien invasion themed. While the Roseville location is train themed.
The crying girl as you walk in is poor Alice, lost and afraid in Wonderland. Nearby is a white rabbit hiding in the bushes. As you wander the store you'll see the Queen of Hearts playing flamingo croquet, her card servants who will be painting the roses red, the Jabberwocky, Tweedledee and Tweedledum, as well as a host of other Wonderland characters all running around the aisles.
I'm not sure on what their store policy is on taking pictures considering the prevalence on cell phones, but the first time I tried to take pictures in the store with a simple point and click camera, I was descended upon by a swarm of employees, surrounded, scolded by the manager, and then escorted from the premises. I only had time to grab two pictures. Other pictures here were taken on a second trip with a cell phone. I need to go back and take better pictures.
So if you want some wonder as you shop for electronics, the Fry's Electronics in Woodlands Hills is the place for it.
Closest Weird
First Created: 2020-08-28
Last Edited: 2020-08-28