Weird California - By Joe Parzanese
Giant Cadillac Building

Fleetwood Square
19611 Ventura Boulevard, Tarzana, California 91356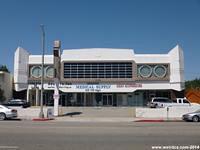 Built in 1986 on Ventura Boulevard in Tarzana, Fleetwood Square is a building in the shape of the front of a Fleetwood Cadillac. It was originally designed and painted pink like a Pink Cadillac, but has since been repainted white. It was designed by architect Lee Oakes who in a LA Times article at the time of the building's construction stated: "Ventura Boulevard is about as American as you can get, and what's more American than a big luxury car, a Cadillac? It's symbolic architecture, but abstract."
The headlights were made out of neon tubing and set in front of 600 glass bricks. As I have not seen the building at night, nor have I seen any pictures of it at night, I can not confirm if the headlights of the building still light up or not.
Tarzana is part of Los Angeles, and is named after Tarzan. The area is on the site of the former Tarzana Ranch once owned by the Tarzan author, Edgar Rice Burroughs.
Closest Weird
Outside Links:
Outside References:
First Created: 2014-09-01
Last Edited: 2014-09-01