Weird California - By Joe Parzanese
Route 66 - End of the Trail

Santa Monica Pier, Santa Monica, California 90404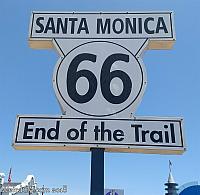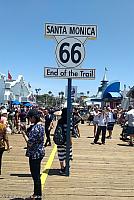 On April 30th, 1926, a numerical designation was assigned to a route across America from Chicago to Los Angeles. The numerical designation was 66. Route 66 was established on November 11th, 1926. Additional nicknames for the road include "Main Street of America" and "Mother Road". The route originally went from Illinois through Missouri, Kansas, Oklahoma, Texas, New Mexico, Arizona, and finally ending in California.
California's piece of the road is 315 miles long. It originally ended at downtown LA, at the corner of 7th and Broadway. In 1936, Route 66 was extended to Santa Monica where it ended at Lincoln and Olympic Boulevards, about a mile away from the beach, where Alt 101 began, now the Pacific Coast Highway 1, due to federal requirements that one highway ends where another begins in order to not "dead-end" a traveler.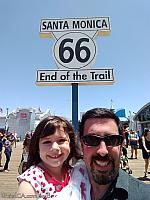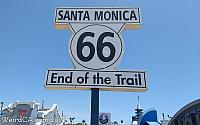 This wasn't very glamorous though, so on November 10th, 2009, the 83rd Anniversary, Santa Monica along with the Route 66 Alliance "moved" the end of the road that last mile to the Santa Monica Pier. There they put up an End of the Trail sign. The sign thus marks the "spiritual end of Route 66" and marks what has generally been thought of as the traditional ending of Route 66 anyway.
The sign is made to look the same as an old movie sign that was unofficial and originally set up on the bluffs in Santa Monica in 1935. As a result of this unofficial sign, travelers along Route 66 thought the Santa Monica Pier was the end of the route and not where Highway 1 began. And to be fair, the Pier, as already mentioned, was a much more glamorous end to the journey. This unofficial sign supposedly disappeared in the sixties, when Route 66 shrank from Santa Monica to Pasadena, due to the interstate highway system replacing Route 66 throughout much of Los Angeles.
So although it took many decades, the traditional end and the "official" end to Route 66 are now the same at Santa Monica Pier.
Closest Weird
First Created: 2020-05-10
Last Edited: 2020-05-10