Weird California - By Joe Parzanese
Butterfly House

309 9th Street, Pacific Grove, California 93950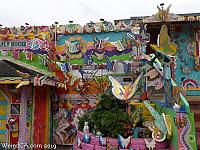 In Pacific Grove on 9th Street, sits a brightly colored house covered in butterfly sculptures and artwork. The garage is yellow and blue with butterflies all over it. A bright pink stone wall has red and blue butterflies attached to it. The front wall is a myriad of colors also covered in bright and shiny butterflies all of different colors with reflective mirrors attached to them. Every inch of the house has butterflies covering it. Butterfly sculptures sit in the front yard and along the left side of the house, a golden brick road is flanked on both sides by walls covered in butterflies. Above the garage is a sign calling the building the "P.G. Butterfly House" in green letters surrounded by a bright pink rectangular border.
This is the Pacific Grove Butterfly House. Although, Pacific Grove plays home to hordes of migrating monarch butterflies every year, the butterflies at this house are of the non-migratory type. The house is owned by J Jackson, a retired school counselor, and his wife Sonja. Now married for over 50 years, they purchased the house in 1977 and Jackson rebuilt and restored it. Sadly in the early 1990s, Sonja began losing her eye sight to an eye disease, Retinitis Pigmentosa, eventually going legally blind. However, she could still see bright colors and brightly colored objects. As a result of this, at first he began bringing Sonja brightly colored artwork of butterflies and eventually he began redesigning their home into the P.G. Butterfly House.
He has attached hundreds of butterfly sculptures to the front of their house, initially with the intent to help Sonja more easily see the house if she went out on a walk. The garage, walls, roof, yard, etc. of the house has been butterflied up. The house has been painted pinks, blues, reds, and all sorts of pastels. It is truly impressive to behold and is well worth a drive by. To the left of the house is what Jackson refers to as the Butterflies of Hope Memorial Walk and the Butterfly Brick Road. People can purchase butterflies with the name of a loved one on it and have it placed on the Wall of Love. Donations from the purchase of these butterflies goes towards supporting the Blind and Visually Impaired Center of Monterey County.
For some reason several small white bunny statues are also randomly scattered around the yard, keeping the butterflies company. My daughter searched out many of them and made sure to take pictures of them with her camera. J is constantly adding to the decorations around his house. Since these pictures were taken, a large glass case with a giant butterfly has been erected in the front yard and the walk leading up to the door has been amazingly painted.
Closest Weird
First Created: 2020-04-09
Last Edited: 2020-04-15