Weird California - By Joe Parzanese
Boat Houses

726 3rd Street, Encinitas, California 92024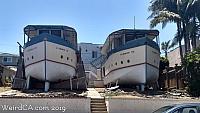 On your way along the coast north of San Diego, in the beach side town of Encinitas, travelers may find two boats, not too far from the ocean, but clearly up on land. Located at 726 and 732 Third Street, these two boats appear like they are in dry dock, but they aren't. These two boats have never seen the open see and never were. For you see, they aren't boats at all.
Called the S.S. Encinitas and S.S. Moonlight, the Boat Houses as they are called are actually houses built to look like boats. About fifteen feet tall, twenty feet long, and providing about 1100 square feet, the Boat Houses were built in 1928. Miles Minor Kellog, a maritime engineer from Michigan and the son of a sea captain, built the two house with the help of his son, Miles Justin Kellogg. The boat houses are a form of recycled architecture meaning they are constructed out of recycled materials. The redwood and materials came from two locations, one being The Moonlight Beach Dance Parlor and the second being the third floor of the Encinitas Hotel. The Moonlight Beach Dance Parlor was a dance hall and bathhouse built in 1888 that was sadly unable to survive the Prohibition.
The houses, like boats have portholes, a bow deck, a galley, two bedrooms, 1 and a half baths, and an upstairs office surrounded on three sides by windows. The are private homes, and are rented.
In 2008, they were purchased by the non profit, Encinitas Preservation Association, with the intention of permanently preserving them. The rental income is being used to pay off the loan necessary to acquire them, and once that is paid off, the Association plans on turning them into a small museum. The two boat houses were approved for historical status in August 2019. Miles Kellogg also built the four unit apartment complex behind the two boat houses at the same time as when he built the boats.
Closest Weird
First Created: 2020-04-20
Last Edited: 2020-04-20