Weird California - By Joe Parzanese
The Witch's House

516 Walden Drive, Beverly Hills, California 90210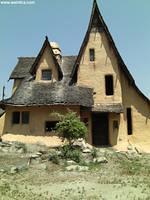 Nestled on the corner of Walden and Carmelita in Beverly Hills, sits The Witch's House, more formally known as The Spadena House. The house is a perfect example of Storybook style construction which involves various whimsical building elements often seen in structures found in fairy tales or old stories. These elements range from castle turrets and towers to cottage style roofs.
The Witch's House was originally built by Culver City based, Willat Studio. Willat Studios made silent films, and The Witch's House was utilized as dressing rooms and offices for the studio before being moved to its current location. It was built by Harry Oliver who worked as a set designer and art director for the silent movie studio.
It was relocated to Beverly Hills in either 1926 or 1934, and since then has been the subject of many urban legends including: a story stating that it was built for a movie version of Hansel and Gretel, a story stating that it was built by a Snow White and the Seven Dwarves fanatic, and a story that states the owner use to dress up like a witch on Halloween to give out candy (which is highly possible and rumored to be the source of the house's name).
A few years ago, the house underwent major restoration as the current owner named Michael Libow is trying to preserve the whimsical structure. His remodel also included the interiors of the house as well. Libow is the third owner of the structure and he acquired the house and land for 1.3 million in 1998. The house currently has a beautifully landscaped yard complete with gnarled trees and other fairy tale elements. There is a moat complete with a bridge for crossing. The moat even has a guardian alligator lurking in it. Originally, the house supposedly had a wishing well and a miniature mill as well, but I didn't see those structures when I last visited in 2016.
The house has also made a cameo appearance in the movie, Clueless, starring Alicia Silverstone. The Clown of North Hollywood is another famous location in that movie.
Closest Weird
Comments:
Grant of SYDNEY, N.S.W. Australia on 2012-09-28 said:

It saddens me that the witch's runway for her to take off on her broom is not part of the steep line of the right hand side of the roof anymore. I have a photo of myself & a friend taken in 1986 in front of the house when the runway it was in place. I can only see one photo with it shown & another partly with a tree blocking its view.

Rochelle of San Bernardino, CA on 2011-07-24 said:

There is a nearly identical house in San Bernardino, just north of Baseline off either Sierra or Arrowhead ( I can't recall which street at the moment). I believe it's historically been referred to as the "Katz house" possibly related to one of the founders of the Jewish comunity in San Bernardino, Marcus Katz. It has sadly not been maintained well the past 10-15 years, but previous owners really played up its charm and had iron cats on the roof, chimney, sills and lintels.

Kimberly Vos of Monroe, Washington on 2010-10-15 said:

I have found the "Witches House" amazing my whole life. But I admired it in a painting that my grandfather had done. I never knew the house was real until about 6 years ago when he told me that he was asked to paint it (but I can't remember who for). My grandfather passed away 2 years ago and the painting of this house (which hung above my grandparents couch my whole life is now hanging in my living room and is my prized possession. It was only by chance that I ran across it online. I'm going to print a small pic or 2 of the real house to go with my painting. I'm thinking sending the owner a pic of my painting with my grandfathers' story to go with it.

murr of VA, VA on 2010-08-22 said:

I went to the house in May 2010...here's a pic -
Outside References:
First Created: 2007-04-30
Last Edited: 2016-04-18