Weird California - By Joe Parzanese
USS Recruit

4461 North Harbor Drive, San Diego, California 92101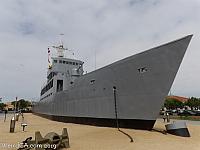 There's one US Navy ship that, although commissioned, has never reached water. That would be the USS Recruit in San Diego, and it is the only ever commissioned ship to never reach the water. Located west of the San Diego Airport along the north side of Harbor Drive, the USS Recruit is a 2/3's scale model originally of a Dealey-class destroyer escort. It sits on land, having never sat in the ocean, and it never will.
Commissioned on July 27th, 1949, the USS Recruit was the first of three training vessels for the US Navy. The other two are long gone, making the USS Recruit the first and also the last of the Navy's "landships". The USS Recruit helped instruct as many as 50,000 naval recruits each year in basic naval procedure. Although all the weapons are mock ups, there is still working plumbing aboard the ship and sailors can sleep aboard.
The ship earned itself the nickname, the USS Neversail, and due to a mix up, ended up getting itself decommissioned on March 7th, 1967. The ship could not be classified in a computerzed naval inventory system, due to its unusual category. It did not fit any of the predetermined categories, such as being afloat, ashore, in dry dock, etc. As a result, it was suddenly decommissioned. This, however, did not stop the USS Recruit from continuing to operate as a training vessel.
In 1982 it was even reconditioned, being modified to mimic a guided missile frigate for training purposes. It was finally put out of operation in 1997 and is now California Registered Historical Landmark Number 1042. There are plans to perhaps one day turn it into a maritime museum.
USS Recruit
This 2/3 scale model of a destroyer escort (IDE-1) helped instruct as many as 50,000 naval recruits annually in basic naval procedure. Commissioned 27 July 1949, the Recruit was the Navy's only commissioned ship never to reach the water. The Recruit was the first of three similar structures built by the Navy following World War II. It is the sole survivor of the three. Decommissioned 7 March 1967 when it could not be classified in a computerized naval inventory, the USS Recruit, nevertheless continued to train recruits, and was reconditioned in 1982 as a training guided missile frigate. Recruits gave the structure its affectionate nickname: USS Neversail.
California Registered Historical Landmark No 1042
Plaque placed by the State Department of Parks and Recreation in cooperation with the Corky McMillian Companies, the Redevelopment Agency of San Diego, and the Ancient and Honorable Order of E Clampus Vitus, Squibob Chapter/ August 13, 2005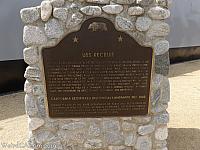 Closest Weird
First Created: 2019-11-29
Last Edited: 2019-11-29