Weird California - By Joe Parzanese
Longest Burning Light Bulb in the World

Fire Station 6
4550 East Avenue, Livermore, California 94550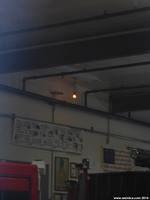 In Livermore, at Fire Station Number 6, burns the longest burning light bulb in the world! Known as the Centennial Bulb, it has been on with less than a handful of interruptions since June 1901. Originally donated to the Fire Department by Dennis Bernal, the owner of the Livermore Power and Light Company, the bulb is a hand blown bulb with a carbon filament. It is 60 watts and was made by the Shelby Electric Company. It probably originally cost 40 cents which is $9.59 in 2014 dollars. You can say they got their money's worth.
Originally it was used in a hose cart house on L Street, but was later moved to the main firehouse on 2nd. Then in 1903, it was relocated to the new station on First and McLeod. In 1976, it was moved one last time, this time under police and fire escort to its present location at Fire Station Number 6. There it was hooked up to its own separate power source and a UPS. It was off for only 22 minutes during the relocation.
Except for being moved, it was additionally turned off for about a week in 1937 during a building renovation. Before its move in 1976, it was on the city power grid and thus subject to power outages. The last time it was turned off, was May 20th 2013, when it suffered about a nine and a half hour outage when the UPS failed. At the time, it had been burning continuously for 37 years!
GE Engineers have researched it and along with local newspaper records helped confirm it's 100 plus year lifespan. Both Guinness and Ripley's Believe It or Not have declared it the oldest known working light bulb.
The next longest working light bulb is known as the Palace Bulb and has been burning since September 21st, 1908 in Fort Worth, Texas. It was originally illuminating the rear entrance to the Palace Theater, but when the building was demolished, it was relocated to the Stockyards Museum where it remains lit and has its own museum display.
The Livermore Light Bulb is used as a nightlight over the fire trucks. Although it is a 60 watt light bulb, the Livermore light operates at only 4 watts. It is speculated that both its lower wattage and the fact that it has rarely been turned on and off have contributed to its long lifespan.
There is a 24 hour web camera focused on it, allowing people to check to see if it is still turned on. If you wish to visit it, feel free to stop by the station. Go to the rear of the station and ring the door bell. If someone is in, they will come and show you the bulb. If no one answers, you can still look through the window and see the bulb over and to the left. Sadly the day we stopped by, no one was home.
The light bulb is often used as evidence of planned obsolescence in later manufactured light bulbs. Planned obsolescence is the act of designing a product to have a limited lifespan, thus requiring you to eventually purchase a replacement.
Closest Weird
Outside Links:
Outside References:
First Created: 2015-01-04
Last Edited: 2015-01-04