Weird California - By Joe Parzanese
The Giant Steer of Buttonwillow

The Giant Steer of Buttonwillow
Highway 58 and Hugo Street, Buttonwillow, California 93206


The Lone Buttonwillow
Buttonwillow Drive, Buttonwillow, California (1/2 mile north of Highway 58 on left)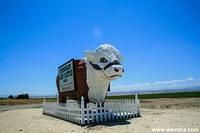 With a population of just over 1500, the town of Buttonwillow is named after its lone buttonbush which served as a landmark on an old trail back in the 1800s. The tree is California Historic Landmark #492. It was used by Yokut Native Americans as a meeting place, calling the area "Hahlu" which means buttonwillow. Later during the 1800s, it was a popular place for cowboys and travelers to leave messages to each other, often using tin cans to hold the messages and then hanging them on the tree. So in a sense, the Lone Buttonwillow was the town's first post office.
The plaque of the Historical Landmark was dedicated in February 1952 and reads:
A lone tree landmark on an old trans-valley trail. It was an ancient Yokuts Native American meeting place. Later a location for white stock rodeos. Miller and Lux established their headquarters and store here about 1865. The town of Buttonwillow takes its name from this old tree and rodeo grounds.
Buttonwillow is also home to giant fiberglass steer. There are several of this type of giant steer appearing throughout United States, often located near steak houses. Gilboa Ohio, Mitchell South Dakota, Milwaukee and Baraboos Wisconsin, Las Cruces New Mexico, Odessa Texas, Carlsbad New Mexico, and Salem North Carolina are all other towns that have (or had) a large fiberglass steer of this type. Some of the cows have large horns, and most appear to have originally come with brown and white markings, although there are now several throughout the United States that are a different color pattern. Many have large boards on the sides of the cow used to advertise the business. This one advertises the Buttonwillow Land and Cattle Company.
Much of the land around Buttonwillow was originally bought from the government by California cattle barons Miller and Lux for twenty five cents an acre. Apparently the land was listed as swampland and a provision under the reclamation program which they bought the land under, required that the new owner survey his property in a boat. So Henry Miller loaded a boat into a horse drawn wagon and took a tour of his new land.
Outside References:
First Created: 2013-06-14
Last Edited: 2013-06-14