Weird California - By Joe Parzanese
A&W Root Beer Barrel Stands

Barrel
27115 Twenty Mule Team Road, Boron, California 93516


El Indio De Tijuana Taco Shop
810 North Broadway, Escondido, California 92025


Angel Petals
1542 Highland Avenue, National City, California 91950


Vaqueros Carne Asada
6936 Lisbon Street, San Diego, California 92114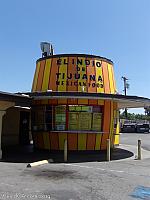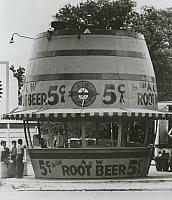 June 1919, Lodi, California, Roy Allen sells his first root beer for a nickel. Allen eventually took on a partner in 1922, Frank Wright, and together they formed A&W Root Beer, the name originating from the first letter of each of their last names. Their first A&W restaurant was in 1923 in Sacramento. Although several different types of stands and restaurants were created to serve up their delicious, frothy, A&W Root Beer, one of the more intereting ones was the barrel stand. Literally, a giant barrel with walk up windows, several of these were made and distributed all around California and the west.
Although the barrel A&W Root Beer stands are for the most part long gone, a few still reside in California, just no longer as root beer stands. Six appear to still be in California, the majority of them down in the San Diego area: El Cajon, San Diego, National City, and Escondido, with one additional barrel in the middle of the state in the small town of Boron. There is also a former stand in Mesa, Arizona and Amarillo, Texas.
Boron
For years an orange with black stripes giant barrel has been in Boron serving up food and is one of these former A&W stands. It's basically a food stand with a small outdoor eating area consisting of a few tables and some picnic benches. The giant barrel has a walk-up window, and the place serves all sorts of the usual fast food such as hamburgers, hot dogs, french fries, tacos, etc. At one point it was painted white and called Dinky's. Now, it is just called simply "Barrel" which seems much more fitting.
Escondido
Back in the seventies this was Michael's Drive In, but today it is El Indio de Tijuana. It has a orange and yellow striped paint job.
National City
The National City location operates as a florist now called Angel Petals. It is currently a white and blue paint scheme but was more of a cyan previously.
San Diego
San Diego hosts two barrels. One currently hosts CBD Superstore, while the other has a twenty-four hour Mexican food stand called Vaqueros Carne Asada. Vaqueros is painted yellow with orangish verticle stripes. The building to the left of it has the same color scheme.
Pictures of Vaqueros courtesy of @pcarh13.
Other Locations
The other former A&W Root Beer stands not featured in this article are:
Rosendo's Taco Shop: 1408 East Main Street, El Cajon, California 92021 - formerly Variety Barrel and then El Barrilito.
1550 Palm Avenue, San Diego, California 92154 - formerly Barrel of Flowers and then I.B. Printing.
6430 East Main Street, Mesa, Arizona 85205
Amarillo, Texas
The El Cajon location is currently housing Rosendo's Taco Shop, but has in the past been called Variety Barrel in the seventies, and El Barrilito in 2001. Rosendo's appeared no later than 2008 along with the barrel having a fresh orange and yellow striped paint job. The San Diego location has been called Barrel of Flowers, Angels U Flowers and Gifts, IB Printing, and as of today, CBD Superstore. It has undergone a few different paint jobs.
Two other buildings featuring barrels in California include the Idle Hour Cafe in Los Angeles, which is literally a restaurant in three giant attached barrels, and La Botte Italian Restaurant in Lompoc which has three giant barrels to the left of the main door. Additionally at one point, Vallejo had the Barrel Club on the Lincoln Highway. The Barrel Club had a very large barrel on its right corner.
First Created: 2020-05-13
Last Edited: 2021-04-05