Weird California - By Joe Parzanese
Frenchman's Tower

2065 Old Page Mill Road, Palo Alto, California 94304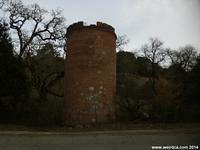 Stanford University, one of California's pinnacles of education, was built by Leland Stanford. But the land he built the university on was once owned by Peter Coutts. Who was Peter Coutts? Well originally he was a dead Frenchman who passed away long before Leland Stanford purchased his land. But he's also a story filled with incorrect rumors. Rumors of him fleeing France with the army's money and the Empress of France. Fleeing to America where he built a mysterious tower prepared to withstand a siege from his enemies.
But to understand who Peter Coutts was, to unravel the outlandish rumors, we have to first go into who Jean Baptiste Paulin Caperon was, and Paulin Caperon was the son of one of Napoleon's officers. Caperon was very wealthy, especially after the death of his parents. He openly opposed Napoleon III's policies and the Franco-Prussian War. While living in France, he married a wealthy woman, established his own private bank, and even got into politics, where his republican ideology was fiercely opposed by the Royalists.
Although rumor has it that Caperon was banished from France during the Franco Prussian War and subsequently fled to America, and yet another rumor states that he was the paymaster in the French Army and absconded with some of the army's funds, it was really more of a self exile. Having lost a political campaign and then coming under constant pressure from the Royalists, as well as dealing with a heart defect, he decided to liquidate his bank, and for a brief time went to Belgium, where he met the widow of his cousin, Peter Coutts. It was then that Paulin Caperon decided to travel to America using the papers of his deceased cousin, Peter Coutts, fortuitous that he was able to keep his initials. He moved his wife, children, and the family governess with him to California.
In 1875, in what was Mayfield, California, now known as Palo Alto, Paulin Caperon, known then as Peter Coutts acquired several acres of land, 1242 acres to be precise, of what is now part of Stanford University for the price of $90,000. In order to ensure that his children would inherit the property should he pass, and in order to protect their inheritance from his political enemies amongst the Royalists, he placed the property in the name of the children's governess, Eugenie Clogenson. Popular, yet untrue rumors have the governess as the Empress Eugenie, wife to Napoeon III, living in exile in America and being harbored by Caperon.
In his short time in California, on his land Coutts / Caperon established a herd of cattle, an award winning dairy farm, and built a summer cottage called Escondite. The cottage is now used by Stanford University.
Also on his land, he built a strange looking tower with Gothic windows and a crenelated roof. Oddly there was no door to the tower. It is believed that the second floor at one time held a water tank that was built as part of an irrigation system for Coutts's farmland, while the first floor is rumored to have possessed a library that Coutts, an avid book collector and scholar, spent much of his time reading in. It is said that he could speak, write, and read six different languages.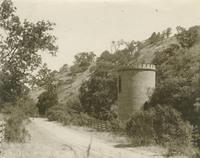 The rumors, however, about the purpose of the tower are varied. One states that the water tank connected to a system of six underground tunnels, through which they provided irrigation to the farm. Another states that the tower held a weapons cache, that Caperon intended to use to defend his property and withstand any siege that his enemies might bring to his land. Yet another, describes the tower as a prison for his mad wife! It has also been called a "folly" or an expensive building with no practical purpose, often a tower or Gothic ruin. And some have thought that maybe it was a decoration to mark the boundary of the property.
By the early 1880s, the political climate had changed in France. Caperon's republican party had finally taken control over the Royalists. However, before they had done so, Caperon's political rivals had arranged to have his properties in France seized. Additionally a customer of Caperon's prior bank, wrongfully blamed him for the loss of five million francs. With the political climate more pre-disposed towards him, Paulin Caperon decided to bring his family back to France, to recover his seized assets and fight the wrongful charges placed against him in regards to the five million dollar loss.
The land, along with the tower, was sold for $140,000 to Leland Stanford in 1882 when Paulin Caperon moved back to France. In 1891, Stanford University was founded on the same land. The tower has sat, mostly untouched since then. For over 100 years, people have been carving their initials into the bricks of the tower. In 1969, the tower was declared a California Historical Landmark. In 1970, the windows were bricked up in order to prevent vandalism to the interior. Still, currently, the interior is completely covered in all sorts of graffiti, and there are also the signs of the remains of a camp fire inside the tower.
A plaque is located near the tower. It states:
Paulin Caperon was able to regain his estates in France. He spent the rest of his life in France and passed away in 1889 at the age of 77.
Closest Weird
Outside Links:
Outside References:
First Created: 2014-06-17
Last Edited: 2020-08-02