Weird California - By Joe Parzanese
Far Western Tavern

899 Guadalupe Street, Guadalupe, California 93434
(Guadalupe and 9th, south of 9th, west of Guadalupe)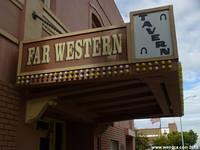 Thump! Thump!
In 1912, the Palace Hotel was built in the small town of Guadalupe. Due to the high amount of agriculture in the area, the hotel often had several business travelers from the farming industry staying the night. One such traveler who often spent the night was Mr. Fraconeti. After he retired, he took up permanent residence in the hotel. He lost his leg in World War I and replaced it with a prosthetic leg. As he lived on the second floor, those down on the first floor could often here the tell tale "Thump Thump" of his prosthetic peg leg.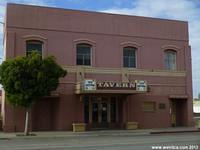 In 1937, a fire broke out in the hotel, and Mr. Fraconeti was asleep at the time. He awoke, but could not find and attach his leg fast enough in order to evacuate to safety, sadly perishing in the fire.
In 1958, the hotel was purchased by ranchers, Clarence and Rosalie Minetti. They renovated the building and turned it into a barbecue restaurant called the Far Western Tavern. A popular spot for local ranchers and farmers, the tap room of the Tavern was a popular spot, but soon after opening, patrons on the first floor could often here "Thump Thump!" from the second floor. Old timers remembered Mr. Fraconeti and his peg leg, and soon realized that his ghost had not departed after he died.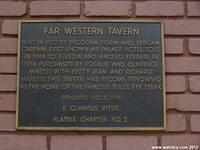 In addition to the "Thump Thump" sounds from above, a cold spot can be found in one of the upstairs rooms supposedly signifying the location where Mr. Fraconeti passed away. His ghost has also been seen on the staircase, even perhaps descending down towards the restaurant (the employee who was closing at the time, fled the building quickly as the ghost descended the stairs). Objects have been known to move on their own, and one day the big steer head that was hanging on the wall in the restaurant was discovered turned upside down. Also something dark and sinister has been seen moving around in the back room!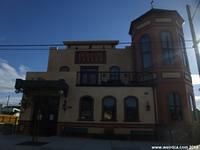 A plaque is placed outside the building reading: "Built in 1912 by Ercolina Forni and Bergam Carenini. First known as Palace Hotel. Sold in 1944 to Elvezia and Angelo Ferrari. In 1958 purchased by Rosalie and Clarence Minetti with Betty Jean and Richard Maretti. This tavern has become renowned as the home of the famous Bull's Eye Steak. Dedicated Oct 5, 1986. E Clampus Vitus. Platrix Chapter No. 2".
Famous now for its barbecue, after over fifty years, the Far Western Tavern moved down the road in 2012 to Old Orcutt and has set up a bigger restaurant there. One would assume that the ghost of Mr. Fraconeti remained in the old building, now empty, and has free run of the place. Be careful if you end up inside the abandoned building and are alone when you hear "Thump Thump" from above.
Thump! Thump!
Closest Weird
Outside Links:
Outside References:
First Created: 2013-12-01
Last Edited: 2013-12-03