Weird California - By Joe Parzanese
Megamouth Shark

Natural History Museum of Los Angeles County
900 Exposition Boulevard, Los Angeles, California 90007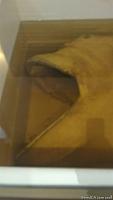 It had been over eight years since the first of its kind had been reported off Hawaii. But on November 29th, 1984, near Catalina Island, the second ever Megamouth Shark was caught. It clocked in at 4.49 meters. Since then four other Megamouth Sharks, sometimes referred to as the "alien shark", have been seen or caught in the ocean off the Calilfornia Coastline. Maybe only 66 or 67 Megamouth Sharks have even been seen in the entire world, since they were first discovered on November 15th, 1976. One report claims 99 have been seen as of 2018.
Brownish-black in color on top, with a white underside, Megamouth Sharks are very infrequently seen, living in deep oceans. Like the whale shark and basking shark it is part of the planktivorous shark species and is an extant filter feeding shark, meaning that it swims with its gigantic mouth open, taking in water and filtering out plankton and jelly fish. To accommodate this, the shark has a large mouth set in a huge bulbous head. The Megamouth Shark grows to 18 feet in length and can have a mouth up to four feet three inches wide! They can have up to seventy-five rows of teeth in their low jaw, and up to fifty rows of teeth in their upper jaw. The mouth also has two silvery, reflective pieces of tissue hanging from its upper jaw. Although no light producing organs have been discovered, it has been suggested that these reflective pieces of tissue are bio-luminescent and lure prey to the shark's mouth. Its scientific name, Megachasma pelagios means "huge yawning cavern of the open sea".
The Megamouth Shark has been seen in the Pacific, Atlantic, and Indian Oceans. Five, one unconfirmed, have been seen off the coast of California, including the second one ever discovered in 1984. This shark was caught by commercial fishermen and is now on display in the Natural History Museum of Los Angeles County. Coming in at 14.7 feet and weighing about 1,540 pounds, it is on display with a once thought extinct Coelacanth.
Another Megamouth Shark was caught in 1990 off Dana Point. It was fitted with an ultrasonic transmitter, released, and tracked for two days. The transmitter showed that the shark spent nights only fifty feet below the surface, but dove deep down into the ocean, almost five hundred feet below the surface, when day began. Other marine animals follow this same vertical migration due to chasing of the plankton in the water.
List of California sightings:
11/29/1984 - Catalina Island
10/21/1990 - Dana Point. The shark was actually fitted with an ultrasonic transmitter, released, and tracked for two days.
10/1/1999 - San Diego. Caught in a net, photographed, and released.
10/19/2001 - San Diego. Caught in a net, had a tissue biopsy taken, and released.
5/26/2003 - Dana Point. This unconfirmed sighting involved the shark being sighted and temporarily having its tail tied up by a rope, before it escaped.
Closest Weird
Outside Links:
Outside References:
First Created: 2018-07-11
Last Edited: 2018-07-11