Weird California - By Joe Parzanese
Rinconada Mine

West Pozo Road, Santa Margarita, California 93453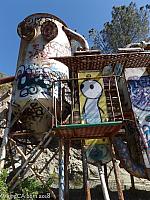 Up in the hills of San Luis Obispo County is the long abandoned Rinconada Mine. Decades ago a large amount of mercury was mined out of this area. Now as you walk along and up the Rinconada Trail, you can take in amazing views of the surrounding area, all as you go on a leisurly walk to the top where the mercury processing equipment is located.
Started in 1872, and lasting probably until 1961, the mine extracted quicksilver from 7000 feet, across four levels of underground workings and tunnels. It operated in the forties during World War II as part of the war effort. After operations ceased, the main mill building was lost in a wildfire in 1985, but a few structures, mostly the processing facility, still exist for those who take the short hike up the mountain. The machinery that can be found at the end of the trail is both very rusted and now heavily covered in an endlessly rotating display of graffiti. It seems that only one piece of graffiti on the second level seems to be consistent. Called the "Prisoner of Society", at least when I visited, it had its own Pokemon Go Stop.
If you climb up the mountain past the equipment, you will find a large rocky hole that possibly leads into the mine, although it isn't advised that you climb the ridge or go down into the hole. Other access points to the 7000 feet of mine have also been closed. Bat warning signs have been placed at many of what remains of these former access points.
Take 101 to 58 East, heading towards Santa Margarita. The road will eventually split, head to the right on Pozo Road. Rinconada Road and the Rinconada Trailhead will be off on the right, about 9.5 miles after you get on Pozo Road. It is paved up to a small parking lot, and the trail begins at the far right side of the parking lot, where a vehicle gate stands. Stick to the right when the trail splits in order to find the processing facility and mine.
This adventure was part of an epic team up! We visited the Rinconada Mine with Forgotten California who has visited the mine site many, many times. Special thanks to Forgotten California for the tour!
Closest Weird
First Created: 2020-06-11
Last Edited: 2020-06-11