Weird California - By Joe Parzanese
Stairway to Nowhere

2575 Price Street, Pismo Beach, California 93449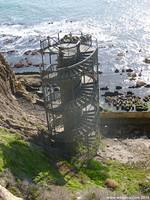 In the Shell Beach area of Pismo Beach, there use to exist a spiral staircase to nowhere. Located behind and to the right of Ventana Grill, it once was used to allow access to the beach below, but has since long been abandoned. There once was a walkway out to the top of the spiral staircase from the bluffs, but that was removed many years ago because the structure was deemed unsafe from the wear and tear of being exposed to ocean winds and salt water. With the walkway removed the tower was simply left to rot and decay.
In November 2015, the stairs were dismantled, stripped off the concrete core that rises up out of the beach. This was done for more safety reasons, as the owners of the nearby restaurant were afraid that the steel stairs would collapse and take the entire structure down. There are plans to eventually restore the staircase and even add a bridge back out from the restaurant to the tower, but those have yet to get occur.
Due to cliffs on either side, there is no way to get to the beach below unless you swim (not recommended) or take a kayak. Parking is readily available to the right of Ventana Grill.
Closest Weird
First Created: 2015-01-02
Last Edited: 2016-04-03