Weird California - By Joe Parzanese
Painted Cave

Painted Cave Road, Santa Barbara, California 93105
(Off Highway 154)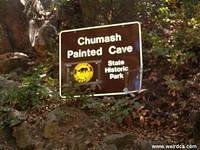 Well I stopped by Painted Cave on Thursday 2/19/04 around dusk (a little too dark to adequately check it out). Apparently, Painted Cave is a small cave that the Chumash Indians painted up way back in the 1600's. It's located on Painted Cave Road off of Highway 154. The road up to it is extremely windy and narrows significantly on the way up. Despite the several hairpin turns, the view on the way up is magnificent. Beyond the Painted Cave, the road becomes even narrower and more treacherous.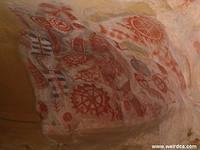 According to scientists, the drawings within the cave represent a solar eclipse that happened back on November 24, 1677. Supposedly, the black disk is the sun and the two red disks below the black disk are Mars and Antares. Scientists believe that these drawings would have been what the painter would have seen at the time of the eclipse. The Cave was discovered in the 1870s and the iron gate in the entrance was placed in 1908 to protect the drawings from graffiti artists. I stopped by again on 7/22/04 when it was not dusk to get better pictures.
It is believed that the drawings were probably made for religious reasons by a shaman or Chumash priest. Tiny pigment samples were taken from the black disk. These samples were analyzed and dated and the results agree with theories about the solar eclipse. However, some of the figures in the cave were probably painted before and after that date.
The paints involved in the petroglyphs include black, red, and white. Black came from either manganese oxide or charcoal. The red was made from hematite or red ochre. White came from gypsum or diatomaceous earth.
And of course, local legend has attached tales of ghosts to the cave. In addition to orbs, ghostly flute music, and ghostly voices recorded on tape, there is also a link to the cave being used as a hiding place for a Native American rebel who led a guerrilla war against Spanish Missionaries before being captured and executed.
Closest Weird
Comments:
Jarrod of Ventura, CA on 2011-02-07 said:

I've been inside the painted cave during a college archeological field trip. There isn't much that you can't see from outside.... One FYI I will note is that the correct name of cave art is "pictographs", this name is used because not all cave drawings are "art" but rather compasses, maps and directions (you'll notice the 4 points on many of the drawings). In this case the pictographs are depicting the eclipse as stated.
Outside Links:
Outside References:
First Created: 2004-07-01
Last Edited: 2012-07-11