Weird California - By Joe Parzanese
Bayshore Roundhouse

2800 Bayshore Boulevard, Brisbane, California 94005
(Use 11 Industrial Way)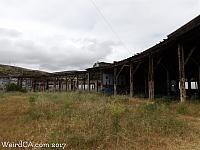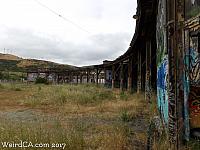 So if you ever had or seen one of those elaborate wooden train sets you might have seen a large building that was about a quarter of a circle, with several tracks leading into it and usually some sort of track switching mechanism in front. This is known as a Roundhouse and track part in front of it is known as the Turntable. A Roundhouse was a building used for stabling and servicing steam engines, while the Turntable was used in order to help put the engines in head first into the buildings and then turn the engines around so they would run forward on their next trip. Steam engines, unlike later engines, were mostly designed to only be able to pull trains facing forward.
Originally there was over two hundred roundhouses in the state of California. Now although there are probably two or three wood roundhouses left, there is only one brick roundhouse still standing, and it's barely standing at that.
The Bayshore Roundhouse was built between 1907 and 1910 by the Southern Pacific Railroad. Originally it was designed to have forty stalls, but only 17 stalls were build under cover, with the remaining stalls being outdoor areas called "Whisker" tracks. It had a ninety foot turntable. It stabled and serviced the steam powered freight engines that were used there on the peninsula in the Bay Area. Passenger train engines, both shorter and lighter than freight engines, were instead serviced up at the Mission Bay Roundhouse.
The Bayshore Roundhouse was extremely busy and as the Southern Pacific grew, the facilities at the roundhouse expanded, with a high of 25 outbound tracks and 39 inbound tracks. It also had store buildings, a freight yard, an icing facility to support produce carrying box cars and even a hospital to support the employees, of which at one time there was three thousand!
Sadly the rise of diesel engines spelled the doom of the Bayshore Roundhouse. Diesel engines required a lot less maintenance than steam engines, and also could run in either direction making both the roundhouse and the turntable largely obsolete. Roundhouses all over began to disappear. The Bayshore Roundhouse was mostly obsolete by 1958, but stayed open to stable diesel locomotives.
After over two decades of dwindling usage, the roundhouse was completely abandoned, closing in October 25th, 1982. The rails were picked up and many of the buildings were torn down. It was sold in 1989. Although the roundhouse stayed, about half of it was razed by fire in October 2001. The ruins, now heavily graffitied, still stand, although parts are skeleton like. An abandoned weed choked field surrounding it.
A few buildings are still being used. The nearby Tender and Tank Building was bought by the Lazzari Fuel Company. And the former Ice House is now the Machinery and Equipment Company of Brisbane.
There are at least two wood roundhouses still standing and even one more in storage. The California State Railroad Museum in Sacramento has a small working roundhouse. In Jamestown, another roundhouse can be seen at Railtown 1897 State Historic Park. And in the San Jose area, a last roundhouse might be in storage at the Santa Clara County Fairgrounds, intended to one day be on display at a future San Jose Steam Railroad Museum.
Please note, investigating the Bayshore Roundhouse is trespassing. WeirdCA does not endorse breaking the law or trespassing. If by some chance, you do find yourself on the property, do not cause any damage to this historical property.
Closest Weird
First Created: 2017-07-24
Last Edited: 2017-07-24