Weird California - By Joe Parzanese
Motel Inn

2223 Monterey Street, San Luis Obispo, California 93401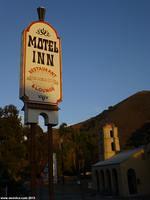 Back in the early 20th century, cars began to become more and more popular and people began using them to travel more and more over the roads of California. Due to the condition of the roads and the speed of the cars back then, it typically took two or more days to go from San Francisco to Los Angeles. At the time, there were no hotels that catered to the weary traveler who was simply looking for a place to stay for one night and thus, unless travelers had made prior arrangements, generally if a road trip was going to take more than a day, the traveler would either sleep in their cars or set up a campsite and tent.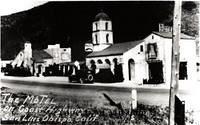 Until December 12th, 1925 when Pasadena developer, Arthur S. Heineman, for the cost of $80,000 built in San Luis Obispo, the Milestone Mo-Tel. The Milestone Mo-Tel was the world's first motel. It was a hybrid of a normal hotel of the time and a auto camp that travelers often stayed at in 1925. Motor Hotel didn't quite sound right, or fit on the sign, so he shortened it to Mo-Tel. Bungalows at the Motel (later simply called the Motel Inn) went for $1.25 a night. Each room included its own bathroom with shower. It was built in the Spanish style architecture and resembled a California Mission.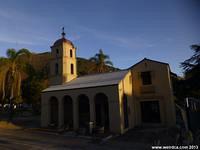 Arthur Heineman had plans to build more motels, part of a chain of eighteen motels spaced out about a day's travel apart approximately 150 to 200 miles from each other all the way from California to Washington. These plans eventually fell apart as the Depression began.
The Motel Inn operated as a motel for many decades. In the sixties the local radio station (at the time KVEC) was even located in the motel. Unfortunately, the motel fully closed in 1991. In 2006 much of the location was torn down leaving two fragments of the original buildings, thankfully including the mission style bell tower.
The plaque on the side of the remaining building reads:
Motel
Inn
This is the site of the world's original and first motel. Construction started in 1925 at a cost of $80,000. The word "Motel" was first thought of here by architect Arthur Heineman.
Dedicated October 22, 1988 by Native Sons of the Golden West, Frank Compani, Grand President and San Luis Obispo Parlor No. 290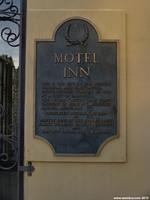 Closest Weird
Outside Links:
Outside References:
First Created: 2013-11-03
Last Edited: 2013-11-14