Weird California - By Joe Parzanese
Mansions Hotel

2220 Sacramento Street, San Francisco, California 94115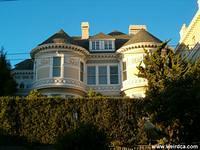 The former Mansions Hotel and Restaurant is now private residences having been turned into condos after 2000. But before that, the building's past is filled with ghosts, pigs, and even a "farm implementation accident".
The Mansions Hotel was originally built in 1887 by silver mining tycoon, Richard Chambers. He made his fortune striking it rich mining for silver in the state of Utah. The mansion he built in San Francisco was 8777 square feet and three stories tall. Chambers and his wife lived in there only a few short years. Chambers passed in 1901, and his wife had passed shortly before that.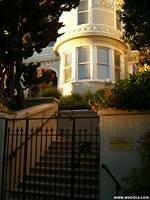 Since Richard Chambers had no children of his own, the mansion passed to his two nieces. One was Claudia Chambers. Claudia and her sister apparently did not get along, because they moved the mansion to one side of the property and built a second mansion to the left of it, thus each sister could have her own residence.
Claudia Chambers was killed under mysterious circumstances. It has been described as a "farm implementation accident". The stories of her murder vary and conflict. One story says she was killed by knives. Another says she was accidentally sawed in half. Yet another states that she was possibly killed by her sister, possibly on the third floor. Jim Fassbinder of the excellent San Francisco Ghost Hunt tour believes that she was killed by an unstable and crazy family member who had been previously locked in the attic. According to his story, the insane relative escaped the attic one day, chased poor Claudia and upon cornering her, killed her with a knife. Fassbinder's tour is an excellent way to spend an evening. It starts at the Queen Anne and travels to several of the haunted locations in the nearby area. I encourage everyone to take the tour.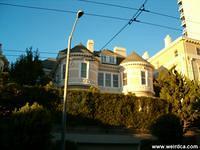 Regardless of if she was killed by knives or sawed in half, Claudia began to haunt the house she once lived in.
The house passed through several owners over the years, falling more and more into disrepair, until finally in 1977, when it was a run down rooming house, it was purchased by Bob Pritikin. He turned it into a bed and breakfast calling it the Mansions Hotel and Restaurant. The two mansions were connected by a hallway and Pritikin decorated the hotel eccentrically. Memorabilia and decorations that are rumored to have been in the hotel while Pritikin owned it include sculptures by Beniamino Bufano, documents and memorabilia from magicians like Harry Houdini and Blackstone, life sized dolls of Bill and Hillary Clinton, Richard Nixon's letter of resignation, as well as Gerald Ford's pardon. Pritikin also had caged and uncaged birds in the hotel, including one Macaw that was occasionally thought to be the reincarnation of Richard Chambers. He also decorated the hotel with hoards of pig figurines. It was thought that Claudia loved pigs when she was alive, and even kept some in the mansion as pets. So in order to pay homage to her, and possibly to make her spirit happy, Pritikin decorated the hotel with pig figurines, calling it the International Pig Museum.
Pritikin held nightly shows after dinner in the restaurant. His shows involved a wide array of acts, and included such things as him playing the musical saw. He played such hits as "The Last Time I Sawed Paris" and "Moonlight Sawnata". Later, he added to his show a telling of the ghost story of Claudia, using several illusions and his stage magic abilities. It's no wonder that with his ghost stories and musical saw recitals that the story of Claudia's death now involves her getting sawed in half.
Pritikin, at first, didn't believe in ghosts, but after hearing way too many stories, coupled with him actually seeing Claudia's image reflected at him in a dinner plate from which he was eating, he became a believer.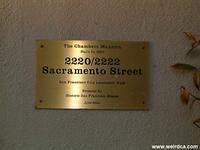 If the ghost is Claudia, she has been seen throughout the mansion. She sometimes awakened people staying the night, pulling their covers off. There were even reports of her appearing to people as if lit up from behind even though there were no lights on. She often was seen as a just a legless apparition.
Other ghostly phenomenon that is rumored to have occurred within the mansion includes exploding wine glasses, flying objects, cold spots, toilets flushing, TVs turning on and off, windows opening up and then closing, lights flashing on and off, and sudden drops in temperature.
Although rarely seen, some guests reported seeing a male ghost in Victorian era clothing. He is thought to be Richard Chambers.
Other than Claudia and Richard Chambers, other ghosts have been witnessed in the mansion. These include Julia, a mother who is concerned for her son, Henry, who committed suicide in the house when he was twenty one. Another spirit is Rachel, a woman who died at age nineteen of tuberculosis.
The hotel eventually added a display about their ghosts. The display included photos, witness statements, and even seance transcripts, all promoting the ghostly activity of the mansion. The hotel also featured a player piano that was supposedly played by Claudia.
Guests who stayed the night in the Mansions include John Cleese, Robert De Niro, Robin Williams, Carrie Fisher, and Barbara Streisand.
Bob Pritikin eventually sold the property in 2000. The two mansions were once again separated and converted into private condos.
Closest Weird
Comments:
Lori of Seattle, Washington on 2008-07-09 said:

The old Mansions Hotel has been converted into Condos, although, to be honest, I have no idea who would actually want to live there. When I was there last, we were on the cheesy "Ghost Walk" (which you might want to do, because he took us to a lot of cool places, including the Voodoo Queen of San Francisco's place). Apparently, the construction was going slowly because things would dissapear, weird lights would appear, etc. They started leaving the work lights on all night to avoid complaints from the neighbors about burglars. When I was there, I got completely cold (from across the street!) and I swear I saw a woman banging on the door from inside trying to get out. Of course, the door was not open, and no one else saw it. Also, of course, this is suspected to be the way that several victims of the "strange uncle" who lived in the house and killed women by slitting their throats when he escaped the prison of the family attic were caught before they were tortured--the door being locked and unable to escape the house.
Outside References:
First Created: 2015-04-13
Last Edited: 2015-04-13