Weird California - By Joe Parzanese
Winchester Mystery House

525 South Winchester Boulevard, San Jose, California 95128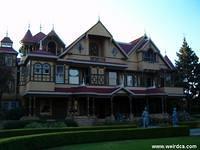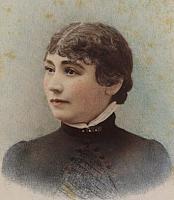 Situated in the heart of San Jose is a convoluted maze of hallways and rooms making up a palatial mansion of 160 rooms. The entire Queen Anne Style Victorian mansion was born from the mind of one Sarah Winchester, multi-millionaire and the widow of William Wirt Winchester, former owner of the Winchester Repeating Arms Company. With her inherited fortune she built the sprawling Winchester Mystery House to keep the angry spirits of those killed by the company's rifles from exacting vengeance upon her. As a result, the entire house is rumored to be something of a spirit trap, containing hoards of ghosts, weird legends, and spooky stories surrounding Sarah Winchester!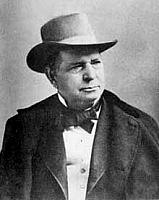 Sarah Winchester was born one Sarah Lockwood Pardee in 1839 (possibly 1840). On September 30th, 1862 she married William Wirt Winchester, born 1837, and they lived in New Haven, Connecticut. They had one child born June 15th, 1866, Annie, who unfortunately passed away on July 25th, 1866, only a few weeks after being born of marasmus. William Winchester became the successor to his father Oliver Winchester as President of the Winchester Repeating Arms Company. The Winchester Repeating Arms Company made several rifles and shotguns, many of which were extremely popular, leading to the company's guns being known as the "Gun That Won the West". Unfortunately, William Winchester passed away also soon after of tuberculosis. When he passed, Sarah Winchester inherited twenty million dollars, or the equivalent of more than 536 million in today's dollars, as well as fifty percent ownership of the Winchester Repeating Arms Company. 1881 was a rough year for Sarah Winchester, as her mother, her father-in-law, and husband all passed away the same year.
Spiritualism was gaining in popularity in America at the time, and Sarah Winchester consulted with one. The spiritualist informed Mrs. Winchester that the spirits of those killed by the guns of her husband's company had come for her family members and taken them from her. I've heard two versions of what came next. The spiritualist either told her that she needed to build a house for those same spirits, or she needed to build a house to hide from those same spirits. The spiritualist further informed her that she had to perpetually build this house and that she could never cease, otherwise the spirits would take her.
Sarah Winchester in 1884 purchased a small farmhouse in San Jose. Called Llanada Villa, it was an eight room building. At this point an army of builders, craftsmen, and artists began building what would one day become the Winchester Mystery House. They worked night and day, twenty four hours a day, seven days a week. Construction never ceased.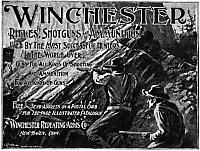 The Winchester Mystery House is legendary now. The house was kept perpetually under construction while Sarah Winchester was alive. Mrs. Winchester believed that as long as construction kept up night and day, then the spirits of the people killed by the Winchester rifle would be appeased. As a result, the mansion is a convoluted maze of hallways and rooms with some staircases and doors leading quite literally to nowhere. There is even a door that opens up to thin air several feet off the ground, leading to a very risky first step to those who try and walk through it. Her sense of paranoia was further enhanced as a result of the deaths of her husband and infant daughter.
The house was built pretty randomly by Sarah Winchester, and eventually it grew into a monstrous seven story tall mansion. She never slept in the same bedroom twice in a row, in order to avoid being found by the spirits that pursued her. In 1906 when the earthquake hit, she became trapped in the Daisy Bedroom for over an hour before finally being rescued by servants. The house became four stories after that. Sarah Winchester never had the Daisy Bedroom fixed up, but instead of having it torn down, she made that portion of the house, the northern wing, safe and water tight, and then abandoned it. Afterwards, she mostly stuck with the west wing of the mansion.
Additionally, Sarah Winchester was obsessed with the number 13. A variety of items are grouped in sets of 13 or appear only in numbers of 13, such as 13 panes of glass, closets with 13 hanger pegs, 13 lights in a chandelier, 13 palm trees, 13 steps in a staircase, or 13 bathrooms. Also a lot of the columns in the house, railings, etc., are hung upside down. Because of Sarah's small size, only 4'10", and her arthritis, several stair cases are built with very tiny steps, called risers by the tour guides. One cabinet in the kitchen opens up into an entire other section of the mansion with multiple rooms. Mrs. Winchester also had a séance room which she went into every night. During her sessions in the séance room, she would come up with new plans for the construction of the house. Spider web designs was built into the house, due to the spiritual significance that Sarah Winchester thought it held.
Other random weird facts about the mansion include:
It takes 20,500 gallons of paint to paint the mansion
there are 40 bedrooms, 47 fireplaces (but only 17 chimneys), 52 skylights, 40 staircases, two basements, and three elevators
there are windows throughout the house that overlook other rooms in the house
although the house is mostly made out of redwood, which Sarah Winchester preferred, she disliked it, and had faux grain and stain applied to all of it
a special window was designed by Louis Comfort Tiffany, costing $1,500 at the time, equivalent to about $30,000 today, the window was supposed to cast a rainbow across the room when sunlight hit the crystals set into it, but unfortunately the window was installed first in a north facing window that light didn't hit, and then later became part of an interior room when an entire wing of rooms was added behind it
Supposedly, President Teddy Roosevelt visited, and since Sarah Winchester never let anyone use the front door, he was told to go around to the backdoor, prompting the President to immediately leave upset
one of the two ballrooms had a hinged wall which covered up a wooden door, which stood before a steel door, that contained a safe behind it, which held yet another safe, which contained funeral notices and hair of Sarah's husband and daughter
Sarah Winchester passed away on September 5th, 1922 at 10:45pm of heart failure. She is buried in Evergreen Cemetery in New Haven, Connecticut with her husband and daughter. At the time of her passing, the non-stop 24/7 construction on the Winchester Mystery House immediately ceased. At this time there were nine kitchens, forty seven fireplaces, two thousand doors, and more than ten thousand windows!
Winchester House
Built by Sarah Winchester, widow of rifle manufacturer William Winchester. This unique structure includes many outstanding elements of victorian architecture and fine craftsmanship. Construction began in 1884 and continued without interruption until Mrs. Winchester's death in 1922. The continual building and remodeling created a 160 room house covering an area of six acres.
California Registered Historical Landmark No. 868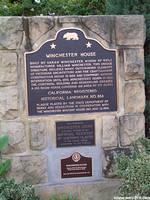 Sarah Winchester's will supposedly contained thirteen sections, and she signed it thirteen times. The Winchester Mystery House and all of Sarah Winchester's possessions were left to her niece, Marian "Daisy" Marriott, who had previously lived with Sarah Winchester in San Jose from 1888 until 1903. Marriott immediately had the property auctioned off, along with the rest of her non cash inheritance, on December 15th, 1922. The people who won the auction for the house leased it to John and Mayme Brown and they immediately turned the sprawling mansion into a tourist attraction, before eventually buying the property outright. The first tourists took tours of the house in February 1923, roughly six months after Sarah's passing. Mayme Brown was the first ever tour guide. In 1924, Harry Houdini even visits on Halloween night, there to debunk the ghost stories surrounding the mansion, and supposedly famously referring to the mansion as "The Mystery House". The mansion became a California Historical Landmark Number 868 in 1974, and was additionally listed on the National Register of Historic Places. It is currently owned by Winchester Investments, which is a privately held company representing the descendants of John and Mayme Brown.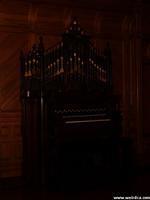 Rumor has it that over the years, some visitors have tried to take mementos of the mansion with them after visiting, sometimes things like wallpaper, etc. These have often been returned, as bad luck supposedly has cursed the thief.
When Mrs. Winchester died, construction stopped immediately right where it was, leaving rooms unfinished, walls incomplete, etc. Now, spirits are rumored to wander the twisted maze of passageways that make up the mansion. Not only Sarah Winchester, but other spectral spirits inhabit the enormous house, residing within its walls. Additionally, there have been reports of phantom sounds such as rattling chains, disembodied voices, footsteps, and organ music. Whispers, cold spots, strange lights, odd images appearing on photos, shadowy figures dancing across walls, and full on ghosts have been encountered in the haunted mansion. The ghosts, besides Sarah Winchester, have included the gambit of victims of the Winchester rifle, ranging from all sorts of characters from the old west including gun slingers, cowboys, bandits, soldiers and Native Americans. Other famous ghosts include former caretakers, most notably the Wheelbarrow Ghost or Clyde: a ghost in white overalls who pushes a wheelbarrow or cleans one of the fireplaces. Another famous story involves a worker for the house standing on a ladder in the Hall of Fires, an area with lots of fireplaces. The worker on the ladder was tapped on the shoulder from behind, but no one was there, so he left the area as fast as he could. A tour guide heard someone sighing in the hallway outside the Daisy Bedroom, but when she tried to get the person to enter the room and rejoin the tour there was no one there, but while looking the tour guide found a small form escaping around the corner. Lastly, supposed ghosts have appeared on surveillance videos and been seen in windows of photos taken of the front of the house!
One hundred years have passed since Sarah L Winchester first arrived in the Santa Clara Valley with nearly $20,000,000 and began quietly adding rooms to a small country farm house, then three miles west of San Jose. Ten years have passed since the massive restoration of the Winchester House and Gardens commenced as a tribute to America's and San Jose's Bicentennials.
Today the Winchester Estate is once again the showplace of the valley! Although the "Lady of Mystery" was called from her earthly home in 1922, we believe these events have permitted Sarah L Winchester, in her own way, to achieve a unique kind of eternal life.
This plaque was dedicated on Friday, April 13, 1984 by the Winchester Mystery House Restoration Board and Mountain Charlie Chapter No 1850 E Clampus Vitus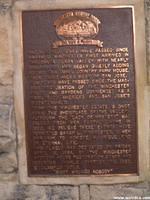 Closest Weird
Comments:
ray of san fransiscoon 2010-04-06 said:

i've been there last year for a tour (it was several hours long), and we went through all the places, including her bedroom, unfinished rooms, and the stair case leading to nowhere (just to name a few). at the end of the tour, i asked the guide if she ever seen any ghosts. she simply just said no anyways the place is pretty cool, and you should go check it out.

Anonymous of Washington, DC on 2007-08-08 said:

The number 13. A combination of 7 + 6 = 13 Number 7: A holy number. The heavenly number, above all earth. Number 6: A fallen Angel number. Satanic powers are suppose to possess the number 6 or 666. Both numbers togeather are supposedly badluck, according to mortals. The number 13 is mystical.
Outside Links:
Outside References:
First Created: 2006-06-10
Last Edited: 2021-10-19