Weird California - By Joe Parzanese
Atherton Mansion

1990 California Street, San Francisco, California 94109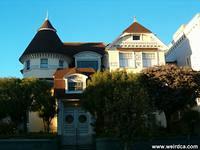 In 1877 Faxon Dean Atherton, a reputed womanizer, passed away leaving his Chilean wife Dominiga de Goni and several children. Atherton had built up a sizable fortune trading in hides, foodstuffs, tallow, and other commodities . The town of Atherton, southeast of San Francisco, grew from his holdings, eventually taking his name in 1923 when it incorporated.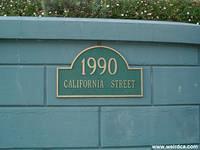 Having suffered through his extra-marital affairs, Dominga used the money from his estate to move out of what would become Atherton and into San Francisco. She had the Atherton Mansion built on the corner of Octavia and California in 1881. It was one of the most spectacular of the mansions in the area. She moved into the house with one of her sons, Jorge H. Bowen Atherton, and his wife, Gertrude Franklin Horn. Jorge (born 1851) had eloped with Gertrude on February 14th, 1876.
Gertrude was an aspiring author and often wrote of her time in the Bay Area. Later in life, one of her novels, Black Oxen written in 1922 was made into a silent film under the same name in 1923.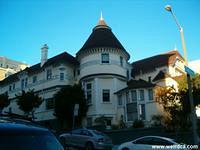 Dominga was a domineering personality to her seven children, especially to poor Jorge. Not surprisingly, he had married a woman much like his mother, and Gertrude also bossed the poor man around. Dominga and Gertrude completely dominated the life of poor Jorge and his life was miserable at the hands of the two women. Additionally the two women often humiliated him public.
In order to escape his dreary mother and wife controlled life, one night during a ball at the Atherton Mansion, Jorge decided to run off and visit Chile with the Chilean Naval officers who were the primary guests of the ball that evening. Although it was suppose to simply be a trip to visit friends, Jorge secretly hoped to follow in his father's footsteps and prove himself. But it was not to be so. In 1887, he got on a boat to Chile. Regrettably on his way to Chile, he fell ill and died of kidney failure. The captain of the ship not being able to turn around and not knowing how to best preserve him, shoved his body in a rum cask, dropped it off in Tahiti and sent it back to San Francisco on the next ship going north. The first the Athertons even heard of his death was when their butler received a strange cask of rum several weeks later, and upon opening it discovered Jorge's pickled body.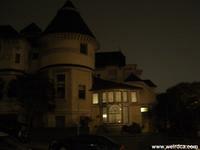 Soon after, the two women were sure that Jorge was haunting them. Supposedly, they heard him knocking on their bedroom doors and could feel cold spots in the house. The two were so uncomfortable in the house, that soon after, Dominga sold the mansion as fast as she could. The two went separate ways after that.
Despite the Atherton Mansion's prestige, value, and location, it changed hands multiple times over the years until finally in 1923 it was acquired by Carrie Rousseau who turned it into a thirteen apartment boarding house. She supposedly turned the orchestra chamber of the grand ballroom into her apartment, which she numbered 13. She had fifty cats that lived with her and in the adjoining space next to hers, space that was prior the banquet hall of the mansion.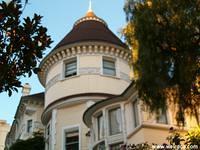 Rousseau lived until 1974, at which point the 93 year old reclusive crazy cat lady finally passed away. Very little else is know about the quiet lady. Although other guests reported ghosts and strange occurrences, if Rousseau ever experienced any she never mentioned it.
Today, four separate spirits supposedly haunt the house. Jorge was still unable to escape his wife and mother for according to legend, his wife and 200 pound, five foot tall mother have joined him in the afterlife and in the eternal haunting of their former mansion. Additionally, the spirit of Carrie Rousseau , the crazy cat lady also still dwells in the structure. Although there have been reports of people seeing actual ghosts, including one boarder who promptly moved out of the tower apartment after seeing a gathering of ghosts, most of the manifestations are of knocking at bedroom doors (often as people try to go to sleep), cold spots, a strange glowing ball of light from an unseen source, and mysterious winds moving through the house. Tenants cars parked outside have also been reported to start honking for no reason, and then just as mysteriously stop.
Closest Weird
Outside References:
First Created: 2015-01-09
Last Edited: 2015-01-09