Weird California - By Joe Parzanese
Captain Cass's House

222 N Ocean Avenue, Cayucos, California 93430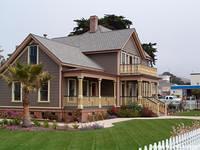 The small beach town of Cayucos is located just south of Cambria and Hearst Castle. The town was founded as a shipping port in 1867 by Captain James Cass, who had earlier left his New England home, sailed around the Horn and settled in Cayucos on 320 acres of the Rancho Moro Y Cayucos Spanish Land Grant. Captain Cass built his house that same year and with his partner, Captain Ingals, built the pier, a store and warehouse known as Cass' Landing. The pier still exists, and the warehouse has become a community center that is available for public and private parties. Captain Cass's house has in recent years undergone massive renovations, but it is said that the good Captain still wanders his house.
According to the rumors, the ghost of the Captain has been encountered in the back of the house, mostly in the music room, where occasionally music has been overheard despite the absence of any musical instruments.
The only concrete record of any spiritual activity that is rumored to exist is from the Captain's niece's diary. In it she supposedly wrote about an incident that occurred shortly after the Captain passed away. Apparently her and her husband entered the house one night and encountered a music box that utilized metal discs with holes in it. From the account in the diary, the music box started up on its own accord and the couple fled the house immediately in terror. The niece also writes about the house's water tower, stating that in the room beneath the water tank, several glass jars were stored. The niece writes that she was sorting through the jars one day when she discovered one containing pickled human fingers.
According to Hauck's "Haunted Places - The National Directory" the house is located at 1654 Ocean Avenue. This appears to be incorrect. The house in the photographs is down by the pier, I believe located at 222 Ocean Avenue, and has been meticulously restored over the past few years. It is still on Ocean and is the former house of Captain Cass.
During renovations, apparently workers' tools went missing and unexplained sounds came from the house. Additionally, at times dogs have refused to walk by the house and people have seen a man's shape on the side of the house only to have it immediately disappear.
Closest Weird
Comments:
Renee of Morro Bay, California on 2016-04-21 said:

It's his daughter Rosa you need to look out for in the house. I worked in the house alone during this last transformation, and while nothing ad happened her creepy photo at the top of the stairs was replaced... Until the plumbing went out constantly and other things went wrong. Placed the photo back in it's place and everything was running smooth again! Nothing spectacularly spooky has happened while I was there, and no music.. but you can feel someone there with you even when you're alone.

taylor h. of cayucos, ca on 2011-07-22 said:

i have lived in cayucos for about 15 years and have gone to cayucos school from k-8th grade. during the day the school is just the school, but at night time its really hard to be there without getting the feeling like someone is watching you. my friend lives on the lower grounds of where the old cemetery was and has heard weird drum noises and continuous chanting, almost like an angry indian. the cass house is definitely haunted. it used to be a lot creepier, but since they re-did it its not so "dark." it used to be closed for a long time, and kids would sneak in there often. cops would always be stopping people as they were running out of the house.

mackenzie of tetonia, idaho on 2008-09-13 said:

i used to live in cacyucos for 12 years. and ive always known it was haunted. it doesnt look scary anymore cuz they re did it. but it used to be run down and dark. and you could tell it wasnt a normal house

Kellen of Cayucos, CA on 2007-10-30 said:

My granpappy, dad, and I have never seen any "spooks" in the old Cass house. Though I will admit it is a cool (and before the renovation creepy) building. When my father was hired to do some brick work on it, he did tell me they found many, many, many bones under the foundation, but the archeologist who was on that job said they were just animal bones. On a side note though, many don't know that the current school is built on the old cemetary. My friends and I had always said that if any place was haunted it was the school. Or maybe we just hated going:P
Outside References:
First Created: 2007-10-31
Last Edited: 2007-10-31