Weird California - By Joe Parzanese
Vermonica

4641 Santa Monica Blvd, Los Angeles, California 90029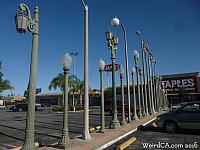 Located in the parking lot of a mini mall at the corner of Vermont Avenue and Santa Monica Boulevard is an art installation called Vermonica, named by joining the two street names. It was created in 1993 by artist Sheila Klein and consists of 25 individual streetlights. The lamp poles are lined up in the middle of the parking lot and showcase a variety of different lights from decades past in Los Angeles. Each is different and represents a different type of lamp used in different parts of Los Angeles. The oldest lamp dates from 1925, and the lamps are from the 1920s, 30s, and 40s. Each lamp has a small plaque at the bottom detailing what type of lamp it is.
The art installation was only suppose to be temporary since Klein originally borrowed the lights from a light yard located not far away on Santa Monica Boulevard. But the light poles became so popular, that the art installation became permanent.
Vermonica was installed about fifteen years before Urban Light, another art installation located outside the Los Angeles County Museum of Art on Wilshire Boulevard.
Closest Weird
Comments:
Craig Baker of Los Angeles , CA on 2019-09-11 said:

It was not moved to the LADWP building.

Craig Baker of Sylmar, CA on 2019-09-09 said:

The move was not temporary, it's permanent. The address is 4550 Santa Monica Blvd, Los Angeles, CA 90029.

Craig Baker of Los Angeles , CA on 2019-08-12 said:

Trent's comment is wrong. It is NOT at the LADWP building.

Trent of Los Angeles, CA on 2019-01-26 said:

It has since been relocated to the LADWP building

diana of los angeles, ca on 2018-01-16 said:

this art installation has now moved to the Bureau of Street Lighting a few blocks east of the original location. Its on the south west corner of Santa Monica and Virgil now!

WeirdCA - Apparently the move happened in November 2017 as the parking lot Vermonica was located in was under construction. The move has been described as not permanent which suggests to me that when construction is finished, the artwork will hopefully return to its original location.
First Created: 2016-04-24
Last Edited: 2016-04-24