Weird California - By Joe Parzanese
Santa Maria Inn

801 South Broadway, Santa Maria, California 93454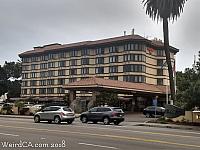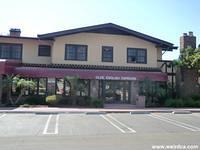 Built in 1917, the historic Santa Maria Inn is located in the city of Santa Maria, a town of about 100,000 halfway between Los Angeles and San Francisco. The Inn was originally a major stopping point for those driving between the two towns. Hearst Castle would house guests on their way to the Castle at the Inn the night before, arriving on the train in Santa Maria, spending the night in the luxurious hotel, and then taking a car up to San Simeon the next day. Guests such as Douglas Fairbanks, Charlie Chaplin, and Rudolph Valentino were all guests. If that wasn't enough to make the Inn special, it is additionally haunted.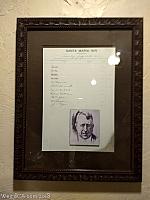 Now with 164 rooms, the hotel started with only 24 rooms and grew over the years. Other notable guests included President Herbert Hoover as well as William Randolph Hearst himself (along with Marion Davies). Cecil B. DeMille also stayed in 1923 while filming the Ten Commandments in Guadalupe.
Many of the rooms in which the rich and famous of yester year stayed in are now marked with a star on the room's door displaying who has previously stayed there. One can find Mary Pickford, Charlie Chaplin, Bing Crosby, Bob Hope, William Randolph Hearst and Marion Davies, Rudolph Valentino, Joan Crawford, Lee Marvin, amongst other famous people.
Rudolph Valentino, that wonderful entertainer, who seems to haunt everywhere, also haunts the hotel. He apparently likes to knock on room 221 and even recline on the bed in the room. There are also rumors of the ghost of a sea captain who was murdered by his mistress long ago appearing inside the hotel. He has supposedly been attached to room 210.
Please note, a lot of sources report Valentino attached to room 210 and the sea captain attached to room 221. But when our team visited and looked around the second floor, the hotel had room 221 marked as Valentino's room. So it is our belief that the two numbers should be switched for the the two ghosts, and we have done so in this article.
In addition to the sea captain and Valentino's antics, the hotel plays host to a piano that plays by itself, mysterious footprints, unexplained perfume scented smells, spinning clock hands, opening and closing doors, music coming out of disconnected speakers, ovens opening, and even an elevator starting up and going to a certain floor at the same time of the day.
In addition to the hotel rooms, the ghostly activity has also been seen in the gardens and the cellar. Rooms have also suddenly turned ice cold, and even once a balloon followed a housekeeper around, even going down stairs with her.
Lastly, Richard Senate along with psychic wife, Debbie Christenson, conducted a séance in the Inn and contacted a young cocaine addict with a nickname of Peppy (because she was so peppy) who was often a guest in the guest house at Hearst Castle, and was in the Inn awaiting a car to take her up to San Simeon. Who this young woman really was, is unknown.
And if the hotel isn't haunted enough for you, another ghost lurks just across the street in the auditorium of Santa Maria High School.
Closest Weird
Comments:
Lorie on 2021-07-17 said:

Re: Room 141 Santa Maria inn Recently on Friday 7/16/21 a friend and I stayed in room 141 of the older part of the hotel. She was asleep and three times I felt someone sitting at the foot of my bed. And I also heard a thumping noise. When I got up to check out the thumping noise it was just on my side of the room (bed closest to the door). But when I went to my roommates side of the room there was nothing.

Anonymous of California on 2019-10-08 said:

I originally booked this room through an online travel agency and needed a place to stay that was south of Pismo. That being said I had no clue that the hotel was haunted prior to being there. After arriving I soon realized that the hotel was very old but at the same time it was extremely beautiful and well kept. After walking through the hotel and through the hallway to my room (226) I soon realized that this place had a creepy feel but my boyfriend brushed it off as it just being an old hotel. After we came back later that night we got into bed and I fell asleep, my boyfriend however could not sleep and soon his video (on his phone) woke me up. At around 2:30 I heard my boyfriend (or so I thought) singing under his breath like he normally does and told him to "Stop singing" after he responded "I am not singing" I realized by the distance of his voice that he was turned the opposite direction. Then, I heard it again but this time I froze in fright and could not move. The only way I could get my boyfriend attention was to breath hard and he shook me out of it. I told him I heard it again and we left right after.

Bill of Seattleon 2018-11-28 said:

I can't say that I ever experienced any paranormal events, but my first stay was very memorable nonetheless. My girl friend, who would later become my wife, and I drove down to California over the Memorial Day week in 1975. We stupidly decided to drive down Highway One from Monterey in the late afternoon, expecting to find lodging somewhere in route. We drove and drove, no room anywhere. That was until we got to Santa Maria It was about 8:45 PM when we finally spied the Santa Maria Inn. There was a line of travelers out the door, so obviously we were not the only ones to have made the same mistake. I parked the car and bolted for a place in line, leaving my girl friend in the car. The line moved slowly, but there were obviously rooms left. I got to about fifteen feet of the desk and an employee came out from behind the desk and began counting and asking questions. Wen he got to me he paused and asked me if I was alone to which I replied that my partner was in the car. He then gave his apologies to the remaining people in line. Suddenly I was the last person in line. When I finally reached the desk it was after 9:00. He told me that this was the only room left and described it in a very haunting way. It was in a wing of the hotel that was not in use. There was no lock on the door or any hot water, was I still interested? By this time there were other stragglers who had come through the door and I knew that it would be sucked up immediately if I waffled, so I took it. When I got to the car my girl friend was in tears, because I had left her alone. My mood of elation changed immediately, another story. We parked the car and carried our luggage down the endless hall way. It was all surreal it was like we had stepped back in time fifty or sixty years. The hotel had seemingly had little or no updates since the 20's. The farther we walked to older everything seemed. When we finally got to our room we could have been back in 1920. When we were told that there was no lock that is exactly what we found, nothing but a big hole in the door, where the lock had been. There was no shower, nor was ther any bathroom. The sink that was in the room was ancient, probably dating from the 20's. The water was cold as ice and it took about a minute for the rust to clear the pipes. The sheets were clean, but everything in the room smelled musty. Didn't mention that there was no heat. All things considered we slept great! The next morning the sun was shinning and we took a tour. The complex was built around a courtyard which contained the remnants of a beautiful garden, which had been allowed to go wild. The whole place was suffering from many years of differed maintenance. It was great, seldom had a memorable stay anywhere! Sixteen years later we traveled the same route. When we got the Santa Maria we had not idea what we would find. Would the hotel still be there? When we found it it was scarcely recognizable. We had mixed emotions regarding our second stay. We were glad that it had been saved and seemed to be flourishing, but saddened so much had changed.

Anonymous of Los Angeles, California on 2018-10-08 said:

I am staying in room 151. I have never been to this hotel, nor did I know it was haunted until the following happened: As soon as we walked in I used the restroom. I heard a soft tapping on the door and I assumed my boyfriend was playing a joke on me. I said "okay" but then it happened again and I said "Are you messing with me?" He replied "no". I got out of the bathroom and he told me he heard the tapping too, but he thought it was coming from inside the bathroom, (basically me doing the tapping). We left for dinner and when we returned the water was running at full stream. At first I thought it was the shower because it was so loud. But then I realized it was the bathroom sink. Before you ask, I did not forget to turn it off. We had sat around and talked on the bed for several minutes before leaving the hotel and we would have heard the water.

Just One Night of Reno , Nevada on 2018-07-11 said:

We booked this hotel without knowing anything about the hauntings. Around 3 am, I felt something fall/jump off the foot of my bed, and stomp across the room to the door. Initially I thought it was my 3 year old, however I reached over and he was still asleep in bed. I was so tired that in my sleepy stupor I just passed it off as it possibly coming from the floor above or maybe from the hallway. Now looking into it more it sounds like the same things that other people have experienced. I am a skeptic, but this was definitely an experience that has bothered me to research more about the property. Feeling even more unsettled now to find this website, and other peoples similar experiences.

Fernando of Santa Maria, California on 2017-10-14 said:

My father and I stayed here when I first moved to Santa Maria before I moved in to my new place. We stayed in room 217. We had two cats with us. They acted like another person was in the room several times. My older cat even meowed as if he was greeting someone and then walked to a spot in the center of the room. That night I was about to fall asleep when I heard footsteps in the hallway. I initially disregarded it as another guest, but then I heard the steps turn and enter my room right through the door. I distinctly heard several shuffle sounds in my room and then again my cat acted as if someone had entered the room. I looked over and saw my father asleep and then I drew the blanket up to my chin and tried to sleep.

Deborah of Missouri on 2017-02-15 said:

My husband and I stayed in room 323 (Gloria Swanson) on Feb. 2nd, 2017. We heard no unusual noises of any kind in the hallways. However, when we woke up in the morning our ceiling fan was on. I asked him why he turned it on in the middle of the night. He said he didn't, he thought I did. So, either Gloria likes her room cool, or the staff has a remote control and just wanted to give us the "full experience." :grin:

Doraleen F. of Los Gatos, California on 2016-09-17 said:

I stayed at the Inn last weekend on the sixth floor of the tower (a newer part) Room 679. While getting ready for my class reunion, I thought my friend had used her hair spray and I was having an allergic reaction to it. She said she had not used any yet and couldn't smell anything, I walked to the area where the perfume smell was the strongest and she confirmed she couldn't smell anything. I would have thought I was going crazy except for the fact that my entire body had reacted to it. I had to use all my allergy medicine and took a Tylenol for insurance.

Kirk of La Mirada, Ca on 2016-07-08 said:

My wife and I stayed in the Hearst room and both had strange dreams of partying at the castle and this was before we knew the hotel is haunted.

Jill Raichel of Norwood, Ma on 2014-10-16 said:

I didn't know the hotel was haunted despite having lived in the town back in the 70s and attending SMHS. I knew about the auditorium at the high school being haunted, that was told to me when I first started at the high school. I stayed at the hotel last May, 2014 as I had to make an emergency trip to Santa Maria due to my mother's sudden death. As I walked the halls by myself in the old garden section of the hotel I did feel a presence with me. Ironically, my mother's ashes stayed in the room with us without any incidents. But I would say this older part is haunted, not in a bad way, but in a good way.

S of Solano County, CA on 2014-07-27 said:

Stayed there 7/24/14. No Ghosts or such noticed. Sad Sad Sad

edward of rialto, ca on 2014-02-23 said:

I stayed in room 210 last night. at 4 am the unexplained noise woke me up. floor cracking and something fell. I heard noise like I was in the ocean. I stayed in room 210 alone and didn't realize until now reading this. when the sun came out i didn't hear any more noise and was able to nap before I had to leave

Jo of Santa maria, ca on 2013-10-29 said:

I stayed at the Santa Maria Inn 4yrs ago, in Mickey roonies room, i dont remember the room number, but it was in the old section , around 3am exactly I heard someone walking down the halls knocking on the walls all the way down the aile, i looked to see if I saw anyone and there was no one, then after a few minutes you heard them coming back my way knocking on the walls down the hall again, no one was there, that was creepy. i opened the door and saw no one..

Anonymous on 2012-11-30 said:

I stayed there a couple of years ago and I'm terrified of the place. Had a room on the 2nd floor and didn't know about the hauntings. Woke up in the middle of the night with an unseen man spooning me. He got out of bed once he knew I was awake. Before he left, he said in my ear "I drowned".

Leslie of Lawrence, KS on 2012-11-17 said:

"Peppy" is probably Pepi Lederer. She was Marion Davies' niece, which would explain why she spent so much time at Hearst Castle. She was also a drug addict, and died at the age of 25 after jumping out of a window.

Dante Pasquini of granada hills, ca on 2012-10-21 said:

My wife and I who are both senior citizens and stayed one night at the Santa Maria Inn approximately 5 years ago. At the time we had no idea that the hotel was haunted and were given a room on the second floor in the old part of the Inn. After settling in we went down to the court yard and relaxed for awhile, my wife remembered that she left her camera in the room and went to get it while I waited for her. After a few minutes she came running into the court yard and was very shaking and upset. I asked her what was wrong and she said that when she went back to the room the door was ajar and heard a shuffling noise coming from inside. She called out thinking it was house cleaning but no answer she then went in and said that the room was freezing, she grabbed the camera and proceeded to exit the room she turned and went to shut and lock the door but the door would not close the last few inches as if someones foot or something was blocking the door from closing. She kept pulling on the door to shut it but would not close all the way, she finally gave up and turned away and started to walk down the hall when she heard a loud slam, and looked back and it was our room door slamming shut! I went back with her to calm her down and to check the room out for her because I nor my wife believed in ghost. We got to the room and I opened the door and went in with her and all seemed fine at the time, and blamed it all on the hotel being old. As we were getting ready to go back to the court yard the room became very cold and the hairs on my arm stood straight up! We went to exit the room but the door was stuck shut like it was nailed closed! I continued to pull on the door handle as my wife called house keeping, a minute later their was a knock on the door and grabbed the door handle and gave it a good pull but the door opened very easily as if nothing was wrong. I was kinda embarrassed the I called for help at that point and thanked him for responding so quickly. I tried the door several times then it was very easy to close and open. We grabbed a few things and when we were exiting the room I went to close the door and it would not close all the way nor could I push it back open! We left it that way and went to the front desk to tell them what had happened and was told it was Supposedly the ghost of a sea captain who does some of those things and not to worry he is friendly and was just playing with us! We were then given a room in the "newer" section of the hotel. Needless to say we are now believers!Q

vicky of laughlin, nv on 2012-09-14 said:

I worked in the restaurant at the Inn from 2003 to 2004 and I did not encounter anything supernatural. I really wanted to but never did. :(

Thomas Mikel Jorde of Santa Maria, CA on 2012-03-27 said:

I stayed in room 210 once because I didn't believe my friends when they had told me the Santa Maria Inn was haunted. I woke up to ghost peeing on my left foot. Beware!

anonymous of santa maria, CA on 2012-03-26 said:

I have lived in the central coast for a good part of my life. I have known of the paranormal activity in the Santa Maria inn since i was a child. 03-24-2012 was the first night i stayed in the INN. From midnight to 5 am there was no rest, every 15 minutes there was loud bang above our room and the sound of a heavy set man walking in the hallway at 3:15 am. The only thing that really freak us out was the vibrations from our bed along with a loud frequency i cant describe. No one slept from the chill of the room and the pressure placed on my chest while sleeping. I'll say this place is 100% haunted.

Elena of Santa Maria, CA on 2012-02-06 said:

We stayed on 02/05/12 for the superbowl. No problems at all in the Master Suite. However, we took a little stroll at night to the older side of the hotel and saw a couple of strange things happen. Not scary just strange like a knife and fork appearing in the hall way where there was none seconds before. A vending machine that kept operating on it's own, a couple of doors slightly open with no one inside and then when we knocked on a "haunted door," I stepped back into a glass that was not there when I first approached the door. Weird...but fun. Must be a friendly, humorous ghost.

Past Employee of Santa Maria, California on 2011-10-16 said:

I worked at the Historic Santa Maria Inn for almost 2 years. I worked downstairs in administration. One night I was working late and heard a noise. It sounded like a pully with chains running through the walls. The walls are cement in the basement so I thought maybe someone was in the hallway. No one was there! I walked down to the wine cellar to see if anyone had been down there. He said "NO." I went back to my desk to finish my work and heard it again. The next day I was talking to our sales manager who had been with the Inn for many years. She said a lot of times this sea captain who was murdered by his mistress walks the halls downstairs. It was the sound of his bell I heard as he walked the hall. Just checking up on things I guess. It was weird but not scary.

guest of Los Angeles, CA on 2011-09-23 said:

Have stayed here 3 times and each time experienced something, not in a bad way just rather odd, a week before labor day 2011, lights turned on by themselves, stayed again 4 weeks later, lights turned on by themselves and closet door opened slightly and loud bang came from inside, yes i checked out all these things and did feel cold area in closet, won't say which rooms as to not scare anyone, never seemed bad, kind of exciting actually

Stephanie of Santa maria, california on 2011-08-15 said:

It was prom night and we had been invited to a getogether at the santa maria inn . well anyways around 2:00 in the morning my friend and I decided to go swiming so we wrapped towels around us and started walking to the pool. We were on the old side of the hotel right above the bar , as we were walkin we see a man comming towards us . He was wearing all black , big black hat ,his face was so white . As he passed us he bumped me without no facial expression . I turned toward him and said "Excuse me " I looked at my friend and very quikly turned around , he was gone! We tripped out and started to look around but no one was around . We were so scared we didnt even sleep . I will never forget that.

sue of santa maria, ca on 2011-07-13 said:

was there ever a room 112? has it been converted into something else? the employee said theres no 112, so im wondering

Diane P of Los Angeles, California on 2011-05-30 said:

I stayed at the Santa Maria Inn back in 2008. I don't remember the exact room number but I know that Jean Harlow stayed in my room. I experienced some creepiness in my room I was watching tv sitting on the bed and in the corner of the room where I was sitting at suddenly got very cold but only in that corner where I was now I got up checked the window, not open checked the air conditioner not on went to the other side of the room normal tempeture. I keep trying to find explanations why the corner got freezing cold so cold that I had to put the heater on this was in the month of june it was hot. I tried to take a picture of the corner but my camera wouldn't work so I changed the batteries and still wouldn't work, although it was working find about an hour before I entered my room. My mother was in a room acroos from mine Carey Grant room she said she saw a man dressed in a tuxedo and a cape with a top hat looking in the mirror and she saw the same man standing at the fountain that was in front of her window she says it wasn't creepy at all.

Former Guest of Los Angeles, CA on 2011-03-15 said:

My family and I stayed in Room 141 on the old side of the Inn this past weekend. On our first night between 1-2am, my wife said she felt someone putting pressure on her (as if trying to get on top of her). My daughter was awake during this time and looked over a number of times to see a tall dark shadow of a man standing over my wife. The shadow disappeared and my daughter told me she heard loud scratching going on near me on the other side of the room as I was asleep through the entire night. My wife and daughter asked to be moved to the newer side of the hotel the next evening. We asked the management if they had anything on record for that room - in regards to hauntings. We were supposedly the first.

former guess - December 25 2010 * of Lompoc , California on 2010-12-25 said:

well i'm staying here the moment as i post this , and well i've walked around by myself , it was a little creepy i did feel like something was watching me , or walking behind me as i walked , there were a few doors that were not open open but half opened , but i aint bold enough to go and check it out aha , well im in room 244 - and hm , imma go look for room 112 , and 221 ahah just to see , pretty awesome all this ghost stuff , but creeppy at the same time.. (:

anonamous of santa maria, ca on 2010-10-13 said:

this place is freakin sketch!!!! i hear voices and people knocking on the door and when i went to answer it there was nothin... super de duper sketch!!!! my room was 211 and i was scared and couldnt sleep all night after reading all this and tryin to listen to the whispers :( buuut the hotel had exceptional service and had a great staff. and a wonderful breakfast :)

Ernie of Santa Maria, ca on 2010-07-11 said:

in 2004 I was at the bar with some friends at the Santa Maria Inn. I left to use the bathroom just outside the bar in one of the hallways of the old hotel. When I got out of the bathroom I looked to the right down the hall. I decided to take a stroll down the hallway. There was a old meeting room that had it's door open a bit. And I could hear old rag time piano music coming from that room. I went to peak inside of that room and the music stopped. turns out that room was empty and dark. weird. So I just closed the door and went back to the bar.

former guest of Chinoon 2010-04-25 said:

Stayed there last year and enjoyed it a lot. Had a video camera set-up during the night and captured several orbs drifting in our room along with other auditory phenomenon.

shannon of santamaria, ca on 2009-10-20 said:

I have been living in Santa Maria for 34 years and i never got the chance to experience the truth about the santamaria inn but i have heard story after story about the rooms. I will 1 day visit and stay in the exact room and live it and stick thru it even if nothing happens but im sure it will

Employee of Santa Maria, CA on 2009-04-23 said:

I worked for the Inn for many years. I don't know the real truth about what really happened there or even if something did. What I do know is that, "yes" it is haunted but not in a bad way at all. Things do happen. What ever it is it's not bad, it just shows its presence but not to everyone. I did see someone leave because they felt someone was following them. This person had no knowledge of any of the stories......

Just a traveler of Alabama on 2008-10-30 said:

I have stayed there and did not see anything but have heard several stories from staff members. One cleaning lady ran out without getting her paycheck when she went to clean the room, walked out, came back in, and all the furniture was piled on top of itself. When I asked if this hotel was well known for phenomenom she handed me a pamplet that has guests comments of what they have seen.

Santa Maria Inn employee of Santa Maria, CA on 2008-09-06 said:

Room 112 does not exsist. this story is FALSE. just wanted to set it straight.

Anonymous on 2008-08-09 said:

It is also said that ghost a named Anayeli a 6 year old plays with her ball in room 112 the ghost seeks revenge beacuse her 12 year old sister scared her a lot and Anayeli died of fright, now if a 12 year old sleeps in that room the ghost of Anayeli kills her.
Outside Links:
Outside References:
First Created: 2008-08-09
Last Edited: 2020-04-18