Weird California - By Joe Parzanese
Mission La Purisima

2295 Purisima Road, Lompoc, California 93436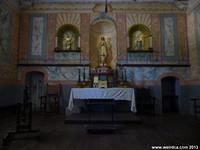 This entry is unfinished, incomplete, or planned for future research. Weird California makes no promise that it will ever be finished and gives no time table for a completion date. Additionally the information below may be inaccurate, incomplete, or just plain gibberish of notes. If you have any information on this entry, please feel free to Contact Us or leave a comment below. Thank you.
Haunted Mission
Closest Weird
Comments:
Anonymous on 2010-03-30 said:

One of our readers sent this in through email:

La Purisima is one of the most haunted locations I have ever visited. When my brother and I arrived at the mission, we could feel the heavy atmosphere. We visited the cemetery first, and heard a Mass in progress. (We are Catholic, so we know what a Mass sounds like.) We were very disappointed because we wanted to see the church. We decided to just peek in. When we did: no Mass. In fact, there were no pews or anything to indicate Mass had been celebrated there in a long time. We saw the ghost of a padre in the church, and he felt very, very creepy. We later saw his picture in the mission museum. You know that feeling you get when a little kid is trying to get your attention by tugging on your clothes? That happened to me. My brother saw my jeans moving like they were being tugged, but he couldn't see the little boy. I did though. We saw a crucifix moving in a closed room as well. My brother was tapped on the shoulder and thought it was me, but I wasn't anywhere near him at the time, nor was anyone else. I saw some other ghosts as well: children, women, and men. They were all so sad and so skinny. It was a very interesting experience, but very sad. I'm not sure I ever want to go back because I feel so sorry for the ghosts there. A lot of evil things happened at that mission, and the entire atmosphere there is heavy with it.
Outside Links:
Outside References:
First Created: 0000-00-00
Last Edited: 0000-00-00