Weird California - By Joe Parzanese
Castle Air Museum

3605 East Bellevue Road, Atwater, California 95301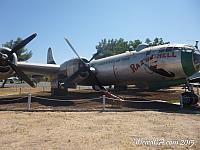 Amongst the over sixty restored military planes, on twenty acres in Atwater sits a haunted military airplane. Airplanes from World War II to the present are scattered throughout the grounds, having been restored sometimes from the parts of multiple aircraft. The military planes gathered include such military warbirds as the B-24 Liberator and the B-17 Flying Fortress and even a SR-71 Blackbird (one of only nineteen surviving) and a former Air Force One (a VC-9C that served during multiple Presidential administrations mostly as an Air Force Two, but often also as an alternate Air Force One when the primary one was impractical.
One of the many planes located at the museum is called the "Raz'n Hell", a Boeing B-29 Superfortress. This B-29 bomber is the same type of plane as the Enola Gay and the Bockscar which transported and dropped the atomic bombs on Hiroshima and Nagasaki. At 99 feet in length, it was manned by a crew of eleven, and had a maximum speed of 358 mph. It cost at the time: $639,188. The B-29 Superfortress had four engines that were propeller driven. It additionally came with four machine gun turrets all of which were remote electronic controlled in regards to their fire controlled systems. Ten Browning .50 Caliber Machine Guns were contained within the turrets. The plane also had a semi-remote manned tail gun (with two more Browning Machine Guns and a 20mm cannon) and about 20,000 lbs of bombs. Importantly, the aircraft was also the first bomber with pressurized crew compartments. For its time, the B-29 was so advanced that unlike many other World War II era military bombers it remained in service after the war, and it was greatly used during the Korean War as well, not being retired from duty until June 21, 1960.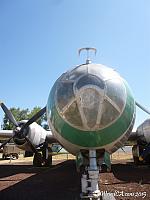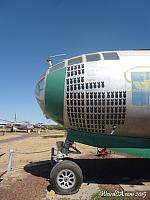 3,970 B-29s were produced. 22 are still intact, preserved mostly at museums. Three B-29s were involved in the creation of "Raz'n Hell". The B-29s involved include: 44-61535 (the tail), 44-84084 (the wings), and 44-70064 (the fuselage). The three aircraft were discovered and brought over from China Lake Naval Weapons Center with the wings actually being air lifted by helicopter over the mountains. The three planes were reassembled at the museum into the restored plane that you can see today, the Raz'n Hell.
The Raz'n Hell is an appropriate name, for you see, it's haunted. The spirit has been nicknamed Arthur and at times it certainly feels like he is raising Hell. Before it even arrived at Castle Air Museum, while it was still at China Lake, it has been reported that a heavy pressure bulkhead hatch complete with broken hinges banged open and shut multiple times all on its own. But the disturbances only grew more varied after its restoration. Hatches have been reported opening and closing all by themselves. Although there were no bulbs in the sockets, the aircraft's landing lights have come on by themselves and without power. Although they are locked in place, the propellers have been seen to slowly move all on their own. Knocking has been heard in the fuselage and the co-pilot window has been seen mysteriously open, and then suddenly, just as mysteriously, closed.
A worker was busy in the cockpit repairing things on the aircraft when he asked his friend to hand him a wrench. A wrench was placed in his hand without him looking at his friend and he continued in his work. It wasn't long though before he realized that he was actually all alone in the cockpit and his friend had been outside the plane the entire time, actually visible from the plane's window. But most ominous is that multiple times, a strange solid like shadow has been seen moving around inside the cockpit. Who it is or what it is hasn't been determined. Lastly the nearby building has sadly suffered from strange battery failures and unexplained power outages.
Who is Arthur and why does he still haunt the B-29 Raz'n Hell? Did he come with one of the three planes that the Raz'n Hell is comprised of? We may never know.
Castle Air Musueum opened in 1981. In addition to the planes already mentioned it also has a Boeing B-52D Stratofortress (at one time it was the largest and heaviest aircraft ever flown) and a Convair B-36 (one of only four surviving). An indoor museum, in addition to having plane engines and various other wartime artifacts, also has a B-52 cockpit on display. Additionally several planes are still under restoration and a few planes are not able to be displayed out in environment of Atwater. The museum hopes to one day be able to build a permanent structure to house these few planes. Castle Air Museum is named after Castle Air Force Base, which is no longer a military base as of 1995, closed due to the end of the Cold War. Castle Air Force Base was named after Brigadier General Frederick W. Castle who perished leading his 30th bombing mission on December 24th, 1944. He was leading a division of B-17s over Belgium at the time of his death, when he was shot down by German fighters.
Closest Weird
Outside References:
First Created: 2015-10-02
Last Edited: 2015-10-02