Weird California - By Joe Parzanese
White Lady of Santa Maria

Pioneer Park
West Foster Road and South Blosser Road, Santa Maria, California 93455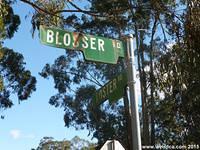 If Rudolph Valentino and a sea captain haunting the Santa Maria Inn isn't enough for you or you just don't care about the ghost haunting the theater at the Santa Maria High School, then head down to the southwest portion of Santa Maria, to the corner of Foster and Blosser, next to Pioneer Park.
There on moonless nights, when the infamous Santa Maria wind is blowing hard, people sometimes believe they hear ghostly moaning. The local legend states that a woman was murdered and her corpse buried amongst the eucalyptus trees growing here.
Now her ghost wanders the area, stalking the two roads and the lands around them. What does she want? Who murdered her? Why does she haunt the location where she's buried? No one is certain.
But people have caught glimpses of her, appearing grayish white, walking along the road, disappearing behind a eucalyptus before you can catch up to her. Others have reported her showing up in the backseat of their cars as they drive along the roads there. When they see her in the rear-view mirror, she cackles, laughing at the driver, before mysteriously disappearing.
Since Pioneer Park was built near the intersection, her ghost has been seen there as well, her outfit being described like a wispy robe. People have reported hearing her scream in the middle of the night while they have wandered the park. They try to catch up to her, but she eludes them, losing them somewhere in the darkness of the park.
So if you're done staying the night at the Santa Maria Inn, why not take a drive out to the outskirts of Santa Maria and pass by Pioneer Park at the corner of Foster and Blosser. There under the canopy of the eucalyptus trees, on a moonless night, when the winds are howling fast and furious, you might just run across her.
Closest Weird
Comments:
Vanessa of Santa Maria , CA on 2021-07-19 said:

I saw white lady ghost in 2000-2001. Late night, I was in the parking lot at pioneer park, sitting in a car with bf at the time, white lady appeared in the distance and started coming towards us. We were terrified and got the heck out of there as fast as possible! This is something I will never forget. It's true. Her sprite lives in pioneer park.

David of Santa Maria, California on 2020-05-14 said:

I use to live at 4425 S BLOSSER rD I ALWAYS hEARD A WOMEN CRYING AT NIGHT AROUND 2010

Chris of Hayward, CA on 2018-11-13 said:

Will be there this weekend to find her.

Erin of Arroyo Grande, CA on 2018-02-18 said:

I saw her (or something like her) about 20 yrs ago at Black Lake by Oso Flaco. Walking on the dirt rd one night, we saw a white woman figure floating down the rd ahead. Scared the bejezus out of us kids. Never went back.

Amber of Santa Maria, California on 2017-11-21 said:

The way someone told the white lady story to me is that she was killed in a drag racing accident. There used to be drag races on Foster & Blosser. I am not sure if she was a drag races or hit by a drag racing car. So the story goes that you can still the white lady ghost in the eucalyptus trees and near the road where the drag races were once held.

David Kea of Santa Maria, CA on 2016-09-27 said:

I have spent 3 or 4 nights in Pioneer Park this year in hopes of meeting the nice white lady but unfortunately she has not appeared. I will continue to sleep amongst the eucalyptus trees as often as possible because I would really love to see her.
First Created: 2015-02-25
Last Edited: 2015-02-25