Weird California - By Joe Parzanese
Giant Clams of Pismo

470 Price Street, Pismo Beach, California 93449


165 Dolliver Street, Pismo Beach, California 93449


Pismo Beach Chamber of Commerce
581 Dolliver Street, Pismo Beach, California 93449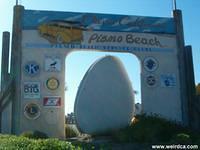 Pismo Beach, just south of San Luis Obispo has three giant clams greeting visitors. Two of the clams are located on Route 1 (named Dolliver Street in Pismo Beach). The first clam on Route 1 is located at 165 Dolliver at the Pismo Coast Village. The other is at the Pismo Beach Chamber of Commerce a block or two from the Pismo Pier. The last clam in town is located just off the North bound Price Street off-ramp from Highway 101, greeting visitors as they enter Pismo Beach from down south.
Pismo Beach is home to the actual, non concrete Pismo Clam, a species of edible saltwater clam, also known as tivela stultorum. It lives predominantly in Pismo Beach, but has been found as far south as 300 miles south of the U.S. border in Baja California. The clams can easily reach seven inches, with the largest on record coming in at 7 and 3/8 inches.
Occasionally the clams are decorated according to the current holiday. For example, they have been done up as the Easter Bunny for Easter, as a turkey for Thanksgiving, Rudolph for Christmas, a Jack O Lantern for Halloween, and as the U.S. Flag for Independence Day. They have also been painted with butterflies to celebrate the annual Monarch Butterfly Migration. In October they also sometimes are painted to celebrate the town's annual Clam Fest, which has been going on since 1946.
Formerly right behind the Price Street Clam was Plumeria's, a store full of all sorts of umm "collectibles" and two giant metal dinosaurs. Other giant metal dinosaurs use to be located in the area but sadly Plumerias and most of the other metal dinosaurs are gone now, although one still resides up the mountain overlooking Pismo Beach threatening to eat tourists.
Tom's River in New Jersey also has a giant concrete clam in town, located down on Hooper Avenue.
Comments:
Kris of Fontanna, California on 2008-12-23 said:

The Pismo clams are even funner to see during the holidays. In the past, I have seen them dressed up as reindeer clams. While vacationing this year, my family and I had a chance to see them adorned as turkeys.
Outside References:
First Created: 2008-12-23
Last Edited: 2014-01-31