Weird California - By Joe Parzanese
Bubblegum Alley

733.5 Higuera Street, San Luis Obispo, California 93401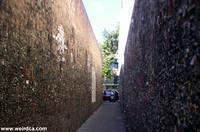 Bubblegum Alley located on Higuera Street in San Luis Obispo is simply an alley that the locals have decided to completely cover with partially chewed bubblegum. Apparently it received its first glob of gum back in the 1950s. Now, the entire alley from Higuera Street back to the parking lot beyond is plastered over with a variety of different colors and flavors of gum. The alley is fifteen feet high and seventy feet long, and covered on both sides by bubble gum. It is located between 733 and 734 Higuera Street. Incoming students at the local college, California Polytechnic State University or Cal Poly, are often brought here during their introduction week to place even more gum on the wall.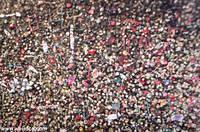 Several of us visited the alleyway one day and placed a few pieces of gum on the wall. Literally thousands of pieces of gum are attached to the walls of the alley, in some spots several inches thick. Gum wrappers and foil also decorate the walls occasionally spelling out letters and words on the wall. Some of the gum was attached to the wall over ten feet off the ground, so it was apparent that some of the gum artists in town put quite a bit of effort in decorating the wall with their partially masticated pieces of gum. While we were there, several tourists passed through the alley some also adding their own wads of gum, so apparently the site is fairly popular.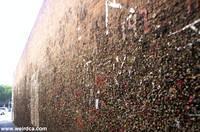 It is rumored that sometime in the seventies, the city of San Luis Obispo attempted to remove the attraction, not once but twice. They stripped the alley of all gum, but the locals continued right on placing partially chewed bubblegum on the walls, bringing the attraction back to life. As I wasn't in SLO during the seventies, I personally haven't been able to confirm this.
Bubblegum Alley isn't the only wall of bubblegum in America. Since the 1950s Greenville, Ohio has The Maid Rite Sandwich Shop which has its entire exterior plastered in sticky bubble gum. And since 1990, Seattle, Washington could boast another bubble gum wall at Pike Place Market Theater. Thanks to Lauren G we have a picture of the Gum Wall in Seattle, but we are still missing a picture of the Ohio wall.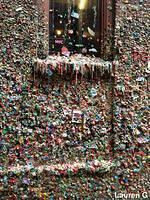 Closest Weird
Comments:
Jeff of San Luis Obispo, CA on 2014-08-07 said:

Yes, Bubblegum Alley was stripped clean in the late 70s. I have worked downtown sonce 1974 and remember it well. It actually took a while before the gum started to return - at first just as individual pieces along a single course of bricks about 4 or 5 feet up. It was a few more years before it exploded again. A later attempt to clean off the gum by the fire department was unsuccessful. I do believe most of the gum is not from locals. We mostly find the alley disgusting and avoid it.
Outside References:
First Created: 2006-12-31
Last Edited: 2013-09-13