Weird California - By Joe Parzanese
World's Longest Garlic Braid

Garlic World
4800 Monterey Highway, Gilroy, California 95020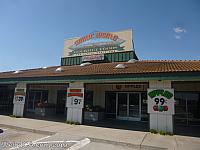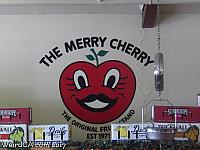 Gilroy is the Garlic capital of the World and as you drive along 101 passing the town, sometimes it sure smells like it too! The whiff of garlic combined with other fruits can be either a pleasant smell or a revolting smell depending on who you are, but it is noticeably pungent especially when certain fruits are in season.
There are many different stands and buildings there along 101 selling garlic, cherries, and other goods. One of the more obvious ones and larger of the bunch is Garlic World and it could be the location of the World's Longest Garlic Braid!
Garlic World, established in 1986, is a fairly large store located just off of Highway 101 (on the east side, easily accessible by simply pulling off the north bound side of the highway). Lots of bins of garlic is available to peruse and purchase, as well as other vegetables, nuts, candies, olives, etc. Garlic spices, garlic stuffed olives, pickled garlic, and other garlic items are present. Of course garlic flavored items are also available such as garlic ice cream, in case you wanted to try that.
But in the room to the right, hanging strung along the wall is the "World's Longest Garlic Braid"! Supposedly clocking in at 216 feet (a hand written orange sheet of paper posted on the wall declares it "216 ft") the braid is certainly long and hangs throughout one half of the store. But is it the longest?
Other sources claim that the Stinking Rose, a San Francisco based restaurant specializing in all things garlic, might instead have the longest garlic braid in the world. Strung across their ceiling in their dining area is an extremely long garlic braid consisting of 2,635 garlic bulbs. Is it longer than the one in Gilroy? We haven't measured (although I've heard it's 348 feet long!). The restaurant supposedly consumes fifty tons of garlic annually. I hear they sell a garlic flavored condom, so if the food and possibly the World's Longest Garlic Braid isn't enough for you, well there's another reason to visit.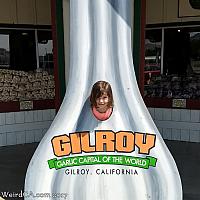 And according to Guinness World Records, the longest garlic braid on record was made for the garlic festival in Mako, Hungary back on September 8th, 2006 and it came in at 836 feet, 7 inches! Perhaps that was a temporary garlic braid and it only existed for the garlic festival?
So perhaps the one in Gilroy might be the World's Longest Still Existing Garlic Braid? Regardless, Garlic World is still a fun stop if only to take a look at all the garlic merchandise available, and to take photos of yourself in their garlic photo op where you can take a picture of your face in a large garlic clove.
And if doubt about the Longest Garlic Braid exists, surely, the town's claim to Garlic Capital couldn't also be in doubt? So as it turns out, not much garlic is actually still grown in Gilroy due to a fungus that is fairly common in the area. A lot of garlic farming has moved to the Central Valley of California, which might be why you only remember smelling all the garlic when you drove on through. There is still a large garlic processing plant in the area, and a lot of garlic related businesses, which does on certain days, of course, help add to the nostalgic garlic smell.
Closest Weird
Outside Links:
First Created: 2017-05-19
Last Edited: 2017-09-06